Author's note: I'm back from a whirlwind tour of Thailand and Siem Reap in Cambodia and I loved every minute. I'll be recapping my adventures right here, so follow along…
Our train to Ayutthaya is late. We are sitting on the 8:30 express train that will take us to Thailand's ancient capital city of Ayutthaya, but it hasn't left yet and it is after 9 am. Lucky for us that the express train isn't so express, because we practically ran from the subway, thinking we'd miss this train and have to take a later and slower train. In fact when we board our train, workers are scrubbing down the outside of the train with soapy water and cargo is still being loaded.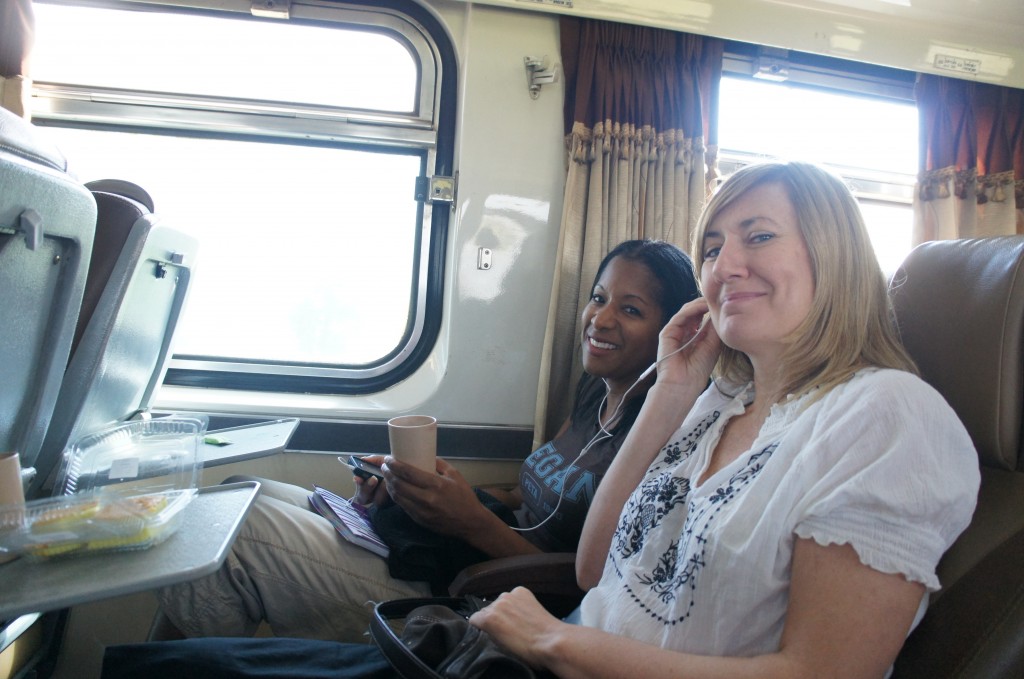 We settle into our seats next to curtained windows on what appears to be a first-class train, costing us about $10 per seat. We are pretty certain we are in first class when the train gets started and an attendant wearing a bit too much make up serves us spongy yellow cake, an apple pastry and tea from a heavy metal cart. Nancee and Karen don't like the yellow spongy cake so much, but I thought it was good early morning train food and I'm as sucker for anything with apple in it. We pick up passengers along the way including a Buddhist monk, backpackers and luggage-toting Thais. The scenery along the way is pretty unremarkable except for a stockpile of broken toilets in the middle of a field. It's hard to hear the stops along the way and we try to pay attention to town signs, but the backpackers exiting the train were a better sign that we'd reached our stop.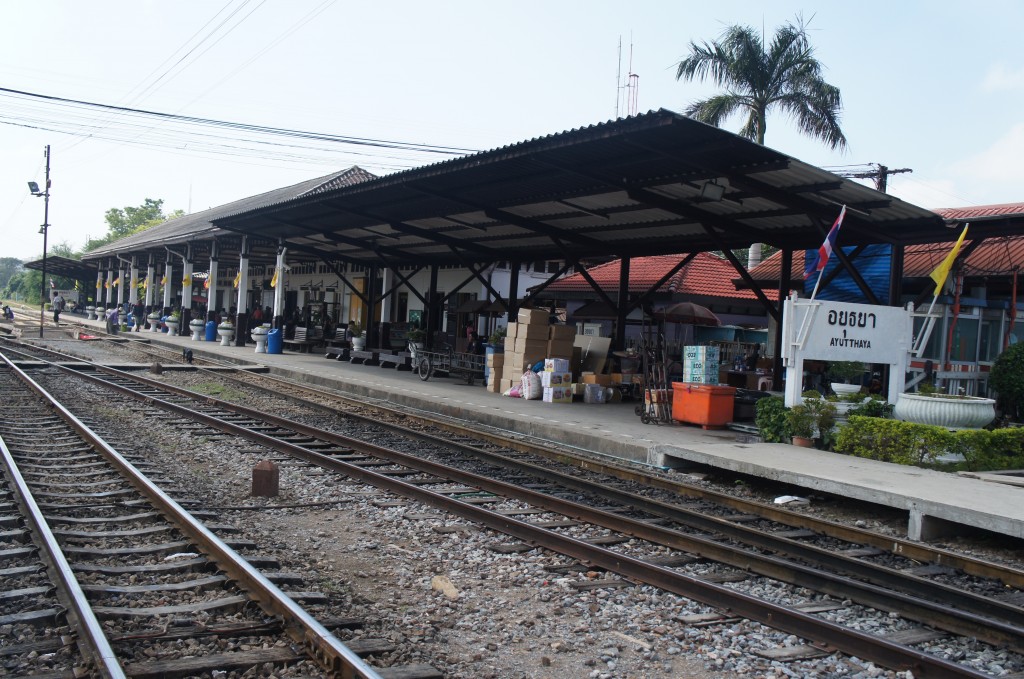 It would have been easy to miss the Ayutthaya train stop. The sign is small, appropriate for the size of the train station. We have to cross the train tracks to get to the station and walk into town, but first Nancee has to take a bathroom break. We spot a sign that looks related to the train station and she heads in that direction, but quickly comes trotting back with a territorial tan and white dog barking at her heels. No bathroom there, or if there is, this dog is not having any potty breaks anywhere on its turf. Nancee has to sniff elsewhere.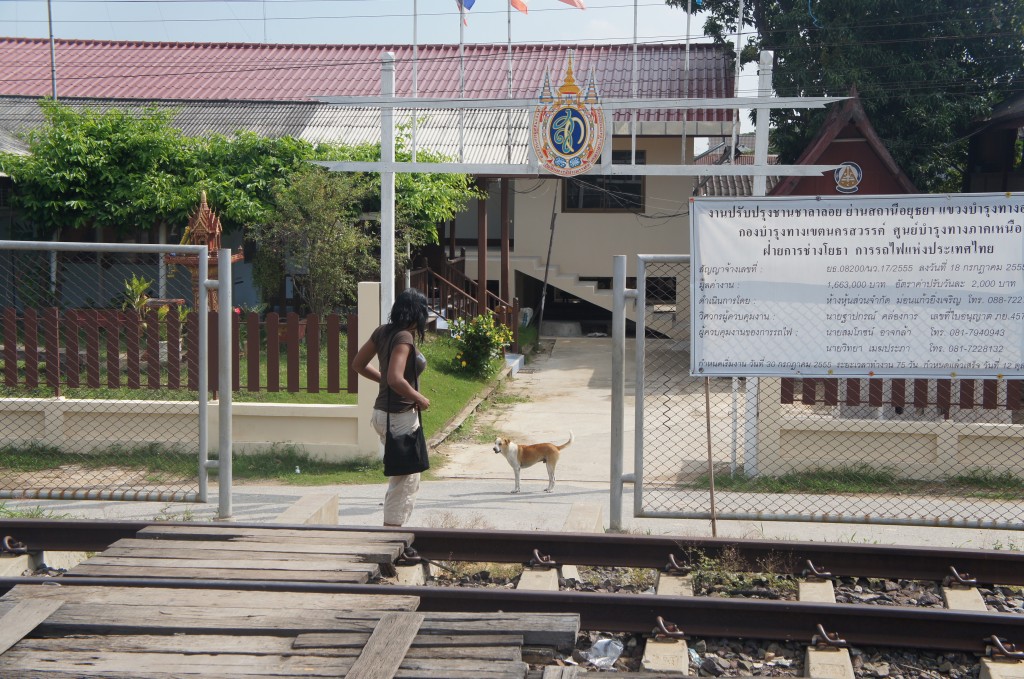 Just outside the train station we realize that Ayutthaya isn't as small and sleepy as we think. Cars and tuk-tuks jam the street and we immediately eliminate the thought that we'd tour around on bikes as suggested by the Lonely Planet guide. We'd like to keep all our limbs, thank you very much, so we head out on foot. Our destination is a ferry to take us onto the island of Ayutthaya which is surrounded by the Chao Phraya, Lopuburi and Pa Sak Rivers. Ayutthaya was rumored to be one of the largest cities in the world during its hey day as the capital of Siam in the 1700s and merchants from around the globe marveled at the more than 400 temples that once loomed there. What we'll see today are shadows of this city's former glory.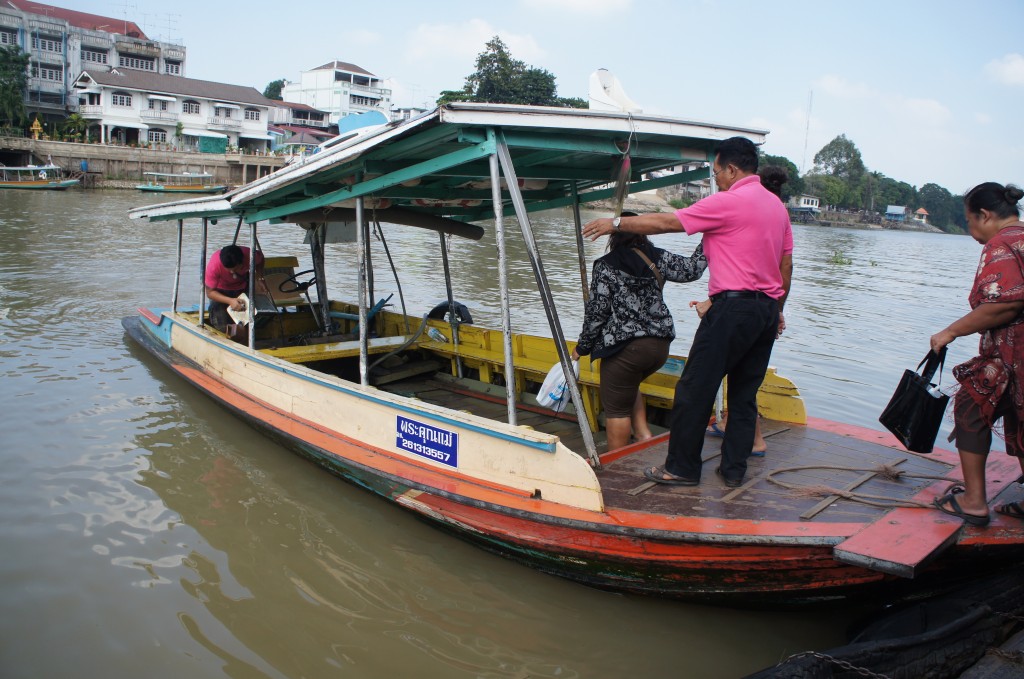 We plunk down 5 baht for our ferry ride across the murky Pa Sak and board what is more like a motorized raft with a few other tourists, schoolchildren and other Thais going about their daily routines. Our plan is to make our way to the tourism office to find a guide to tour the old ruins, but we allow ourselves to be distracted by a weekday market with locals shopping for groceries, clothing and anything else you under the sun. The food is what catches our eye mostly, even though we aren't sure what we are seeing. The variety of fruits and vegetables on this side of the world has always intrigued me. They are so alien and inviting and make apples and oranges seem so mundane. We stop at a red prickly item and wonder if it is fruit or vegetable. We'd later learn that it is dragon fruit and when cut open reveals a white pulpy center with small black seeds not unlike a kiwi. The taste is similar, too.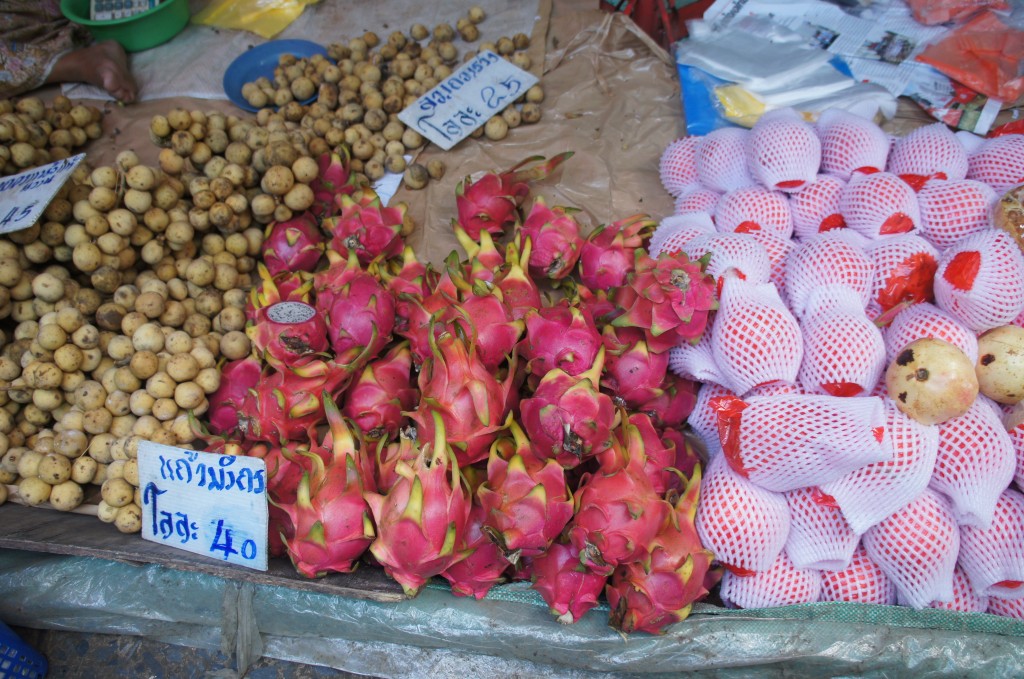 Back on our quest to experience a more ancient Ayutthaya, we cross busy store-lined thoroughfares in search of the tourism office when a man appears on our path smiling broadly and holding up a map. He says he can take us to see the temples. We are hesitant at first and he can sense this, so he crafts his pitch. He points to the places that he will take us by tuk-tuk, his smile never leaving his face. He'll take us to 6 sites he says and then he pulls out a small book and flips through its worn pages with handwritten testimonials from tourists he's won over before. There are glowing notes from an American couple and an Italian couple among others. He also insists that there will be "no shopping, no shopping." We are sold. We decide on a price that we are willing to pay each and think 500 baht or $16 seems fair. So does our new guide named Tony, and we hop into the back of his tuk-tuk that is shaped like a tiny flat-bed truck.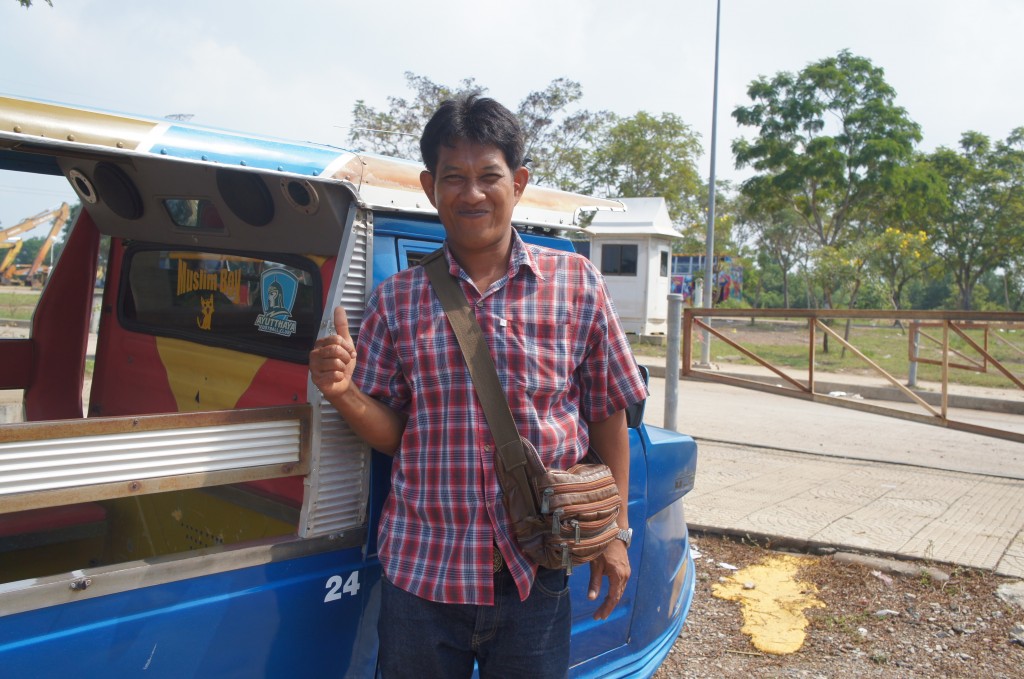 Our first stop is at a spire-shaped temple with its tip seemingly balancing the sun. It's suddenly grown very hot in Ayutthaya and we pause in the shade as Tony explains that this site and many others were almost submerged by flood water during last year's monsoon season. He points to a waterline on the pavilion where we are standing and it is well above our heads. He tells us that it was hard at the time to find food. He says he did a lot of fishing, smiling all the while he talks about what sounds horrifying. It's these kinds of stories while traveling that make you count your blessings. He tells us that we can walk around the temple (Wat Phu Khao Thong) and climb (79 steps, per Lonely Planet) to the top. So, we do. The sun is beating down something fierce but we make it up and pose for a few pics along the way. At the top we find of all things a napping dog along with a small group of tourists that I guess to be French. We take turns bending our heads to navigate a small tunnel into the heart of the temple and find a very small mirrored alter to Buddha that will only fit one person at a time.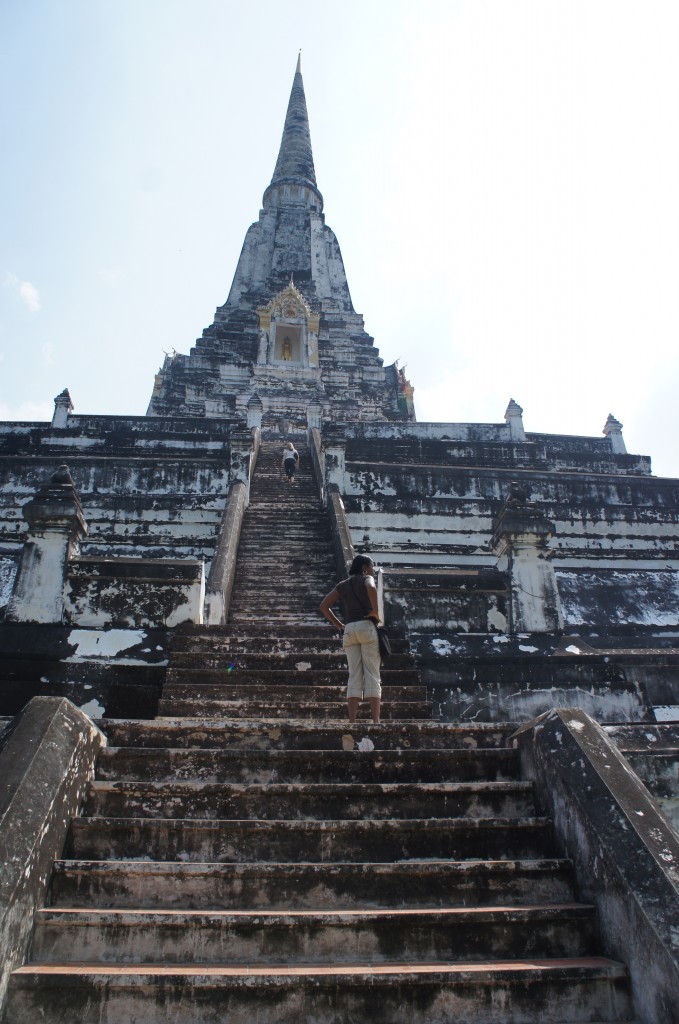 Back on the ground and on the way to another temple, I ask Tony to stop at a cluster of colorful, 4-10 feet tall roosters, seeming to salute a bronze statue of a man on horseback. I'd asked him about the roosters earlier. According to Tony, legend has it that in ancient times the king of Thailand's rooster beat the king of Burma's rooster in a huge cock fight and now it is considered good luck to own a rooster, which would explain the roosters roaming about the temple grounds and in town. Upon further investigation, I learn that the man on horseback is King Naresuan also known as "The Black Prince" one of Thailand's most revered kings for his fight to free Ayutthaya from Burmese occupation in the late 16th century, and that it was his rooster that won the legendary cock fight.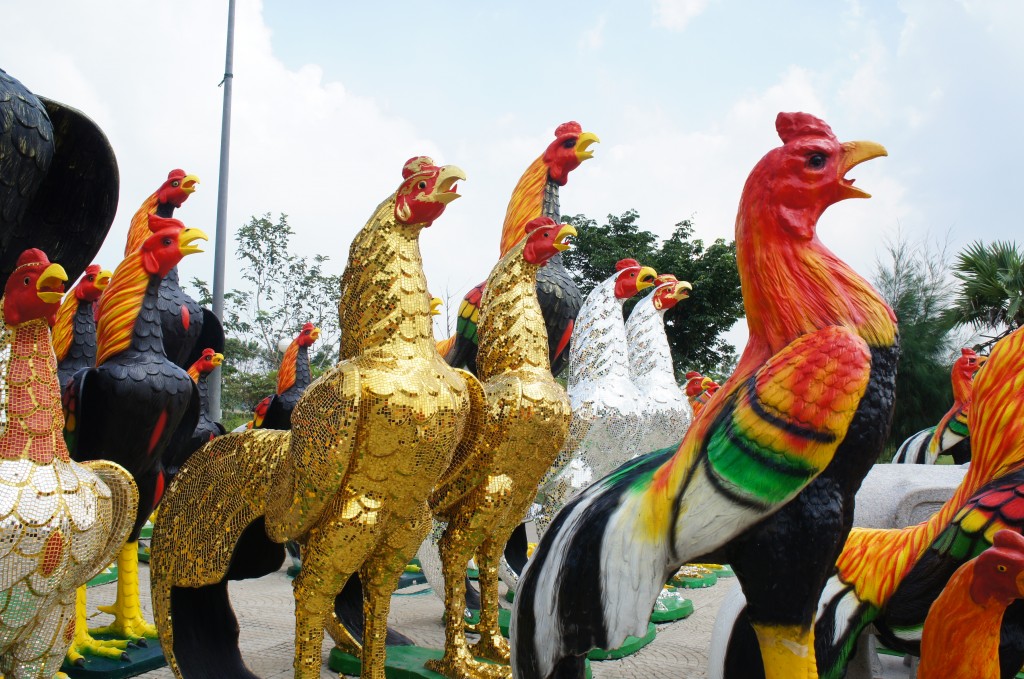 At Wat Chaiwatanaram, we can see the former grandeur that reigned at Ayutthaya with much of it still in tact. But we can't inspect the ruins closely due to flood damage. We see the tale tell water lines on temple signage nearby. This temple is in the Khmer architectural style that we are going to see much more of in Siem Reap at Angkor Wat and we make vain attempts to photograph it even though the sun has decided to hide behind passing clouds. A huge yellowing stone reclining Buddha in the middle of a field was our next stop, followed by Wat Phra Si Samphet, which is said to be the largest temple in Ayutthaya. But what captures our attention are the elephants decorated with tourists under bright red umbrellas. Tony encourages us to tour the area by elephant and we hesitate for a moment because we wonder about the treatment of the elephants. It's the same concern I had on my elephant ride in Sri Lanka. Karen has never been on an elephant ride and she's intrigued but torn. I tell her that I'll go if she does. Nancee decides that she doesn't want to take the trip, so Karen and I embark upon a 15 minute elephant lope near the temple guided by a mahout. The journey is pretty unremarkable except for a lovely view of a few of the chedis or stone monuments to Buddha and a well orchestrated photo op with the elephants where we pay them, literally, through the nose. If I were to go back, I'd skip the elephant ride and save myself the stress of wondering if the animals are OK during a 15-minute long tour. It wasn't worth it, cute as those creatures are. Karen agreed.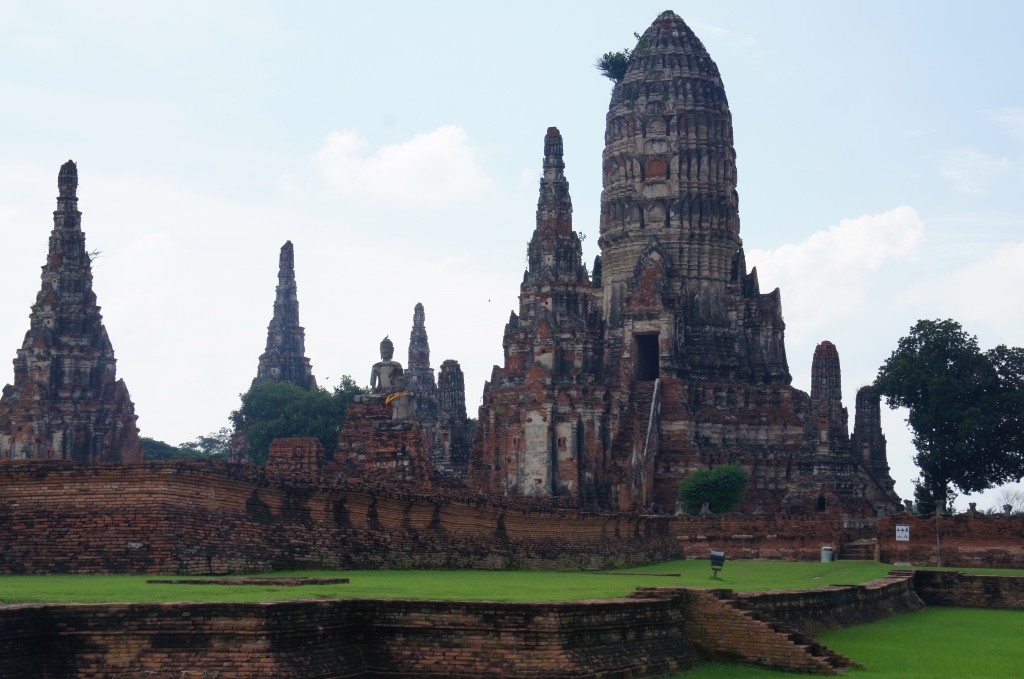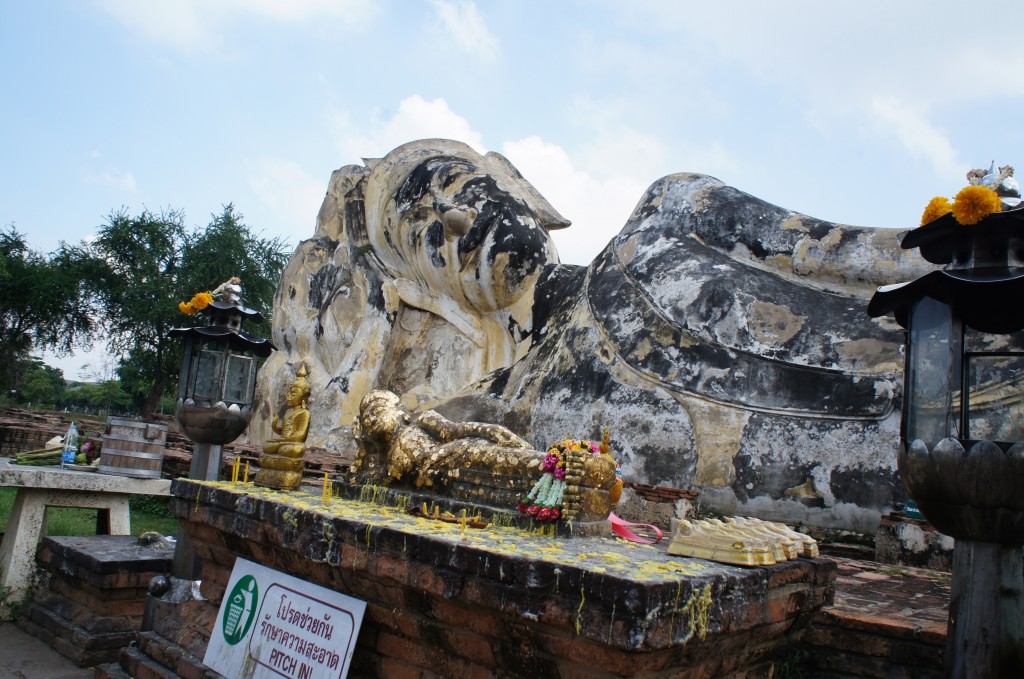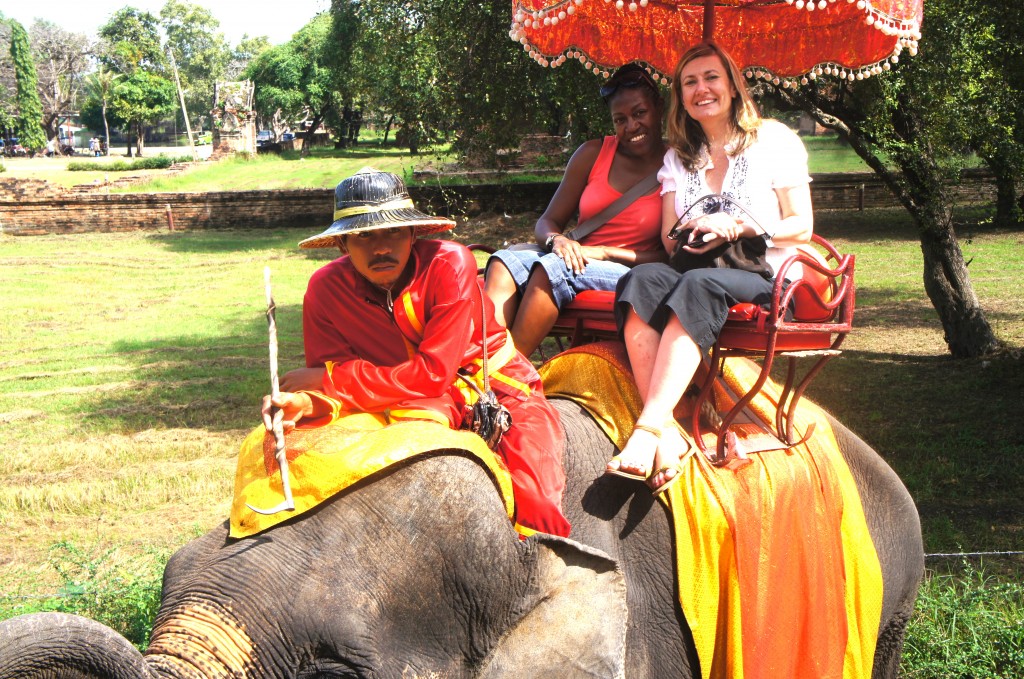 Our next tour stop was our favorite and the favorite of many who come to Ayutthaya with good reason. Wat Phra Mahathat is probably the most photogenic of the temples we've seen in my opinion. Ransacked by the Burmese, the temple is littered with headless Buddha figures amidst stone ruins that appear to be melting in the sun. It's clearly a site of much destruction, yet it is strangely beautiful and serene. We wander apart taking it in independently. The most photographed feature at this temple is a Buddha head mysteriously entwined in the roots of a tree.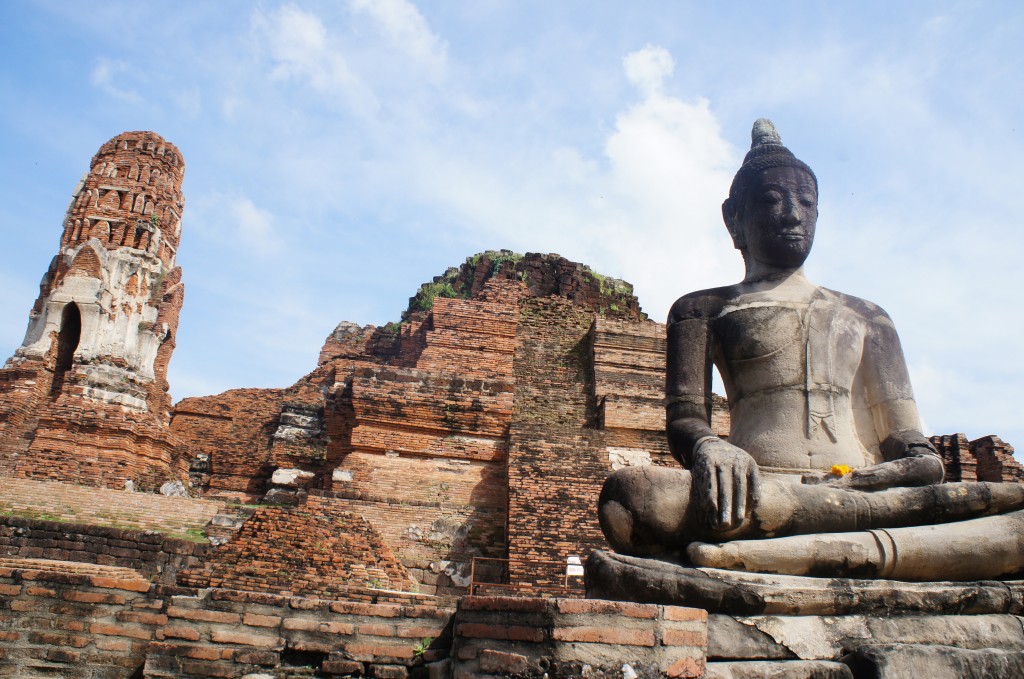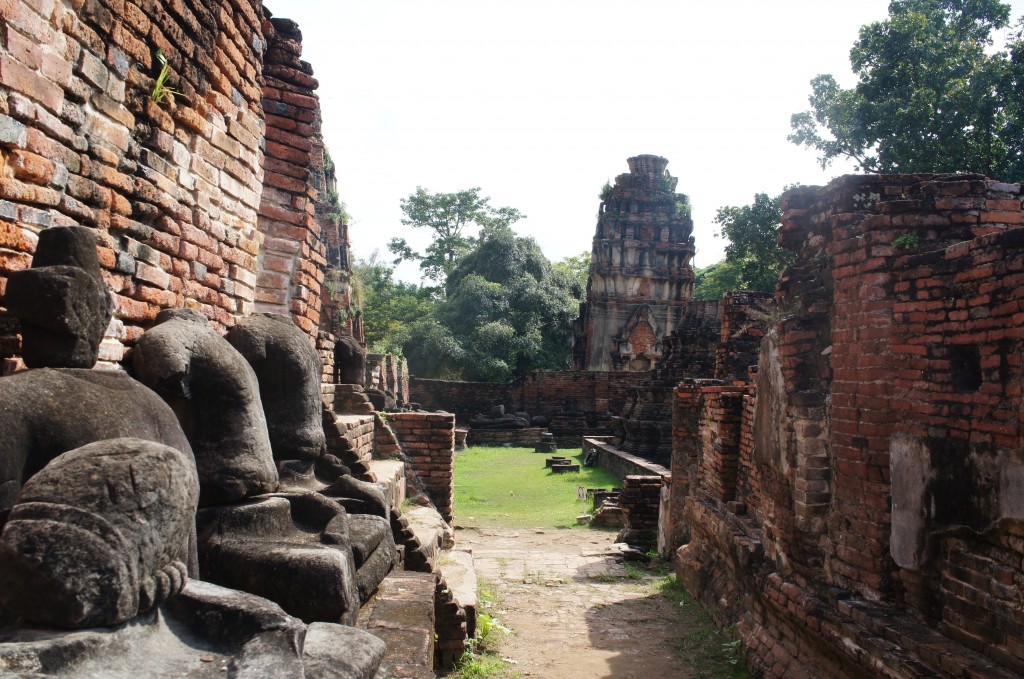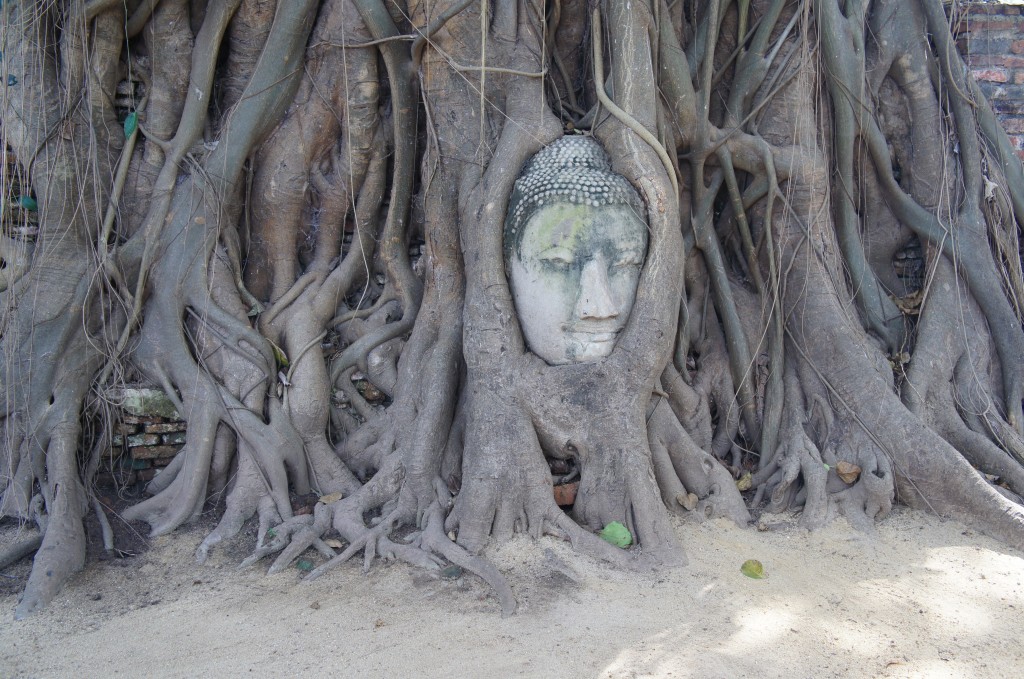 By this time we are ready for lunch and we want to go to a floating riverside restaurant recommended by our guide books, but we aren't sure that we end up there. The spot that Tony drops us has a riverside view though and serves a nice Pad Thai, that you can season yourself with more sugar for sweetness or dried peppers for more heat. We decide to head back to Bangkok and Tony convinces us that the bus is the way to go. We are sure that Tony is getting a little something from the vendors he directs us to, but we are cool with it because he's been a great guide and he hasn't steered us wrong yet. So, we thank him with a few "korp kun hkas" or thank you's and bows of the head, before we hop on a comfy air-conditioned bus for a mere $2 per person for the hour or so ride back to Thailand's current capital city of Bangkok.