We aren't sure if we are watching a marching band at the Macy's Day Parade or the changing of the guard at Buckingham Palace when we hear the James Bond theme music, followed by "Goldfinger" and "Puttin' on the Ritz." But we are definitely in front of Buckingham Palace watching the guys in the big bearskin hats and red uniforms march in tune. They don't do the dips and formations like a good high school marching band, they just peel off from the rest of their regiment in twos, sometimes groups of six and march past or right up to the gate. Some of the guards carry heavy flags. One guy looked too small for his heavy hat, which was slightly askew. Other guards carry massive riffles with the deadliest looking bayonets on the end that I've ever seen.
Yesterday, Naina told me that these guards are called Beefeaters because back in leaner times, they were fed beef and the best cuts of meat because they had the duty of protecting royalty. Folks with less were resentful and called the soldiers "beefeaters," meant to be a derrogatory term. Times have changed, especially once they appeared on a gin bottle.
When we first arrive at the palace gates there are throngs of tourists and we have to crane our necks to get a peek at what's going on. It's like a gathering of the United Nations. We hear Spanish, Italian, Japanese, English, maybe even some Farsi. Little kids sit on their father's shoulders and narrate the scene unfolding just beyond the gates. "They are coming this way! They went over there!" It's a little chaotic, but kind of fun.
We are standing behind a family from Portland, Oregon. The wife is from Silver Spring, Maryland. We learn that this is about a half-hour long ceremony. I was thinking that it would be over in about 10 minutes. We guess at what the guards are doing, unsure if we've seen the change over in guards or not. There's alot of passing of guards and because they all look pretty much the same, it's hard to tell if new guards have come out and taken their place or not. And, there appears to be a lot happening that may or may not be related to the actual ceremony.
At one point, a horse drawn carriage arrives and passes through the gates. We wonder who is inside. We think something important is happening today because we saw a lot of Brits dressed up, ladies in hats or wearing those now famous fascinators. Some men were in suits and even in tuxedos and tails. Maybe it WAS the Queen. A short time later we see a less swanky vehicle pass through the gates, something that looks like a green smart car. Was all this a part of the ceremony? We even think we may be on the site of a crime scene as a woman behind us whispers that the police found a man hanged nearby. As I said, there was alot happening. Eventually, some of our fellow curious tourists start to lose patience and the crowd starts to thin. We are able to get right up to the gates for a better view of more passing guards and marching band tunes. Finally, it appears to be over. Guards process out of the palace gates and start a parade towards St. James Park. We decide not to follow the parade or the crowds and turn in the other direction in search of lunch. We stop at a cute cafe not far away for sandwiches and return to the palace for more pomp and circumstance.
There is plenty of pomp and circumstance at the Royal Mews, the working stables of the palace. The horses snack on hay as we pass through to see the carriages, which are definitely something out of a fairytale, each used for different occassions. One is for the Queen to ride in to open Parliament and another just carries her lighted crown for all her British subjects to view. Then there is the royal Bentley which was built for her to stand up in. Naina and I guess that the Queen must be 4'2, because it doesn't look like an average-sized person, let alone a petite 5-foot person like me, could stand up in the vehicle. The most ostentatious thing we have the pleasure of laying our eyes on is the Golden State Coach, which weighs 4 tons and can only go about 10 miles per hour with six horses pulling it. It is baroque with a capital B. I like to think of it as the royal pimp mobile. It is only used for the most special of occassions like coronations, most recently for the Queen's Golden Jubilee celebration. Only the pictures can do it justice. The tour ends with the carriage that carried William and Kate to Buckingham Palace after their nuptials at Westminster Abbey in April.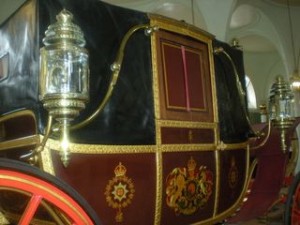 A few steps from the Mews is the Royal Gallery, which houses a rotating exhibit of art and decorative items aquired by the royals over the years. The current exhibit features items based on greek myths and mythology. There were paintings, jewelry and furniture showcasing Cupid, Diana and Apollo throughout. My favorite was a painting, possibly painted by a suitor of Queen Elizabeth I. She is painted into the greek myth "The Judgement of Paris." She appears to be in the role of Paris, judging the beauty of Athena, Aphrodite and Venus. But the Queen holds the prize, suggesting that she is more beautiful than these goddesses. The next room holds the fanciful collection of King George IV, who apparently had a passion for decorating and just acquiring the most exotic items of questionable taste that he could find. Naina visited an entire palace of his over-the-top collection just outside London recently.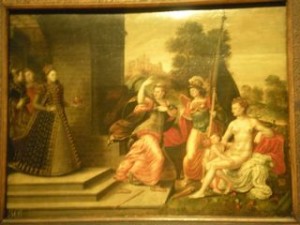 Feeling a bit of museum fatigue, we decide to break for tea and stroll through St. James Park, which is home to a bevy of unusual-looking waterfowl like the coot, a small shiny black bird with a white beak and face plate. I tell Naina that Mike Tyson would love the place with all the pigeon varieties strutting past. (He has a thing for pigeons, if you didn't know.)
The St. James Inn is a lovely place for tea, except that they've run out of scones. We make do with finger sandwiches and tasty little cakes. Then it is off to the top London sites. Trafalgar Square is first and it is characteristically mobbed with tourists and Londoners just hanging out between the fountains, on the stairs and in any other open space that we can find. There is a man playing a fire-breathing tuba, headless people holding umbrellas and other odd street performers. From there we make our way over to Westminster Abbey, passing Big Ben and the Parliament on the way. There is a massive line to get into Parliament and we can't figure out why. A policemen tells us that it has something to do with the newspaper phone tapping scandal. There's also a small demonstration against the Libya bombings just across the street in a space similar to Lafayette Park in DC. We make it to the Abbey which is quite impressive from the outside, but not more so that Notre Dame in Paris in my opinion. We see the entrance where a commoner named Kate stepped out of a carriage to marry a prince.
We've crammed a lot into one day, but it is rush hour and rather than fight our way through the crowds on the tube, we walk along Thames and the South Bank Centre past the Eye, the massive ferris wheel and what one of the writers from Lonely Planet says reminds them of the Eye of Mordor from the Lord of the Rings.
Along the South Bank there is a skate park and I see a group of teens practicing dance moves, maybe they hope to be Britain's next Back Street Boys. Naina and I end our day in a warm, bustling Italian restaurant famished after about 8 hours of walking, but satisfied with the days events. When we get home, we catch up on London's news and learn that we hadn't been invited to the Queen's annual garden party at Buckingham Palace. We are sure they wouldn't have noticed us among it's 8,000 guests. We also learn that a man really did hang himself from a tree just across the street from Buckingham Palace. A police officer covered his body with a tarp during the changing of the guard. And, police testified before Parliament as they investigated the newspaper tapping scandal that shut down the News of the World paper last week. All the people we saw at Parliament were press and spectators. It seems that more than Naina and I had a very busy day.