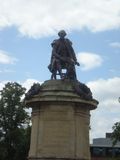 When Macbeth shows up on stage he's covered in blood from the battlefield. Later he's covered in the assassinated King Duncan's blood and smearing it on his wife, Lady Macbeth. Then, he orders henchmen to spill his buddy Banquo's blood, who in turn returns from the grave to spill Macbeth's blood, which spurts gruesomely from his throat, a metaphorical foretelling of what's to come. That's all in the first half of the Royal Shakespeare Company's production of "Macbeth" at Stratford-Upon-Avon, Shakespeare's hometown. I am sitting next to Frances and Mark who live about three hours away, but once lived outside of DC in Annandale and Rosslyn when Mark worked for the IMF. We marvel at the theater packed with students, tourists and locals, presumably all fans of the Bard. We also love the fact that the prescient witches are interpreted as ghost children. I can only take in the first half of the play because I've mistimed my stay in Stratford. All the sites close at 5 pm and if I stay for the play, I won't have much time to check out Shakespeare's birthplace and family homes.
I've made the pilgrammage to Stratford because I happen to be a fan of Shakespeare. I took a semester-long seminar in college with about five others and we contemplated his comedies and tragedies in my professor's living room. My favorites were the comedies like "Midsummer's Night Dream", "Measure for Measure" and "As You Like It." But I have to say that "Romeo and Juliet", "The Merchant of Venice" and "Othello" are right up there too. One of the best productions of Othello that I ever saw was at the Folger Shakespeare Theater starring Avery Brooks, The Hawk from Spencer for Hire, and Andre Braugher from Homicide in the roles of Othello and Iago. They were grippingly awesome in their roles.
Shakespeare's birthplace is a cross-section of Disney meets Jamestown or Williamsburg. Visitors are led through an exhibit featuring short films about Shakespeare's life and the impact of his plays. There's a signet ring that he may have worn and the first published book of all his plays. They keep showing clips from that awful "Romeo and Juliet" movie with Claire Danes and Leopardo DiCaprio. My favorite was always this1968 version. It was pretty over acted, but I thought it was oozing with passion and pretty darned great. I loved the music too. But back to Shakespeare's birthplace. After the exhibit you are led into a tiny two-level Tudor where guides dressed in the period share more details of Shakespeare's life–he was the third of 10 children and his father was a glovemaker–and life during Elizabethan times in Stratford. Out in the garden are actors reciting the best of Shakespeare's plays in costume and they invite others to join. One brave soul fearlessly recites Macbeth off the top of his head. And, of course, the whole experience ends in the gift shop as most Disney rides do. But I still enjoyed it all.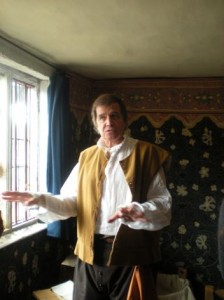 I went on to the Nash house, the home that Shakespeare bought for his two daughters and wife. His daughter Judith was a twin. Her brother Hamlet died young, which could explain his use of twins in his plays and the title his longest play. There is an archelogical project going on at the Nash house where they are excavating old Elizabethan artifacts.
Before it is time to catch the last bus and train back toward Oxford, about an hour away, I decide to dine at the Vinter Wine Bar on Sheep Street. It's one of those dark wood paneled places where they present the specials on a chalkboard, which I like. I decide on an 11-pound set menu of curried butternut squash soup and lamb provencal with saffron mash, paired with an Italian red. I made my bus in plenty of time, which turned out to be the local bus through the Cotswolds featuring stunning views of its rolling hills.