Actually, funny probably isn't the right word, freak might be better. Our trip was rudely interrupted the other night by a freak flash flood that created a fast-moving surge of water down the street in front of our hotel, just as we were planning to leave for a tango lesson and show.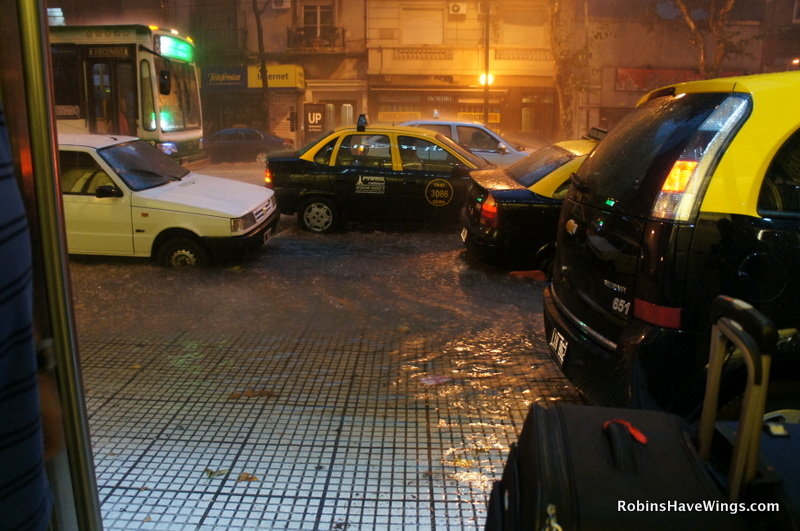 The surge didn't stop at the street, it forced its way into our hotel lobby sending guests scurrying in every direction. This video pretty much captures the scene.

What strikes me in this video is that folks are surprisingly calm and I have to say the members of our traveling party were pretty calm, too. Dressed in our tango show finest, we went to check that our belongings hadn't been drenched in our rooms, using the stairs since we heard what we thought was water rushing down the elevator shaft. Seeing that all was well at the moment, we regrouped and Gai told us that she was going to work on getting us out of the hotel as soon as possible. We'd reschedule the tango show for another time. She sent us upstairs to pack while she worked on our exit strategy. We had already planned to leave the Dazzler Tower Recoleta ahead of schedule because of a day-and-half-long power outage. So, we packed in almost total darkness leaving our doors open to get light from the hallways which were still well lit.
The process of getting 10 people out of one hotel into another on short notice during a unpredictable weather event at the start of carnival season in Buenos Aires on a Sunday night is more than a notion. Gai who happened to be the calmest of all of us reminded us that there is always what she calls an "X factor" in travel, the thing that you never thought would happen until it does. If you are a seasoned traveler like many of us on this tour, you know that you kind of have to go with the flow, in this case literally. She also said this is another good reason to have trip insurance. I bought some for the first time on my trip to Thailand through WorldNomads.com and I'm glad that I had the presence of mind to get some for this trip, too. You can bet I won't travel without it from this point forward.
Seeing as there wasn't much use in sitting around in a soggy hotel during the rebooking process, Gai sent us off to dinner. We chose a place that Lonely Planet calls an institution in the Recoletta neighborhood, La Biela. Sitting directly behind the Cemetario de Recoletta, La Biela definitely looks like a neighborhood institution, the place generations and generations of Buenos Aires residents have been going to for good food and familiar faces. No one in the place looked to be under 65 for starters and a waiter in a green vest with a towel hanging over his right forearm greets us immediately. An older woman seated by the window catches my eye and asks in Spanish if we are Colombian. That's a new one for us. We've been mistaken for Brazilians during our trip so far. I tell her where we are from and ask what's up with the statues of two men seated at a table nearby. They are famed Argentinian writers and friends Jorge Louis Borges and Adolfo Bioy Cesares, who dined here along with other important and upper class Argentinians known as portenas. My new friend offers to take a photo and tells me that she is very pleased to me meet. I like this place already. It turns out to be a great place to take our mind off our unfortunate travel circumstances and enjoy some good food.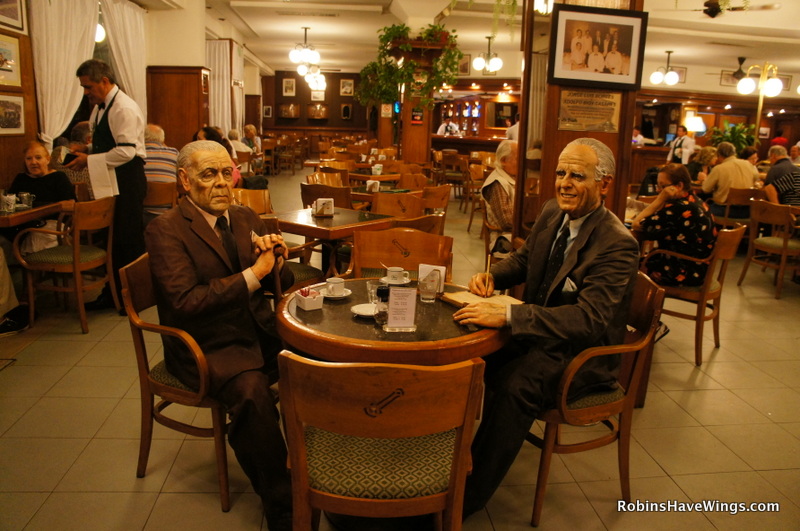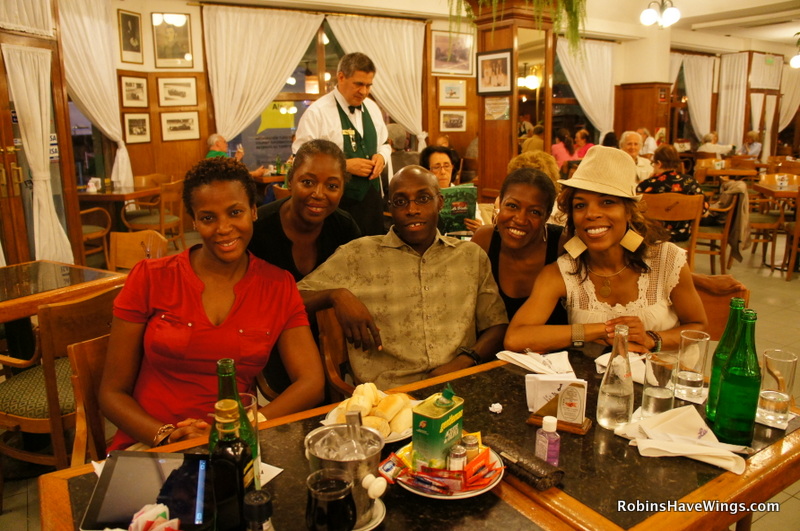 Before our travels were so rudely interrupted, the group split up to explore the city on our own. Kenitra, Sheneekra and I decide to leisurely walk to San Telmo's well-known Sunday market from our hotel. At first the journey is pretty unremarkable as we pass through what looks like the Buenos Aires business district. All the shops are closed and there is almost no foot traffic. But I'm excited with we reach Avenido 9 de Julio, the widest avenue in the world, commemorating Argentina's independence from Span with 9 lanes of traffic. You don't realize house massive the street is until you are standing on its center median watching traffic whiz by on either side of you. If you are a pedestrian who likes to dart across the street to beat the traffic, you'd be toast here. If you don't have the slightest clue where your are going when you are driving, you may want to avoid the street, too. We saw a taxi turn too soon almost running into oncoming traffic. He realized his error, quickly self-corrected and took off in the right direction. (By the way, we'd later learn from our guide, Luis, that this grand thoroughfare was completely submerged by the flash flood, too.)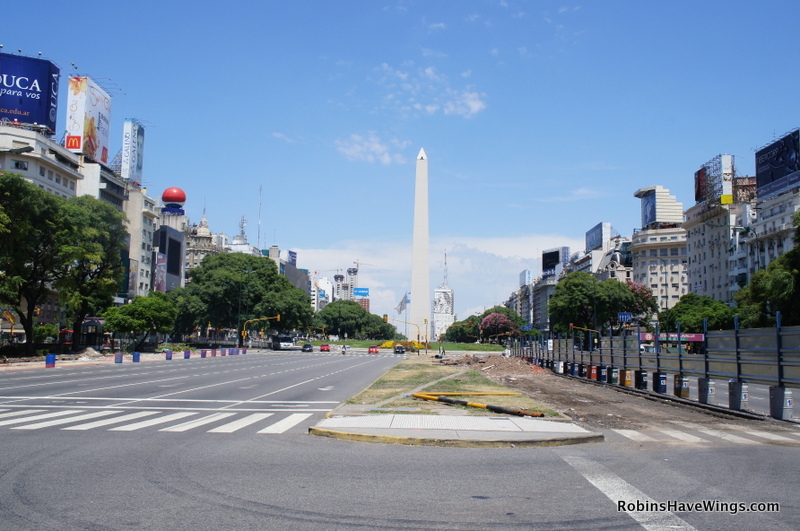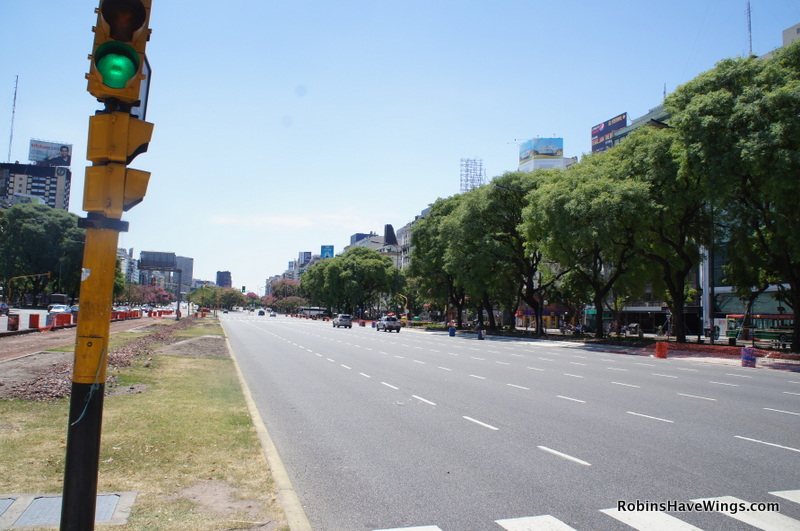 Off 9 de Julio, we wandered upon Lavalle Street a narrow pedestrian-friendly shopping street. It's heard to describe. I'd call it oddly interesting. The shops were a miss mash of cheap clothing stores, record stores, restaurants and movie theaters. It was clear that this is where the locals come on a Sunday afternoon. There was also a huge bingo hall that looked like it belonged in old Vegas. But the street itself was interesting to us because it seemed to offer good photo ops with is narrow-tunnel like appearance sandwiched between tall buildings.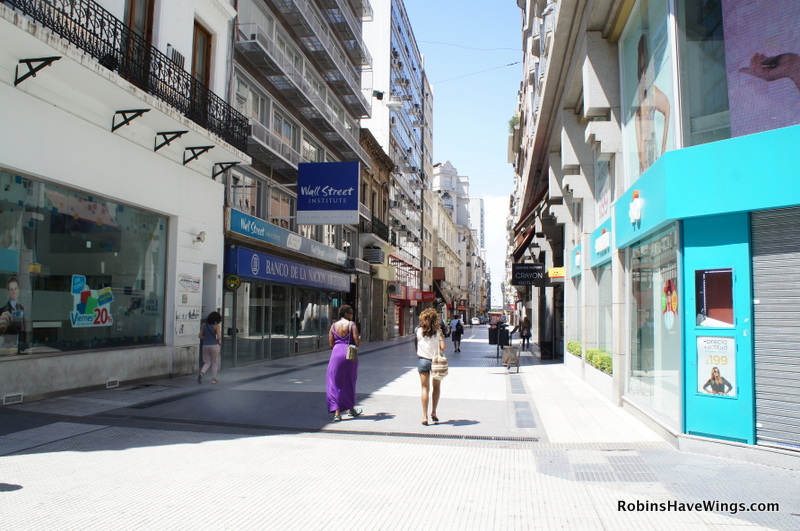 We hit another stretch of uninteresting road on Leandro N. Alem until we make it to Casa Rosada, where Argentina's president, Cristina Fernandez de Kirchner, conducts all her business. By this time we've been walking for a couple of hours, we are hot, thirsty and not sure how far we have left to go to get to the market. We imagine it's more blocks that we want to walk until we ask a police officer where Defensa is, thinking we'll need to catch a cab from there. As we walk a short block down Defensa we realize, to our relief, that we are the start of the market. It's sidewalk is almost invisible, taken over by vendors and artisans of all sorts selling Argentinian crafts from jewelry and leather work to art and antiques. But before we can dive in we have to eat. I spot a really cute restaurant just across from the Convento de San Francisco called Museo de Filete. It's got a modern yet traditional feel and it is here that I decide to try milanesa, a popular Argentinian dish, very similar to chicken-fried steak where the meat is pounded out and fried. It's pretty good and I ask for my new favorite condiment, chimichurri to go with it.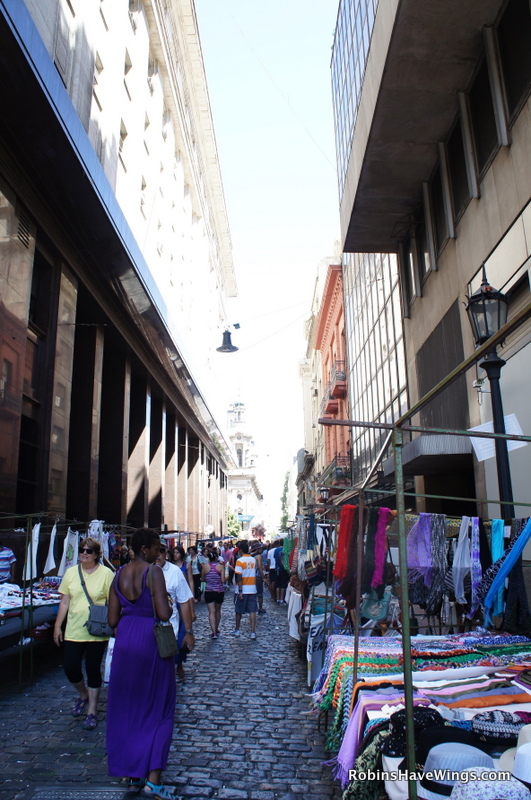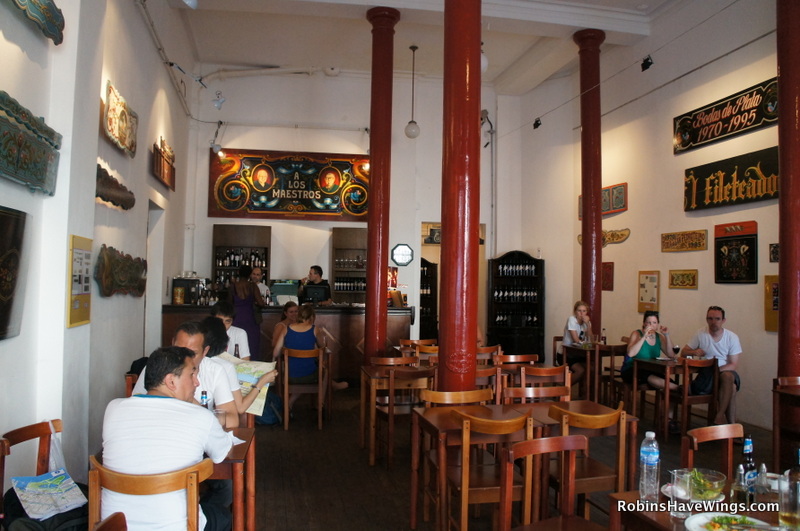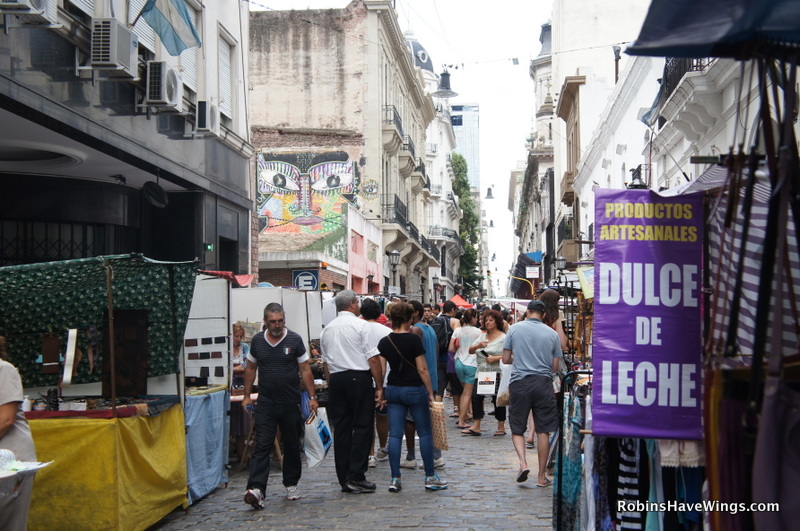 During the rest of our shopping adventures in San Telmo we'd learn several important helpful Buenos Aires travel tips:
1. You can use American dollars in Buenos Aires at some places, but especially at the market where the dollar is worth more than the peso and vendors can exchange dollars for the peso on the black market at a 6 percent rate. If you bring dollars you can get the same exchange rate if you need pesos and know the right people.
2. If you plan to use pesos, make sure they are crisp bills with no marks or tears. Kenitra tried on a couple of occasions to pay for souvenirs with dollars and vendors wouldn't accept her torn bills. The vendors can't easily trade marked bills on the black market. Even when she did pay with a pristine bill the vendor ran a couple of stalls down from her stall to have some guy check to make sure it wasn't counterfeit.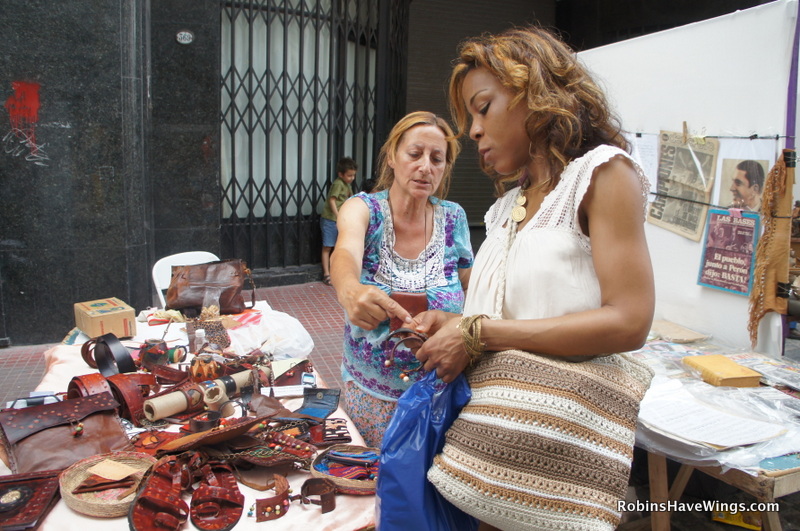 3. Possibly the most important tip of all is to wear your purse across your shoulder and in front of you at all times because San Telmo is notorious for pick pockets as the locals will happily tell you. Presleith was accosted by two men who she thought were out to get her bag. But they were only very eager  to tell her the proper way to wear her purse. As Kenitra brought a pair of earrings, the vendor practically scolded her for wearing her bag loosely on her shoulder.
So, to recap, what important travel lessons have you learned in today's blog post? Tell me in the comments and add your own.
Up next: Malbec and marvelous  Mendoza…