You'd probably think of a million tinsel-draped, twinkling-light places before you thought of Brazil as an over-the-top Christmas-is-here destination. Lapland, Finland always tops lists with its frosty Arctic Circle locale and all those real reindeer, then there's Santa Clause, Indiana, the name speaks for itself. But Gramado, Brazil in the state of Rio Grande do Sul, promises to give these holiday hotspots a run for their money.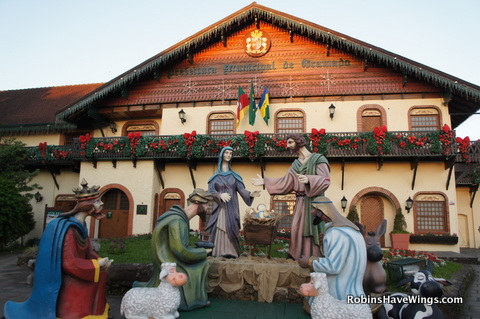 I found myself in Gramado a couple of weeks ago as a guest of Embratur, Brazil's tourism board, which is showing off the country in anticipation of next year's World Cup. The Brazil most of us know is lined with miles of bask-worthy beaches, sultry and hot, and pulsing with a samba beat. But Gramado is something entirely different, I felt like I'd been dropped in the middle Grimm's Hansel and Gretel fairytale and I forgot to pack my lederhosen. This probably has to do with the fact that many of the people in Gramado are descendants of German immigrants who've brought their flair for Christmas with them. The buildings, including the city hall, look like they are made of gingerbread with elaborate trim and ridiculously cute facades.
While we envy the sizzle of Rio and Salvador, some Brazilians crave colder temperatures especially around the holidays, so they flock south to Gramado where they can wear a hat and gloves on cool evenings, sip the hot chocolate that the city is known for and gaze at thousands of holiday lights framing almost every street for "Natal Luz," Christmas of Lights.
And, the holiday cheer here is palpable. Brazilians huddle together in front of nativity displays and smile widely for pictures in front of Christmas trees a blaze. If this were Whoville, they'd be singing the Fah-who-foraze song with hands clasped while encircling a ginormous Christmas tree. And, actually, I really heard them singing! While we were awaiting one of Gramado's premiere holiday spectacles over Joaquina Rita Bier Lake, a family sitting nearby sang Christmas carols at the top of their lungs in English.  Did I mention that we were awaiting a holiday spectacle? Well, we got it. Natalis, Gramado's latest holiday showcase of floating lights and soaring music was just that. Huge sprays of water projected 3-D Biblical scenes from the creation right through the birth of Jesus to the crucifixion. This is when I knew they were serious about Christmas. John Lennon's Happy Christmas plays as fireworks explode overhead with images of smiling Santas floating over a dark lake. You couldn't get more festive.
Well, maybe you could. There's the holiday parade complete with angels, toy soldiers, gingerbread men and Santa and his reindeer, of course. And, then there's a Cirque du Soleil type production, telling the story of St. Nick with aerialists and acrobats. All told, there are 50 holiday shows and attractions lasting for 73 days from Nov. 1 to Jan. 12. Not feeling the holiday spirit yet? There's still time my friends; go to Brazil.
Get into the holiday spirit, Brazilian style with these photos from the talented Embratur photographer that I was traveling with, Andre Maceira.