My father is looking at me quizzically. "This beef melts in your mouth," he says to me, in disbelief. He really couldn't understand how a piece of meat could perform such a feat. But I could and I had experienced it before, which is why I recommended Chez Fernand for dinner this night. I encouraged everyone to try the beouf bourgningon because I had the distinct pleasure of tasting it last December with my friend Tanya. We shared the same wonderful disbelief and were happy in it. Now my entire family knows the feeling. April says "Wow," over and over again. Steve shows his approval with several helpings. My mom is not a beef eater, but raves about the tenderness of the beef, too. Dad, once again registers disbelief.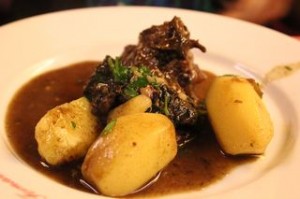 We've had several good food experiences in one day. We started with our open-air market food tour and cooking class near the Maubert-Mutualite Metro. Our chef, Julie, started us off in the market with sausage tastings from a gold medal sausage maker. She says that folks in the food industry work for years to compete in contests and earn prestigious awards like the best croissant, the best cheese and the best sausage. We are pretty impressed by this guy's work, which includes sausage with mushroom, sausage with figs and donkey sausage. We aren't sure about the latter; tasted very gamey. Julie selects a sausage for the appetizer at the lunch we will be making today. Then she goes on to talk about cheese like wine. Cheese is a big part of Parisian culture and Parisians know a good cheese like a fine wine by type (cow, goat, ewe or some combination there of), where it is from and sight (the smaller and yellower the better). There will be another lesson on cheese later. We pick up fresh figs and grapes for dessert, eggplant, artichokes and pork for our main course and of course bread. With all our ingredients, we head to the La Cuisine Paris kitchen and along the way get to know our fellow cooks, strangely, two couples from Sydney, Australia named Alex and Nick and Alex and Nick. They'd never met each other before and we all marveled at the crazy coincidence. Julie admits to being a little strict in the kitchen and gives us a few food prep rules in the kitchen and then assigns us different tasks. I prick eggplants to go in our side dish. Steve cuts figs to go in our dessert. April cuts beets for our appetizers. Dad trims the coriander, Mom peels and cuts artichoke. She's really in her element here because she was in the food service business for years. She asks Julie about different flavors and cooking techniques throughout like a fellow chef. We move about different tasks with Julie giving demos along the way until we've managed, to our surprise, to create a fabulous meal. It starts with appetizers of quick roasted cherry tomatoes in olive oil, garlic and corriander, which was a huge hit, along with beets in balsalmic viniagrette and pepper sausage. Our main course was two types of pork filet mignon, one I helped prepare, marinated in Grand Marnier and olive oil; the other in soy sauce and honey. Steve helped cook the pork to perfection by pan frying and then roasting in the oven to continue cooking and seal in the juices. It was delicious. Our side dish was the eggplant steamed in the microwave, sauted with artichoke (Mom, the cook, says she'll never make that again because it is too much work.) and green onions. Dessert is a yummy fig and grape tart bursting with flavor. Selecting and tasting the figs brings back memories of the fig tree my grandmother used to have in her backyard in Mobile, Alabama. But before dessert, we have the cheese plate, which is what the French do, but in our zeal to taste the cheese, we make a terrible French faux pas and cut the cheese incorrectly, giving Julie heart palpatations. This leads to the first lecture that any of us has ever received on cutting the cheese, so to speak. Check out the great video shot by my brother-in-law, Steve, below. By the way, if you noticed an improvement in the quality of the photos in my blog, that is because Steve shot those, too. Helps to have a photo journalist in the family.
After a great lunch, we decide to do what Parisians do and what most people who come to Paris do, stroll along the Seine. We stroll because it is a perfect day, sunny and 70. We also stroll because we need to walk off our meal. We aren't far from Notre Dame and it is on my father's list of must-see sights, so we stroll in that direction. We already had a great view of the cathedral on our walk to the cooking class where we crossed a bridge with hundreds of locks attached, showcasing the tradition of lovers who visit Paris to leave the locks and throw the keys in the Seine as a testament to their lasting love. Some locks were engraved, some marked with Sharpie, and they ranged in size and shape. We walked past the bouqinistes, the booksellers along the Seine, who sell heady tomes by the likes of Satre and Camus, but we do spy a George Clooney autobiography in the mix, too.
At Notre Dame, we take in its flying butresses, rose window and quintessential gothicness. We draw comparisions again to the National Cathedral and April and I think they should add chandeliers like the ones in Notre Dame as they repair after the recent earthquake in DC. As with everything in Paris, we can't believe how old this cathedral is. Dating back to the 1100s, it will celebrate its 850th birthday next year. It is unfathomable to visitors from a country as young as the United States.
Still inspired by the goregous day, April chose our next destination–The Champs-Elysee, of course. For those of you who don't know, my sister is a fashionista, but not in an obnoxious way. She just knows what she likes, is always aware of the latest trends and dabbles in them along with her extensive practice in classic style. So, we have to go the center of the universe when it come to style. Question: Would you stand in a line to go to the Ambercrombie and Fitch? It seems that Parisians would. We can't believe our eyes when we see the roped area with eager young, trendy types next to a gold ornate, gated opening that could be the entrance to a French palace, which turns out to be the Ambercrombie and Fitch on the Champs-Elysee. It is guarded by several young men that look like the sex-starved models that peer out at you from every store in the US. Young girls exit gleefully with their bags and we still can't believe the hype. A few blocks away, we visit a place where we do believe the hype, Laduree, the famed sweet shop known for its macarons. For the unititated, a Parisian macaron is a small, cake-like cookie kind of like a soft Oreo with filling and different flavors. Inside Laduree, which is like a life-sized doll house filled with French decor from the 1800s, we enjoy an afternoon snack of tea, cofee and macarons. Mom, April and I fall for the orange blossom and citrus-thyme flavors, while being pretty impressed with the coconut flavor, too.
Rejuvinated by sugar, we continue on down the Champs-Elysee until we see the Louis Vuitton logo, shining like a beacon in the sky. April's eyes get wide and whispers, "Wow." Then we see the line, rivaling the line at the Ambercrombie and Fitch. I ask April if she would stand in this line. She might have, except we decide to use her pregnancy as a golden ticket to enter the golden store. It works. We are in and oggling bags. April is radiating and it isn't because she is with child. She is in her element. After exploring every nook and cranny of the multi-level superstore and salivating over each monogramed leather item, some how April managed to leave without a bag. They didn't have the bag she coveted in stock. But the hunt is not over.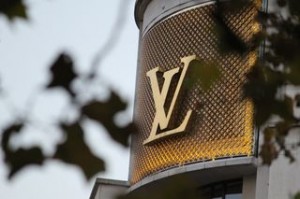 Then it was Steve's turn to visit his dream store and we stepped into the chromed dreamland of the Mercedes Benz store. Steve loves cars. A great vintage car is to him what a Louis Vuitton bag is for my sister. He restores them and hits any car show he can find. A shiny burnt orange sports Mercedes with white interior greets us at the door and even my mother is impressed. The car is gorgeous and compels store visitors to take pictures with it. Steve snaps photos of every detail. He is in his element.
It's almost 9 pm and we are running on Mercedes Benz fumes, which leads us to where I started this blog, Chez Fernand. Not enough can be said about this place. It's a tough place to find, because its street, Rue Christine, is not on any map. But it is more than worth the effort because of its warm atmosphere and its escargot, beouf bourgingnon, lamb, clafloutis, chocolate cake and creme brulee. It's all good. We ate every last bite and found ourselves having to roll, I mean stroll, across the Pont Neuf (New Bridge, actually Paris' oldest bridge) to the metro on the way home. Steve got some lovely parting shots from a very full and fantastic day.