Montevideo, the capital of Uruguay, is lovely. Walking in Ciudad Vieja feels familiar with hints of Havana and the French Quarter wafting out from its windows festooned in wrought iron. But getting to the little gem of a city is a bit of a chore quite frankly, especially by ferry. The ferry ride itself is only 3 hours. I've taken longer journeys for a side trip, but the one hour, or more, slog to get through customs made this journey more tiresome than expected. As we shift from foot to foot in line, Gai says "aduana" or customs in Spanish has become a bad word. We stood in a similar line upon entry to Argentina just a day ago. But once we make it through, we are impressed by our mode of transportation. The ferry oddly called Buquebus is probably the nicest commuter ferry we've all been aboard. We all had thoughts of the Martha's Vineyard ferry. But this is more like Acela's Amtrak train on water and better. It's got two decks with comfy spacious seats, cafeteria-style food areas serving fresh sandwiches and croissants, and the kicker, two floors of duty-free shopping. Taking a peek in you'd think people took the ferry just to shop for perfume. Gai and Floyd actually went in and reported that these were serious shoppers who weren't afraid to use a sharp elbow to two to get to their tax-free trinkets.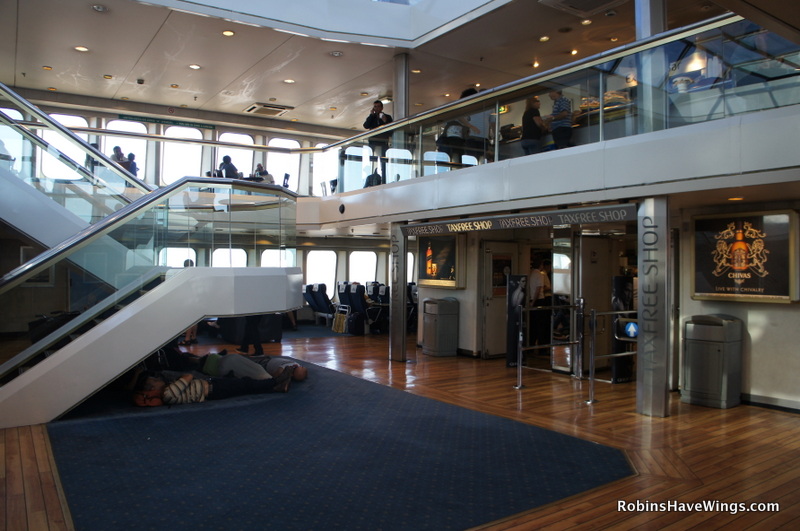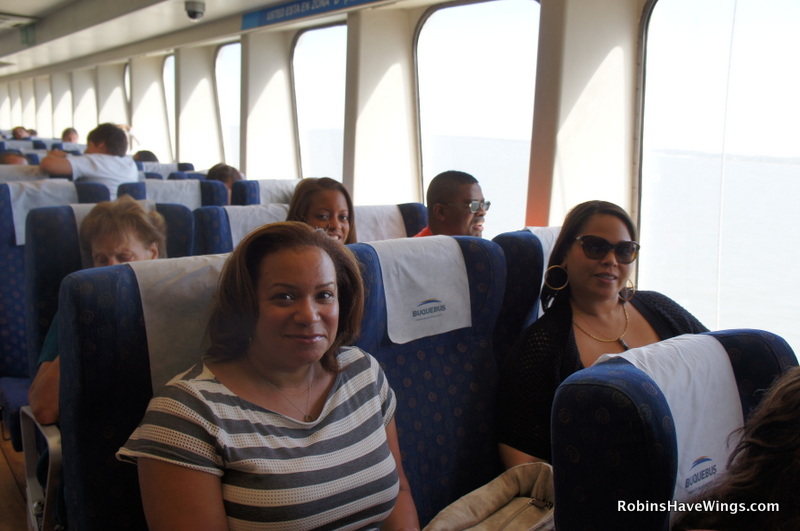 We use our time aboard to nap, stare out at the wide Rio de la Plata and get to know each other. I learn that Alan actually hails from South America, Guyana, specifically, even though he grew up in New York. We end up taking about his native home a bit from the Jonestown tragedy to Guyana's Caribbean culture and future in forestry. It's nice to get a little culture from a fellow traveler before we disembark for more in Uruguay. Esteban, our guide, is waiting there for us. He's got a grandfatherly air about him and he explains that many of the people flowing from our Buquebus and the giant cruise ships around us are Argentinians or Brazilians who have come to Uruguay to vacation at its popular beaches like Punta del Este, known as the St. Tropez of Uruguay. But it's clear that what excites Estaban the most is history. It's lucky that he works in a place like Montevideo, a former Spanish fortress, which is oozing with it. The Spaniards chose Montevideo as a spot to protect their agricultural and economic interests in Uruguay from the encroaching Portuguese. But Uruguay shares a similar heritage to its Argentinian neighbor with European immigrants like the Italians and French influencing its architecture and food.
Our first stop at the Museo des Artes Decorativas demonstrates this blend of cultures and the colonial grandeur that once reigned in Montevideo. It's an architectural stunner for sure. Just stepping into its airy entry foretells the gorgeous detail inside. The former home of sibling industrialists also happens to be the place where John Paul II brokered a treaty between feuding Argentina and Chile. It was also Uruguay's first theater. You can imagine it standing in a breathtaking ballroom, complete with crystal chandelier and guilder piano. Gai and I immediately think Versailles in a much smaller, less overdone kind of way. The influence of the building's French architects is unmistakable. Restored furnishings liter some of the rooms, while other lay bare, exhibiting the art of more modern Uruguayans.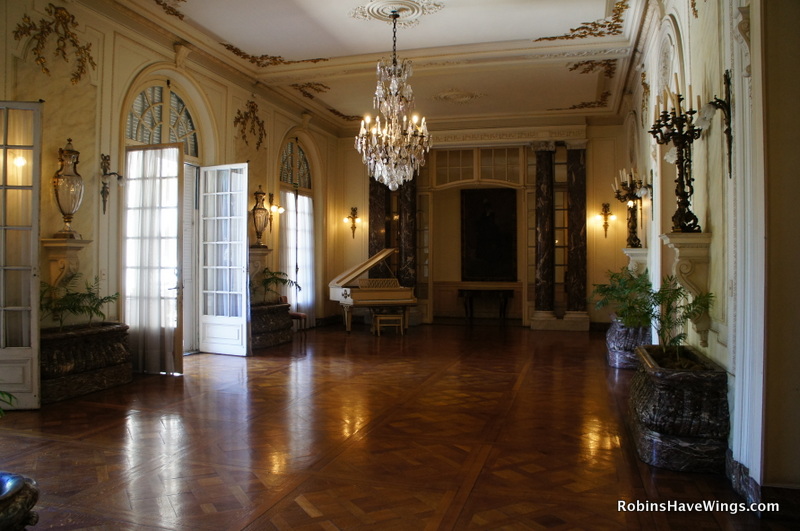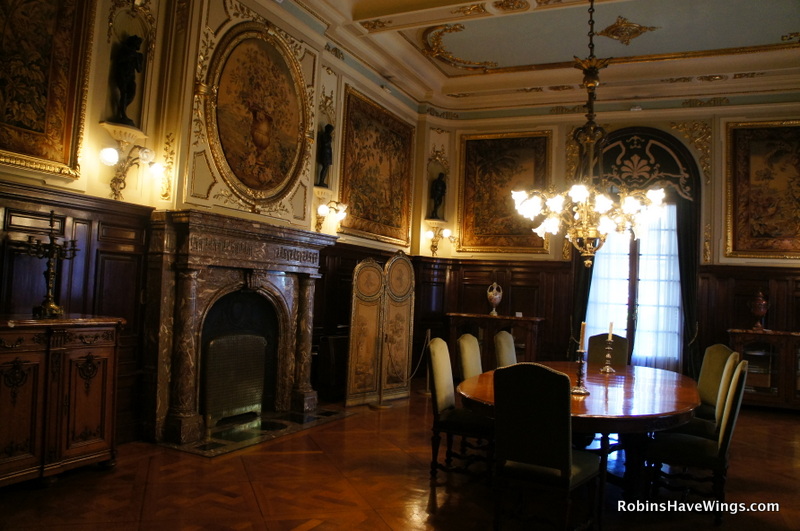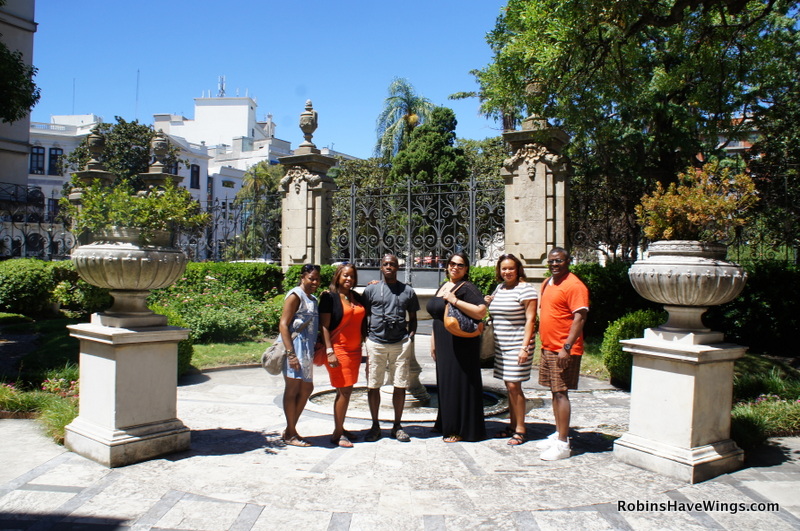 We get a look at present-day Montevideo from the most unlikely of places, in my opinion, the city's municipal building. After rickety ride to the 22nd floor of Montevideo's city hall, we are rewarded with a 360 view of city below. Every important site unfolds before us an Esteban tries to tell us about them all. It's here that we learn how Montevideo got its name. Historians say that when the Spaniards came to scout this place they spotted a hill that would make a good place to settle. "Monte" means hill in Spanish. This also happened to be the 6th hill they spotted and 6 in Roman numerals is VI. The hill happens to run east and west or "de este y oeste" in Spanish, which shortens to "deo" to complete Montevideo. Another story suggests that Portuguese explorers also spotted this place and shouted "I see a hill! I see a hill," which when spoken in Portuguese sounds a lot like Montevideo.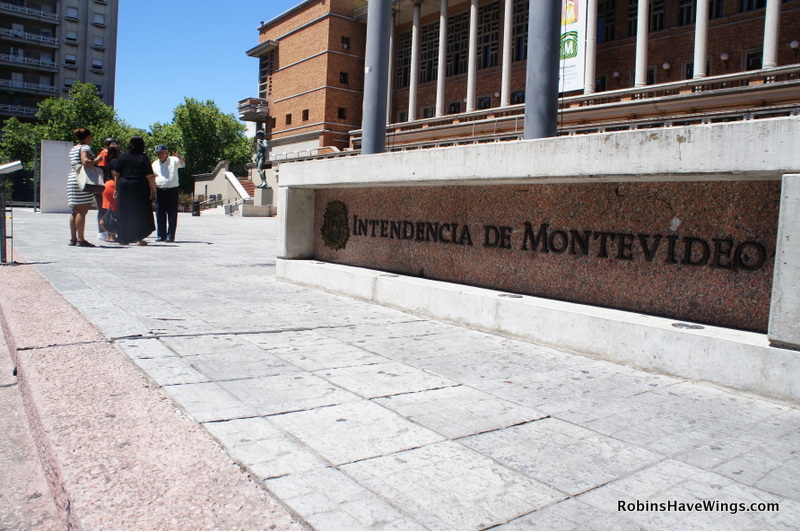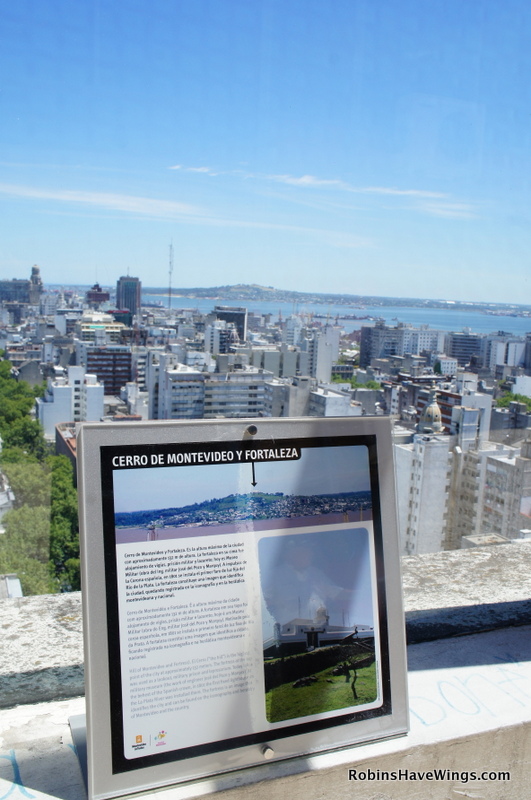 We'd end up seeing much of what we saw from our governmental perch on the ground later in the day, but only after we gorge ourselves with meat at Mercardo del Puerto, Montevideo's old port marketplace that has been transformed into a foodie destination. We ogle roasting meats from every part of the cow, Uruguay's claim to fame. There are sweaty plump sausages and plates with steaks hanging over the side. What does a meat-lovers heaven look like? Mercado del Puerto. Before we select one of the parillas or steak restaurants to eat, we sample Uruguay's drink of choice, "medio y medio," or half and half. We're not talking half milk and half cream folks; we're talking half white wine and half sparkling wine, and it is good. Refreshing and sweet, but not cloyingly so. A bottle appears on our table at Cabana Veronica where we choose to eat. Many of us order the petite filet which looks unremarkable on the plate, but packs a succulent punch on the tastebuds. It's perfectly cooked at a juicy medium.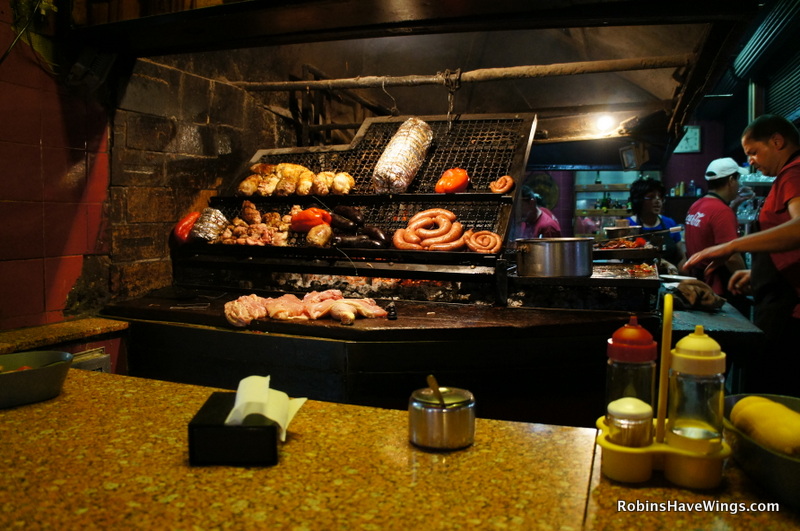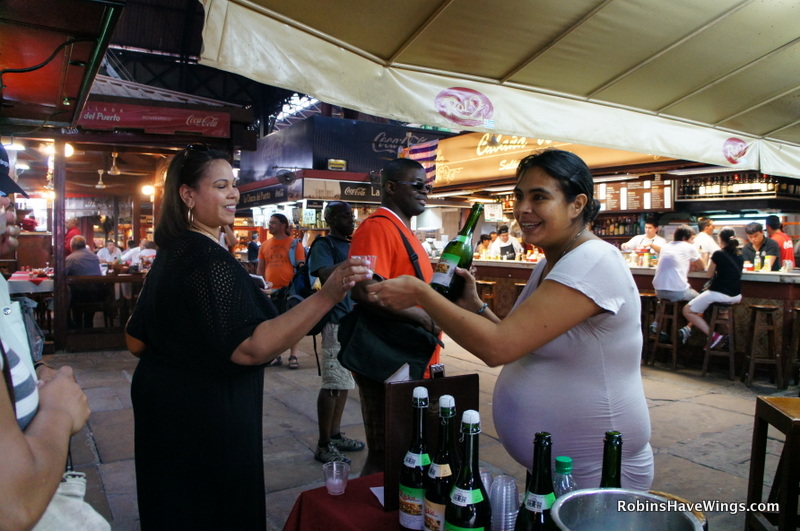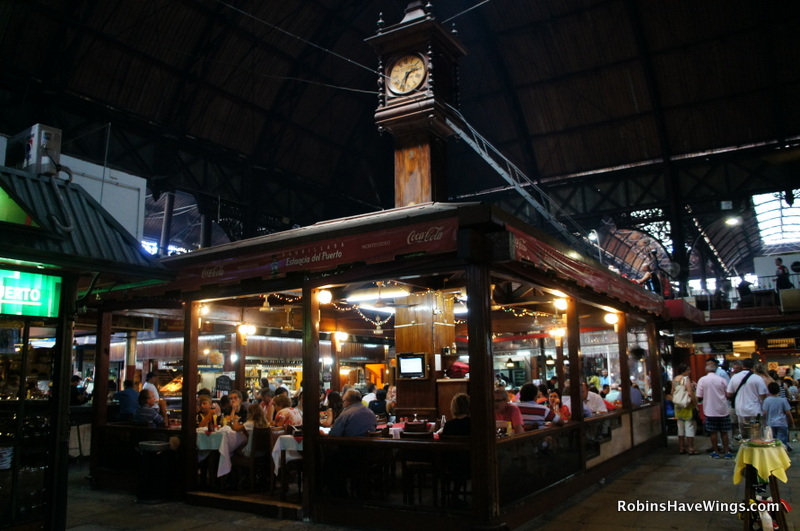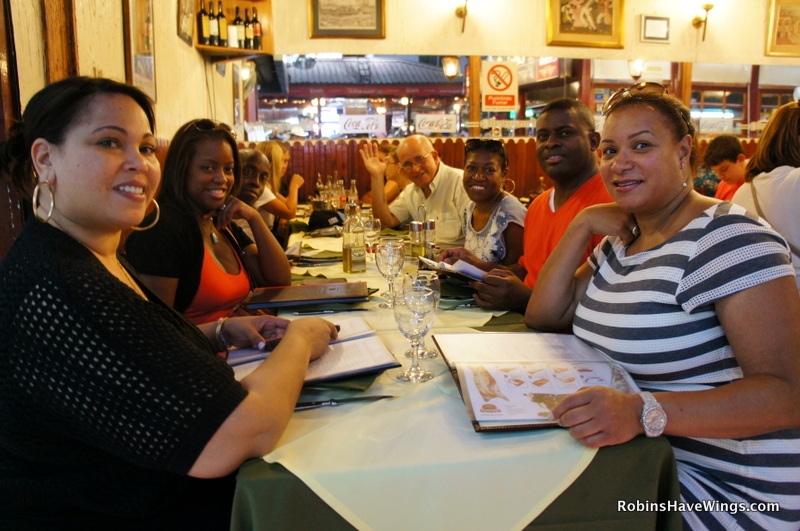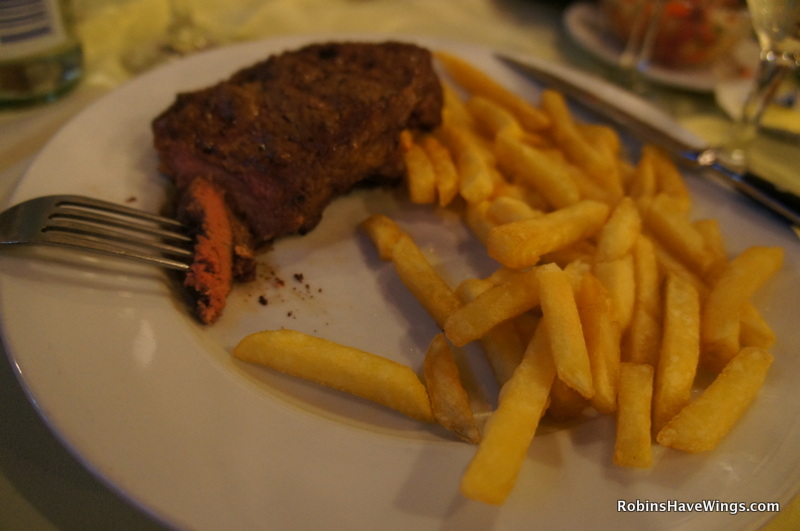 Along with a good meal, I get some good conversation with Estaban and Ronnie, a Brazilian at the table next to ours. Ronnie mistakes our group for Brazilians at first and is intrigued to learn that we are Americans. In my limited Spanish, I tell him that I have visited Bahia in Brazil and he tells me that he is from Rio Grande do Sol and that he is a gaucho, South America's cowboy. How fortuitous. We plan to visit Argentinian cowboys the next day. Ronnie smiles and says through Esteban that there is a fraternity between Argentina's gauchos and Brazil's. But soon our conversations turns back to why he thought our group was Brazilian, our brown skin similar to the people of Brazil's Bahia. We some how are able to discuss the complexities of slavery in Brazil, Uruguay and the US across two languages. Ronnie says discrimination doesn't exist in Brazil for black people as it seems to still linger in the US. But Estaban says there is still some in Brazil, where his son lived, and Uruguay, who's people of African descent are more visible than in Argentina. In fact, Uruguay celebrates Carnival throughout the month of February with a parade of its African descendants dancing, drumming and singing Candomble songs. There is even a museum dedicated to the history of Carnival in Uruguay. The other day, we learned from Luis, our Argentinian guide, that slavery never took root in Argentina because slavery was abolished long before it was in the US and the industry was not supported by sugar cane, cotton or tobacco, but cattle.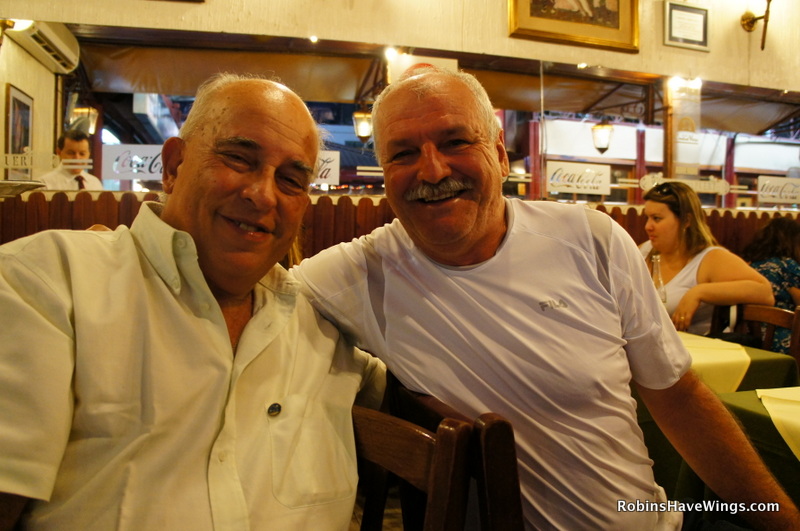 This kind of history is always interesting while traveling. You are always looking for similarities and differences. Some people want to see themselves in the places they go. So, we naturally take notice when we see a similarly-hued person and wonder about their story and how they came to be in this place. We see them in the old town having a drink with friends, working construction or playing soccer in the streets. It makes a foreign place feel a little less foreign in a way. And, nothing makes a place feel less foreign than meeting an old friend. My high school classmate Sarah, who some may remember from my travels in Montreal has traded the cold French Canadian winters for a warm South American summer in Montevideo. She's carving out a new life teaching English to middle schoolers; something I never saw one of the cool kids from high school doing. But life and the places we go have a way of changing us, as we discuss. She and I steal an hour together in the Mercado, catching up while keeping an eye on her gorgeous boy, Duke, balancing on fountain ledges and inspecting rocks near beautifully-carved buildings. She says the people here are just as warm as the climate and laid back. I see her fitting here. She's got that bohemian vibe like the artisans on Sarandi street and its wall art, leading to Constitutional Square, a gathering place for those laid-back locals, who seem to find any place suitable to relax. We see them sunning on La Rambla, Montevideo's main thoroughfare hugging the Rio de la Plata where it meets the Atlantic Ocean. We see them laying out in parks and other random open spaces, too. I can see why she chose this place. We get in as much time as we can before she drives me back to meet my fellow travelers and wait, and wait some more, before boarding the Boquebus back to Buenos Aires.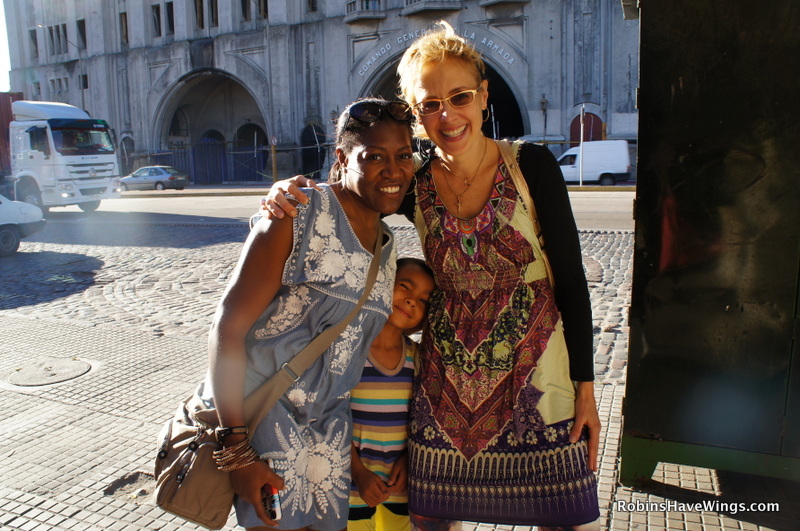 We know for sure that Esteban showed us everything he could fit into a 5 hour tour of his city. If I could go back, I'd go for more than a day to spend more time wandering the old city on my own, eating more meat, catching a spontaneous Candomble performance and drinking more medio y medio! Here's more of what we saw during our brief visit: