Mark and Helen are Great Britain's answer to RVers. They sold their home to follow their dream of navigating England's 2,000 miles of canals and inland waterways on their 6.9 foot wide narrowboat called the Morialta II. Helen and I met Mark and Helen as we walked along the Oxford Canal on our way to the train station. They were drifting along as we walked and struck up a conversation. They'd been traveling since May and guessed they would reach their goal by October, but they were taking their time. They'd just come from the Henley Royal Regatta festivities. Mark and Helen looked like they didn't have a care in the world. Helen wore a pink tube top, while Mark sported a blue and white stripped polo shirt, fitting for the captain of his very own narrowboat. Mark and Helen are also quite trusting. They invited us onto their boat for a tour and a quick ride down the canal towards the train station. We couldn't pass up the opportunity. I grabbed Mark's arm and jumped on the rear where he had been steering. Helen took us the length of the boat about 60-feet of compact living space including an expandable bed, full bath with small tub and shower, kitchen with washing machine and living room with working fireplace. After our quick tour, Mark asked us if we wanted to steer. Helen declined, but there was no way I was going to pass up the chance. He turned over the tiller without a second thought and just at a point where there were other narrowboats to the left and the canal's edge to the right. I found myself drifting toward the boats, narrowly missing another narrowboat. I over-corrected and navigated the boat into the canal wall at which point Mark thought better of his decision to let me navigate, cooly taking the tiller back from me. It was awesome! We only had a few more minutes before we had to catch our train to the Cotswolds, so we said our good-byes hoping Mark and Helen would stay in touch.
We made our train just in time, which was ridiculously hot and stuffy, but had cart service. I found that interesting on a commuter train. We were on our way to Moreton-in-Marsh, a town in The Cotswolds, which is basically the British countryside known for its quaint villages and old manor houses. There is a popular open market in Moreton-in-Marsh on Tuesdays, so we thought it would be a good day to visit. Sadly, it started to rain as we arrived and the market was fairly small, selling a hodgepodge of items, from shoes to fresh fruit and vegetables. We bought a pound of cherries to take home and then wandered around town stopping at the church. Helen pointed out the fact that all the buildings in the Cotswolds are distinguished by their yellow brick. We also stopped by a little art gallery where I bought two items representative of my journey, a pair of painted wire robins. The proprietor of the gallery suggested that we walk to the town arboretum, but first we decided to have lunch at one of the many tea shops in Moreton-in-Marsh. We chose The Marshmallow on the main street with its proper country decor of white table and chairs, pale blue table dressings and an outdoor conservatory, what we Americans would call an enclosed porch. I dined on a sausage sandwich and Helen had a bacon and mushroom sandwich. We shared a pot of tea and a slice of tasty carrot and ginger sponge cake.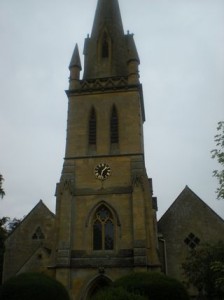 We were thankful that the rain had stopped as we started the 20-minute walk to the arboretum, unfortunately about 10 minutes into our walk it started to rain again. It was enough time to get a few pretty pictures of rolling hills dotted with grazing sheep before we decided to head back to the train.On our walk back to Helen's we stopped at one of her favorite pubs in Oxford, The Anchor, for a beer and light fare. I ordered the IPA and we decided to share the woodpigeon with a butternut squash risotto and sage frites. It was delish.