I am standing betwen my parents with my head pressed next to my father's as I listen to an audio tour selection at Musee d'Orsay. We are standing in front of a bust of the Negre du Sudan by Charles Cordier, a Frenchman who became fascinated by the cultures of Africa and wanted to see them represented in art. We are amazed at the use of color in the marble which shifts from eggshell to an auburn color, revealing the draping of the man's robes and his burnished skin has a perfect sheen. If this man wasn't royalty, Cordier wants us to believe he is. It is a wonderful find in a museum filled with the works of France's most famed painters, the Impressionists. This was my mom's pick for our Paris trip and she is thoroughly enjoying it. She nods emphatically and laughs as she listens to some selections on the audio tour. She thinks it was tough on the Impressionists who had to deal with the stodgy jury of The Acadamie, which constantly condemned the realism displayed in their works. But the Impressionists get the last laugh in this lovely space that was once a train station and since dedicated to their best works.
Somehow we are always hungry after long walks and sightseeing, so we decide upon lunch at, Bistrot Vivivenne, a place that my friend Tanya and I visited along with our friends Abby and Helen back in December. We make our way across the Seine and stroll through Les Tuilleries, the French garden that stretches between the Louvre and the Champs-Elysee. It's a cool, cloudy day, but that hasn't stopped joggers from jogging, Parisians from walking their dogs or tourists stopping to take photos. Some of the latter also stop to consider buying the ever-present mini Eiffel Towers and other touristy trinkets spread about on the blankets of Senegalese entrepreneurs. We see a pair of tourists about to make one such purchase, when suddenly things get tense. April says, "Something is about to go down." Seconds later the make-shift merchants are mobile, swooping up their blankets with their wares inside, bolting in a cloud of dust. Before we can wonder what has happened, we spot Parisian police on bikes approaching. The vendors have scattered and the police are left staring at an empty patch of dirt where the vendors once were. With this incident and yesterday's mosque shutdown, we seem to be trapped in an episode of "Cops: Paris." The mood changes as we pass the Louvre metro stop at Rue de Rivoli where a small orchestra is playing. A crowd of people has stopped to enjoy their serene sounds in the middle of a busy, bustling city.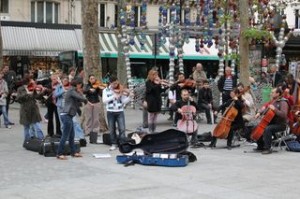 Bistrot Vivivenne is just as I remembered it, nestled between high-end shops at the Palais Royale on Rue des Petite Champs, with its cozy decor of wood and velvet chairs. We've arrived between lunch and dinner, so our selections are limited, but what we select more than sufficiently satisfies us. April and I have ravioli with a cheese and pear mixture in its center. My parents opt for salad and Steve has a fish dish. But it is dessert that once again makes us really happy. Mom and I have a creamy lemon merengue tart, while April goes for her stand-by creme brulee. She declares it the best of her trip so far.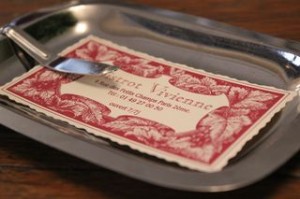 Hunger pains cured and sweet toothes addressed, we decide to go shopping in search of April's elusive Louis Vuitton bag. We head to Galleries Lafayette, the massive seven-level shopping destination on Boulevard Haussman. The metro drops us right into the shoe section, which spans the entire floor and makes April's eyes bulge. Designer brands from Jimmy Choo to Prada ring the floor while French shoe designs dominate the center. We don't know where to look and neither do the other shoppers who bump and jostle one another for pole position. But we aren't here for shoes, unless we happen to see a pair we must have, of course. We are here to help April with her designer bag hunt and ascend the escalator into pure shopping mania where perfume sellers spritz the air with their strong fragrances and we navigate our way past a Jean-Paul Gauthier fregrance fashion show, featuring gyrating models in white under the ornate gold and purple ceiling of the "Grand Magasin." (There must be something with me and Gauthier.) Finally at Galerie Layafette's Louis Vuitton outpost, its sales people work hard at making the sale offering us champagne as April contemplates the perfect bag. With the deal done, we ascend into high-end shopping heaven with more designer wares on display. But we've started to fade upon realization of the vastness of this place. April says, "This is like the Louvre of shopping!" Lucky for us the store was closing in 2 minutes and we had to rush to the tax-free desk to declare April's purchase and then were promptly hearded out into the rain to figure out how to spend the rest of the evening. This wasn't difficult to do. We head home and decide to dine in our neighborhood. April and Steve decide on pizza and mom, dad and I wander Montparnasse until we stumble upon a place called La Creole that looks cute from the outside and has dishes we all like. The owner, a teddy-bear like black man with a Caribbean lilt welcomes us when we ask if he speaks English. We immediately realize that we've found a Montparnasse hot spot when we step inside to hear a DJ/singer playing a blend of Caribbean and salsa and see couple dancing in the middle of the room and near their tables. As we dine on flavorful curry and lemon chicken dishes, we bob our heads to the DJ's Caribbean rendition of Kool and the Gang's "Get Down On It." By the time dessert of banana flambe and a coconut cake concoction, the vibe had definitely taken a turn towards salsa with the owner dancing with a diner. This definitely seems like a place regulars love. We appreciate the warm atmosphere of the place, too, and miss it a bit as we head home on a cool, misty evening.