"I like this little city!" My mother declares as she stands on the balcony of our suite at Hotel Aiglon in Paris. I am happy to hear it. She's taking in a lovely view of our temporary neighborhood in Montparnasse not far from Saint-Germain-de-Pres. We've just returned from a whirlwind tour of the city, during which she marveled at the narrow streets of the Latin Quarter and fell in love with the artsy, village charm of Montmatre, especially its beacon on a hill, the Basilica of Sacre-Coeur. It was built by Catholics, but for some reason, the building reminds me of a great mosque with it's trio of domes pointing heavenward. The moment we step inside, we are stopped in our tracks by a stunning mosaic mural of Jesus hovering over the altar, glistening with blues and golds. We marvel at stained glass windows and stare up at domed ceilings that seem to go on forever. April, Steve and I debate the height of the ceiling in comparison to the Washington National Cathedral where they were married. I believe Sacre-Coeur is way taller, craning my neck to see the top and scanning massive carved angels on the way up. ( As it turns out, they win. The main dome of Sacre Coeur is 272 feet tall. The cathedral's central tower is a bit taller at 301 feet. Who knew?) As impressed as we are by the inside, we are equally wowed by the view of Paris from the outside. We stand on the steps and look at the city stretch out before our feet.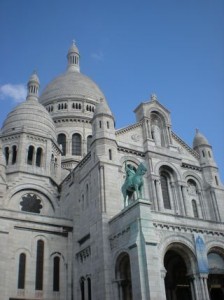 We've seen much of the city on our driving tour with Eliza ofEasy Dream Paris Tours and we continue on to our final stop at the Eiffel Tower. On the  way, April and I have to nudge Steve and Dad to stay awake as they fight jetlag. My dad has been talking about seeing the Champs-Elysees and he almost missed it between nods. Steve had a particularly good time on our flight to Paris, enjoying the free flowing booze from champagne to wine and cognac. After the flight attendant offered him the latter, he turned to April and I and said, "This is amazing!" He may have been sleeping off some of the remnants of his plane fun. But when Steve and Dad were awake, they took in the city with their cameras, snapping key sites. At times, Steve would hop out of the van to get the best shot; his instinct as a photojournalist taking over.
Once at the Eiffel Tower, we head up to the second level for more great views of Paris and spot Sacre-Coeur, perched on its hill. After being separated by hoards of other tourists and a line determined to send some of us to the very top of the Eiffel Tower, we reconnected and went to lunch at Restaurant 58 on the first level of the tower. Lunch was tasty for a place at the center of a big touristy place like the Eiffel Tower. It was nice to have a moment to catch our breath, relax and trade a few jokes since landing in Paris at 6 am. We'd dropped our stuff at the hotel and started walking around in our neighborhood before our city tour, meandering past a street filled with children's shops and dressing my nephew before he's even born. We'd even made it to Jardin du Luxemborg, a Parisian favorite, before 10 am. One park highlight was its urban apple groves with the biggest apples we'd ever seen. So we think we were due for a nap by the time we navigated the metro back to our hotel around 5. Whew!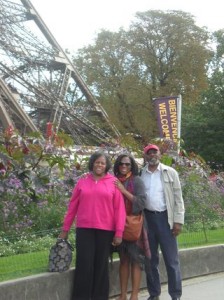 Once refreshed, we took another leisurely stroll around Montparnasse to have a light dinner of crepes. Our tour guide pointed out a street filled with creperies just a block away and my guide book recommended Ti Jos on Rue Delambre as one of the best and open since 1937. It's a cute and very simple place with wooden carved furniture. The crepes are satisfying for some. Steve is over 6 feet and used to heartier meals but he enjoyed the sausage crepe with egg and cheese. My mom had a mushroom crepe, which could have been better with some cheese, but April, Dad and I enjoyed ours. My dad especially liked the vin rouge. After dinner, we continued to explore and found ourselves on Rue de la Gaite, which was packed with people dining at outdoor cafes and the cafes were almost anything but Parisian. There were several sushi places along with Greek, Thai, Indian and Middle Eastern. And then, the street took a turn, not literally, but figuratively with peep show spots springing up just beyond the international food fare. We decide to turn back towards the hotel and April and I end the evening with the best gelatos we've ever tasted and served as little blossoms on a cone.