Tanya loves our AirBnB home away from home. I'm standing outside of our rented garden apartment with our luggage while she screams, "Oh my God! It's so cute! It's so cute!" immovable inside the doorway. She's like someone who just won the car on the "Price is Right," unable to contain her glee. When I get inside I'm totally with her. There is no other way to describe this place but cute, not cute in a saccharine way, cute in that cozy Anthropologie way. If you are a woman and you've shopped at Anthropologie, you know what I mean. It's perfectly accessorized with neatly framed wall hangings and interesting coffee table books.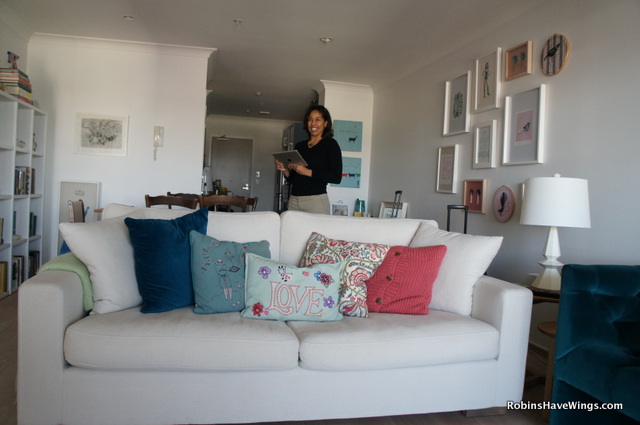 It's like our AirBnB host Kirsten is speaking to us through the blue-tinted Wonder Woman sketch (of the Lynda Carter Wonder Woman, of course) hanging in the dining room and she's saying, "Stay awhile." We like her. We like her a lot. I suggested to Tanya that we stay in an AirBnB home because the site that allows people to rent their homes to travelers has taken the travel world by storm and I wanted to give it a try. I knew a few people who stayed in AirBnB spots and loved them. We feel like we've hit pay dirt. Tanya says it's so much better than staying in a hotel. It makes us feel like locals and it's the perfect launching spot for our New Zealand adventures.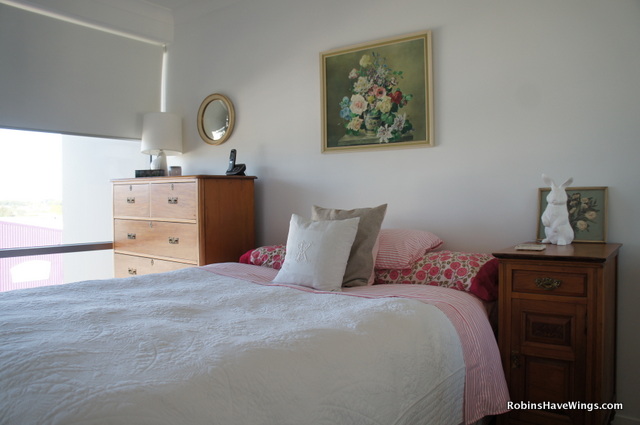 I've come to be in New Zealand because of my friend, Tanya. New Zealand wasn't really on my bucket list. But, by now, you know how I travel. I'm an opportunistic traveler. I travel when the opportunity arises and Tanya tapped me to be her travel companion on her dream trip to New Zealand. When I say dream trip, I mean that literally. Tanya had a dream that she would go to New Zealand one day, even before the Lord of the Rings Trilogy that she loves so much. When she awoke from her dream, she started saving mileage points and when she had enough, after years of business travel, she said, "Robin, you have to go to New Zealand with me." She knows I can't turn down a good travel invite, so here I am in Middle Earth.
After sipping tea and coffee on Kirsten's balcony, lined with potted herbs and petunias, we step out to explore our new neighborhood, Ponsonby, which happens to be one of the trendiest hoods in New Zealand and another reason why we love our new home away from home. We are two blocks from Ponsonby Road, the main drag, one long continuous row of boutiques, restaurants and cafes with outdoor patios. The robust entertainment console on our Air New Zealand flight, complete with a concierge section, said that brunch was a big deal in Auckland and recommended a place called the Richmond Rd Café in Ponsonby and we go in search of good food.
The search turned out to be longer than expected. According to Google Maps, the Richmond Rd Café was a 25 minute walk from Ponsonby Road, which when we started out, didn't seem that far. The walk took us through Ponsonby's picture-perfect residential streets with real white picket fences covered in bougainvillea and other exotic flora.  Soon we stared to appreciate our home and gardens tour, marveling at each Victorian-style bungalow. And then we started to feel a little uncomfortable when we caught a couple walking across the street staring at us. Tanya smiled and waved hello. They smiled and waved hello back, but we suspect that we look a little out of place. Then a car drives by and someone yells something inaudible, but rude sounding from the window. We hope it's not what we think and we continue undeterred. Finally, we reach the café, not near other cafes or restaurants, but a block away from a supermarket and next to New Zealand's version of a Pet Smart. We are wondering how anyone could recommend a place so far off the beaten track, but then again, as a traveler, you are always looking to do what the locals do and here they do brunch at the Richmond Rd. Café.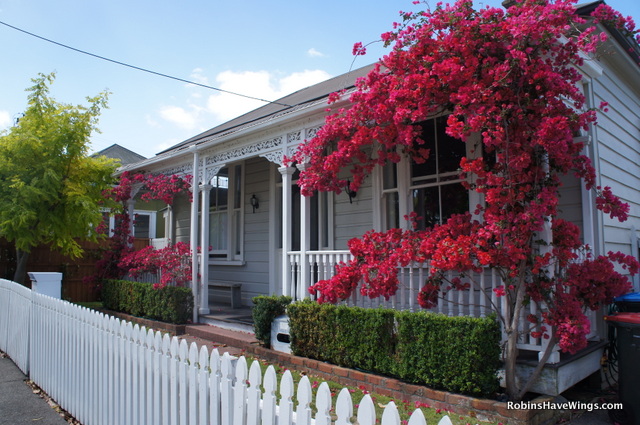 The menu is short. There's breakfast or lunch, so we opt for breakfast. But first we have a couple of questions. What's the "agria" in the Truffled agria loaf with wilted greens poached egg and a choice of bacon or Portobello mushrooms. Our waitress explains that agria is a type of potato mashed and served in a style that is somewhere between a hash brown and a potato pancake. I'm sold. Tanya asks about a dish with "hallumi," it's a type of cheese made from goat's or ewe's milk. She opts for the agria, too. It comes out super crisp in the shape of a triangle jutting from our plates and decorated with the egg, spinach and the most glorious layer of bacon, I've ever seen. It was quite tasty and our waitress was happy to welcome and make conversation with two Americans. She said it was good that we came when we did because on New Years Day there's a line to get into the place.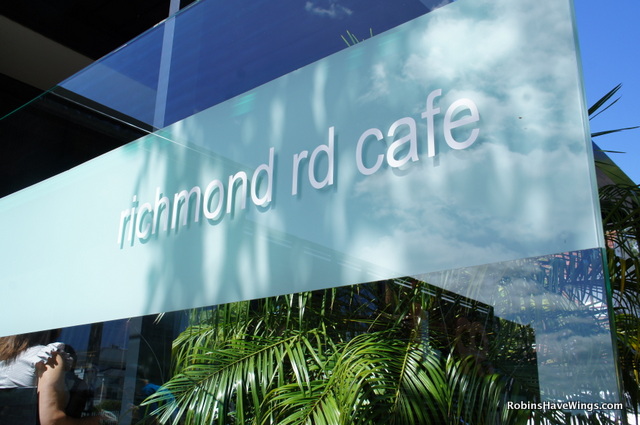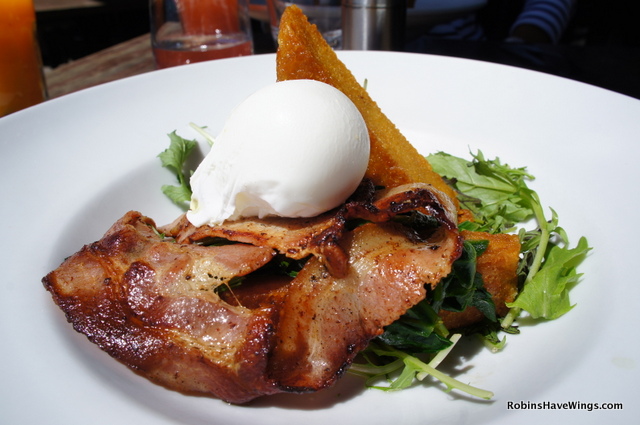 With hunger satisfied, we make our way back to what we call the "real Ponsonby," with way more foot traffic. A little brick alley marked "The Lane, caught our attention. The gated green space filled with outdoor eateries was attached to the Ponsonby Produce Market, which was also attached to a bakery. We decide to stop to get a few things for the fridge in our apartment. I love markets anywhere and this one is adorable. Tanya is a cheese fiend so we stop by the cheese counter where we meet James, who hands us several samples and then Tanya sees her cheese. It is, actually, a cheese bearing her name, spelled Tania, and she has to have it. Turns out it was pretty good. James asks why we've come to Auckland and we tell him that we are here for New Year's. He's dumbfounded. New Year's, he asks? It's clear that he wants to know why we'd come to Auckland to celebrate New Year's and we explain that are doing more than celebrating New Year's in Auckland. He seems relieved to hear this and suggests that we go to Mt. Edna for some of the best views of the city.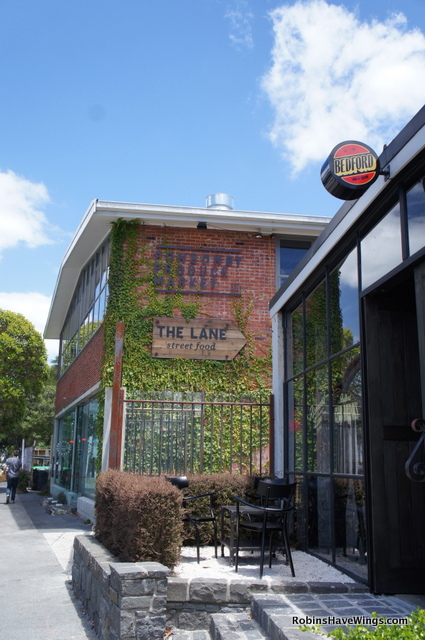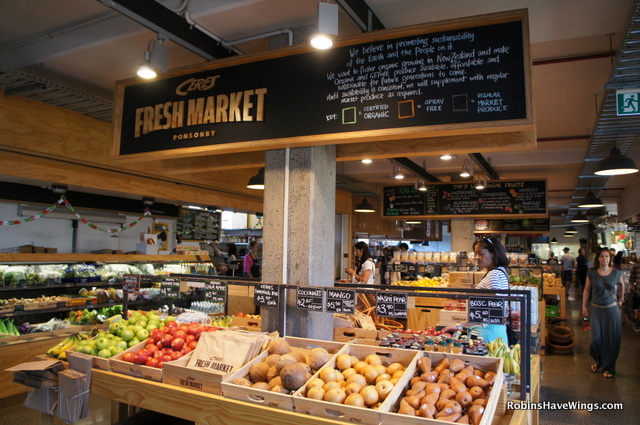 But there are some pretty good views right on Ponsonby Road, Auckland's landmark the Sky Tower, a seemingly distant cousin of Seattle's Space Needle in Toronto's CN Tower, pops up over buildings and slips out from side streets as we walk. We walk as far as we can, taking note of cool places to eat or grab a drink later during our stay. On our way back to the apartment, I'm intrigued by a park with pieces of buildings strewn about its grounds. The pieces are part of an installation to beware of urban sprawl and the loss of old buildings filled with history. Western Park has a history all its own as Auckland's oldest park. Further exploration reveals an oasis in the middle of Ponsonby and another great view of the Sky Tower. We let one of the steep trails lead us down a hill to a bench where we worshipped the sun and communed with birds, before heading back to the apartment to really rest before celebrating New Year's.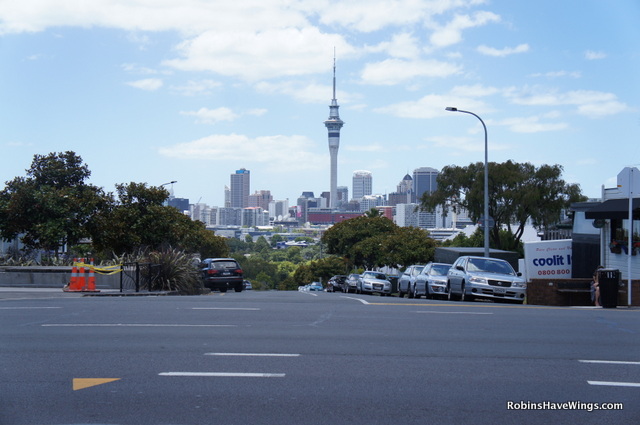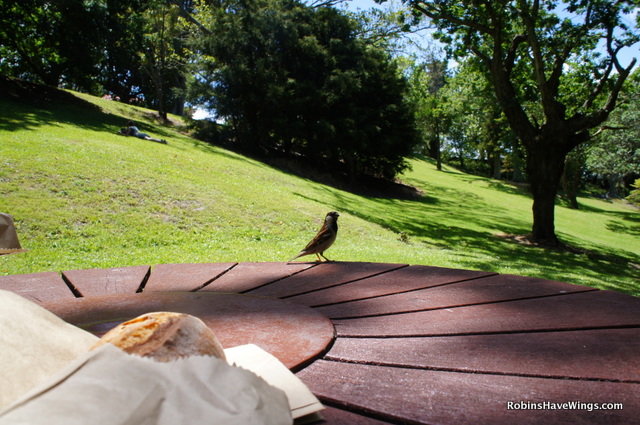 We contemplate several New Year's options and settle on dinner in the Britomart area at one of Auckland's Top 50 best restaurants, Café Hanoi, a modern Vietnamese dining establishment with a moody interior of exposed brick and sparse wooden tables and chairs that somehow feel cozy. We start with a Cava to toast the close of 2013 and the beginning of 2014 and have some of the freshest spring rolls we've ever had. But our pick for the best dish at Café Hanoi is the Bún chá, Hanoi-style grilled pork with rice noodles and basil and mint, served in the tastiest broth ever. We used our ladle-shaped spoons to scoop up every last drop.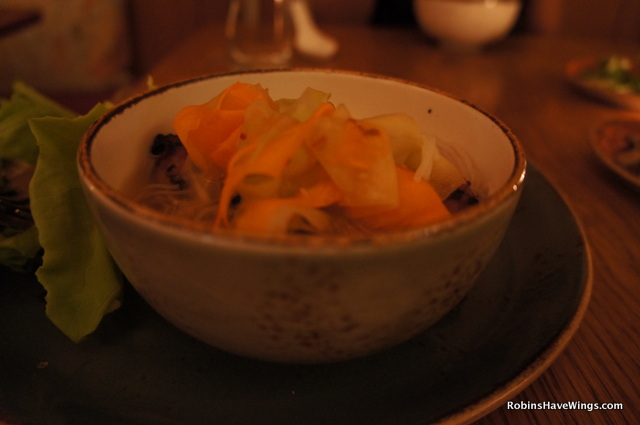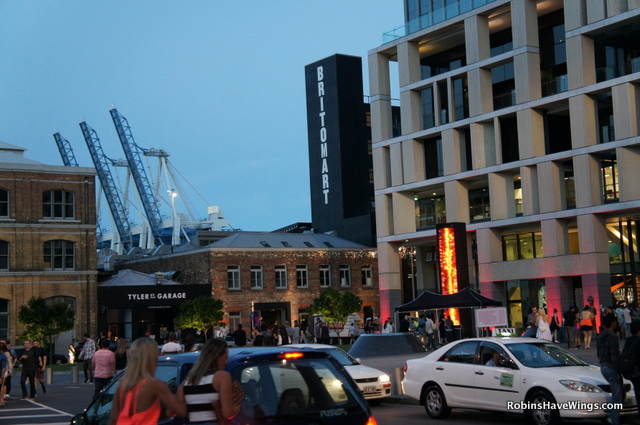 Our plan after dinner was to linger in the Britomart area to have a drink and find a place to watch fireworks, but many places in the downtown destination, hot with Auckland's young and the hip, were reserved for ticketed events. So, we follow the crowd to the Sky Tower, which we are told is the source of the New Year's Eve fireworks. The streets have been blocked for pedestrian traffic and we stand at the intersection of Queen and Victoria streets to await the light show. A diverse crowd thickens around us with mobile phones and cameras poised for the big moment. A flickering of the Sky Tower's pinnacle starts the countdown and at midnight a blaze of fireworks shoot from its top in a gorgeous display. We join in with the ohs and ahhs with each fantastic burst. The display ends with the Sky Tower bathed in multicolored glow. The crowd immediately disperses, having seen what they came to see. Tanya's take away: the whole thing seemed really phallic. She has a point. We both notice how orderly the crowd is, minus a few hoots and hollers, there is no pushing, shoving, gunfire or any such deviant behavior that we can see. We do happen to see a couple of overachieving revelers hurl just shy of their shoes, but the drunk are the same everywhere, right?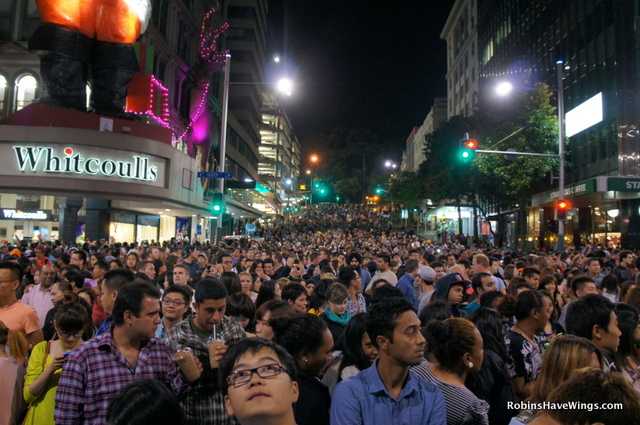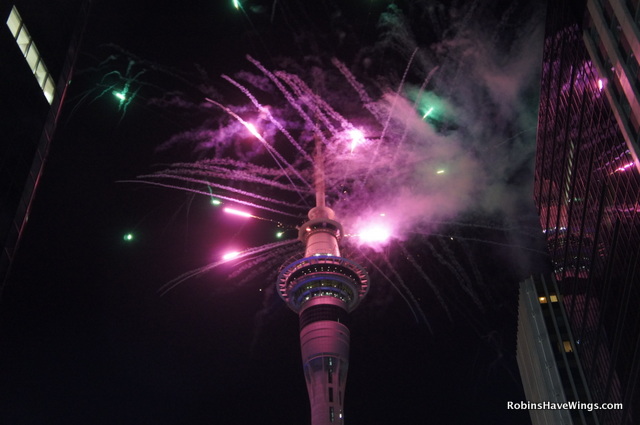 We realize that we don't have any New Year's revelry left in our tank and head for home. We choose to hop in a cab driven by a jovial woman named Sue, who also happens to have little patience for traffic jams of any kind. She immediately sets about urging people to hurry up and cross the street so that she can turn. She chides a car filled with partygoers for blocking the intersection, but adds with a smile, "Happy New Year!" All the while, she turns back to complain about how awful the traffic is, but her voice is warm and cheerful and I think she secretly enjoys the back up, showing us a her back way to get us home. We are thankful and we trudge up to our super cute apartment, thrilled that we are among the first in the World to ring in 2014. Not a bad start to the New Year or a trip to New Zealand.