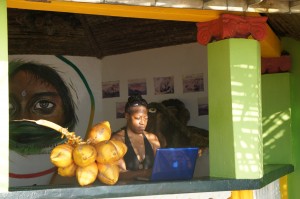 I don't just write about my travels here. I've been published at Discovery.com, TravelChannel.com, TVOne.TV and Heart & Soul Magazine. Check out some of my work:
TravelChannel.com
Things to Do in Porto Alegre, Brazil
Things to Do in Rio Grande do Sul, Brazil
5 Charming Places for a Wedding in Savannah
Savannah's Best Historic Squares
Historic Sydney: Discover a City That Rose from the Rocks
The Sydney Opera House: Discover Sydney's Iconic Landmark
World Cup Draw Announced, USA to Play in Natal, Brazil
What to Do in Mexico City Right Now
Salamander Resort & Spa Debuts as Stylish Washington, DC Retreat
4 Ways to Eat Like a Local in Honolulu
World's Sexiest People (Slide 5)
Best of Nicaragua's Isla de Ometepe
Top 5 Things to Do in Barbados
Ebony.com
Cultural Curiosity in Cambodia
Fierceforblackwomen.com
Forget Phuket, Find Your Fierce in Krabi, Thailand
Discovery.com
TVOne.TV
Live from Essence Music Festival 2012
Heart & Soul
Seductive Senegal: A West Africa Homecoming
I'm looking to share my travel stories far and wide, so if you need a travel writer or blogger, email me at robin@robinshavewings.com.
I also know a little something about the Interwebs. If you are looking for a seasoned digital media producer and content strategist with more than 10 years of experience conceptualizing and producing award-winning content for entertainment websites (Discovery, TLC and Animal Planet), I'm your woman.
I've also worked as a reporter-researcher at U.S. News & World Report with editing stints at the NAACP's Crisis Magazine and Black Issues in Higher Education. I'm a graduate of Swarthmore College and Northwestern University's Medill School of Journalism.
See my full resume at LinkedIn.
I look forward to working together!