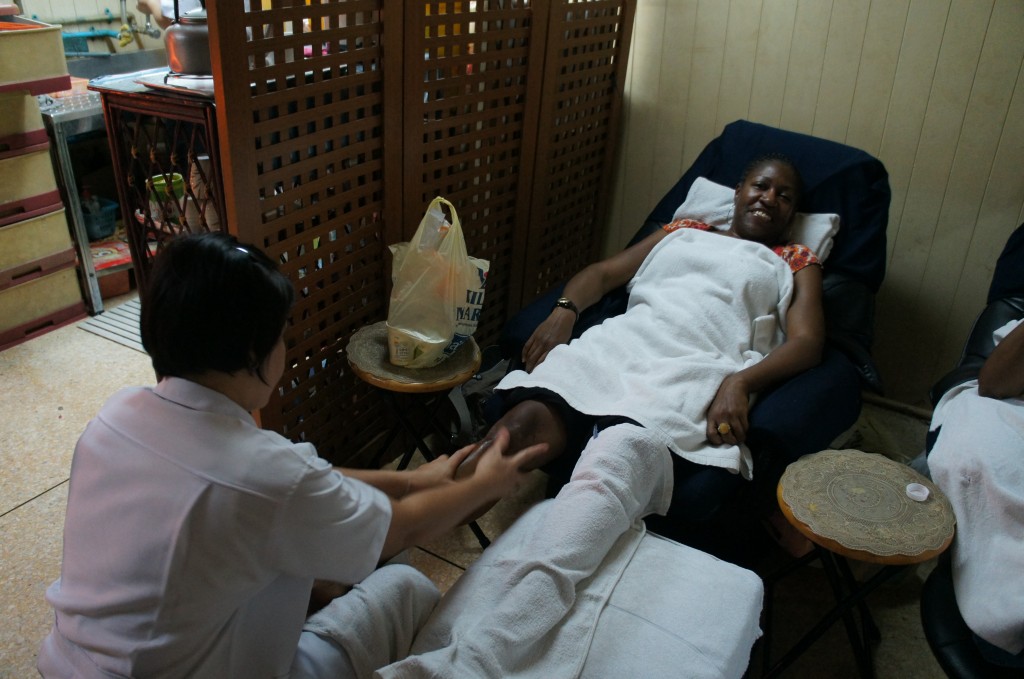 This is how I ended my first full day in Bangkok. I come to be at this Traditional Thai massage shop because of my high school chum, Lyle. She's been living in Bangkok for 11 years with her husband Peter and their three boys, Nathan, Alex and Iain. After reading my blog earlier this year and reconnecting at our high school reunion, Lyle extended an invitation to visit and you know that I can't turn down an invitation to travel. So here I am, pictured above, getting a foot massage, followed by an intense neck rub and arm and shoulder stretching.
We spent the day exploring her neighborhood off one of Bangkok's main thoroughfares, Th Sukhumvit, along with my friend Nancee. There's a Traditional Thai massage shop on almost every corner mixed in with "salon and spas" offering oil massages better known as massages with happy endings. Lyle and I spotted one professorial gentleman and presumably happy customer rubbing the small of the back of a Thai massuese before strolling away from one such salon. Lyle says this is the norm in her neighborhood where the famed Cowboy Soi, a street lined with strip clubs and known well by sex vacationers to Thailand, is a couple of blocks down the street.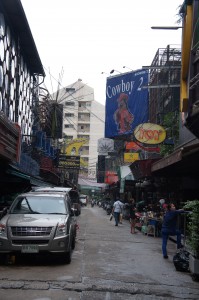 The massage spots, traditional or not, are not to be outnumbered by the Hindi gods and spirit houses littered with Buddhist offerings in front of every business along Sukhumvit. Some are quite elaborate and some are quite simple. Lyle explains the way Thai people never miss a beat as they acknowledge these spiritual hot spots with a wave of a hand over their head or a small prayerful bow, known as wai, then go about their day. We see this happen in the short-time that we stand before a multi-armed goddess encased in a gilded pagoda.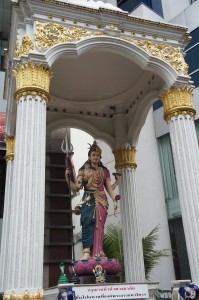 Beyond the buildings with gods and spirit houses are the street vendors. They've thought of everything they possibly can to sell from sunglasses and fake polo shirts to Cialis and dildos for the sex tourist who has left these essential items at home. Personally, I think that if you have to resort to purchasing Cialis on the street, you've reached a new low. But there is one place in Bangkok that makes it very clear that sex tourists are not welcome.
The Atlanta Hotel on Sukhumvit is a historic treasure in Bangkok and does not entertain the sex business in any way shape or form. Its policy is clearly stated outside its door, while its web site declares the establishment as a bastion of wholesomeness and culturally sensitive tourism, adding:
The Atlanta is against sex tourism.

Sex tourism is exploitative, socially damaging and culturally demeaning:
those who want to buy sex should do so in their own country.

Tourism is not about going on a rampage through other people's country:  those who cannot go abroad without behaving badly should stay home.

SEX TOURISTS ARE NOT WELCOME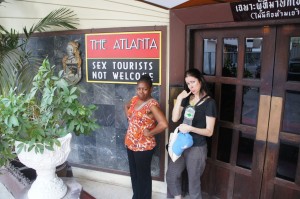 Doesn't get any clearer than that. The Atlanta is a quirky little place. It feels lost in another time and place and in a good way. Carved wooden daschunds greet you at the entrance of the art deco foyer and waitresses in the hotel restaurant wear name tags like in an 1950s diner. The pool, Thailand's first hotel pool, is like a weird wonderland and tiny zoo, starring a family of terrapins and clutch of multicolored cats. But the best thing about the Atlanta is the food. It's a little quirky too. Ever had a spicy fruit salad? Pad thai in an egg wrapper? Me, neither. It was good. The eggplant in Penang curry was also a hit on a menu covering breakfast, lunch and dinner with a wealth of vegetarian options to boot.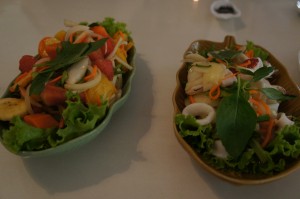 We wanted to sleep on the restaurants red vinyl covered booths after we ate, but we  continued our tour of Sukhumvit instead and find ourselves at the Emporium on the corner of Sukhumvit and Soi 24. It's a massive mall in the tradition of Paris' Galleries Lafayette with floors of stores you know like Guess and Zara along with a department store topped by a glorious gourmet grocery and food court. Then there are stores you may not know like the super cute It's Happened to Be a Closet. OK the title of the store makes no sense, but it is a little slice of funky fashion fabulousness. Imagine if Anthropologie added pedicures in smooth leather chairs and served high-end food and wine. That's this place. Hot, right? Lyle tells us that we have to go to the original store in a rowhouse in Siam Square. We take note and make a plan to visit it later during our trip.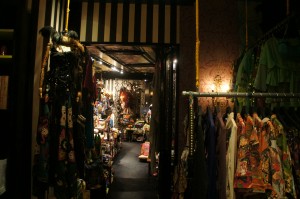 Now, we are on a mission to end our day with a foot massage. But not before we snap photos of a transgendered man dancing in a dress on stilts at a pet adoption fair or the lovely park dedicated to Thailand's queen. At Technique Massage on Soi 23 off Sukhumvit, which happens to be Lyle's favorite escape, we settle into reclining blue chairs to have our tired feet rubbed.