We've gotten up pretty early to get to Versailles, exchanging the Metro for the double-decked RER. We aren't alone, as everyone on the train appears to be headed to Versailles and we unceremoniously pour out of the train on a mass pilgrimage to see if the stories of the over-the-top opulence during the reign of Louis XVI and Marie-Antoinette were true. As we round the corner just beyond the train station, we see that this history was no story. A golden gate shines like a beacon for the river of tourists approaching with cameras unsheathed. We flow right along with them over uneven cobblestones and past a grand statue of Louis XIV, known as the Sun King. He was the first Louis who had visions of grandeur for the chateau and brought these visions to life. His progeny, Louis XV and Louis XIV would build upon his dream with even more eye-popping grandeur.
By-passing the long line forming, I head for the "commented visit" office to book a behind-the-scenes look at Versailles with an English-speaking tour guide. We are really glad for the inside tip from our "travel artist," Gai Spann, who shared this intimate way of seeing the grand palace. Our guide moves at the speed of light. We have to practically run to catch him, dodging wandering, awe-struck tourists on the way. He starts the tour in a private apartment reserved for young kings Louis XV and Louis XIV when they turned 15. Golden crown moulding depicts playful canines prancing around the room, an homage to the king's love of dogs. They loved them so much that the ante-room of their apartment was the home of their pampered pooches, known as "Le Cabinet des Chiens." As we move from one ornate room to the next, we see that the kings weren't just obsessed with painted ceilings and gold-leaf furniture from the Rocco period, but they had a thing for the newest and greatest gadgets of the time. Louis XV kept possibly the first barometer in his private dining room and a bronze super clock in the aptly named "Clock Room." The clock not only kept track of time and date, but also noted the stage of the moon on that date; its inner workings displayed in glass. It would be the first official time piece of France. In another room, we see another engineering feat for the time period, the world's first mechanical roll-top desk. Louis XV wanted a place to store secret papers and commissioned what we know as a "secretary." A few rooms later, I learn that kings in France had a thing for privies back in the day, just like kings in England, particularly Henry the VIII. The private apartments at Versailles boasts a French-style loo with a floral-designed bidet and an English-style flushing toilet. Two other rooms that catch our attention because of the richness of their decor are a powder blue and gold dining room used by Louis XVI with a gorgeous patterned wooden table lined by alternating chairs for men and women. The chairs for women had extra cushion. A game room just beyond, featured red and gold brocade drapes and chairs for ladies of the court to play, what sounded like high stakes poker. Outside the room was a painting of the Battle of the Chesapeake, a critical battle leading up to the American Revolution, supported by the French. It elicits a squeal of recognition from April and we tell our guide that we are from the states and live near the Chesapeake Bay.
On our way to the last and most stunning stop of our tour, the Opera House, we pass by the Royal Chapel where Louis XVI married Marie Antoinette. It's one of mom's favorites. Light pours in from two-stories of arched windows, bouncing off of gold and white marble. A grand organ sits atop the altar. But the Opera House literally takes our breath away with its opulence. Even in dim lighting it shines. Our guide points out a few architectural surprises like the fact that the entire place is made of wood painted to look like marble and the top gallery of the opera house is mirrored with half chandeliers to make the space look larger. The oval-shaped Italian style opera was commissioned by Louis XV for his son, "Le Dauphin," Louis XVI and on its inauguration doubled as a wedding reception hall for his marriage to Marie-Antoinette. The floor would have been risen to replace its chairs and turned into an open space where guests were invited to watch the royal family dance and dine on this happy occasion. Later my mother would admire the concept of inviting guests to watch the bride and groom eat, rather than feeding the guests, having recently recovered from hosting my sister's wedding reception.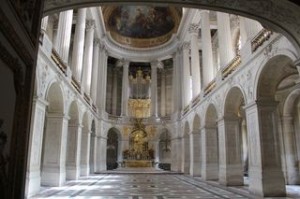 It's the end of the guided tour and we are left to tour the palace on our own with audio guides, leaving our small group to be jostled in the crush of tourists we'd managed to dodge earlier. It was so packed that we almost lost each other in the throngs and had know idea how we'd find each other. We reconnected in the luxurious bedroom of Louis XVI. It's purple and gold from ceiling to floor with wall hangings and bed curtains to match. The kickers for me are the plume of feathers on each bed post. Some attendants would watch him sleep here and wait for him to awake and then in the next room these attendants would dress him for the day. But it is in the Hall of Mirrors where we really start to relate to the French commoners of 1789. The long hall features 17 floor-to-ceiling windows and 17 corresponding mirrors, flooding it with light. There must be at least 17 crystal chandeliers dripping from the ceiling and gold grecian figures hold more candelabras lining the room. It is just ridiculous. We can't imagine how much must have been spent to create such a space. It must have been astronomical, even during those times. But we can imagine the growing ire of poor, torch-carrying Parisians who stormed the palace in the early days of the French Revolution and must have grown even more angry as they went from gilded room to gilded room to find and capture their king. We definitely get why they would have wanted to chop his head off, along with his queen, who had her own private estate just down the hill.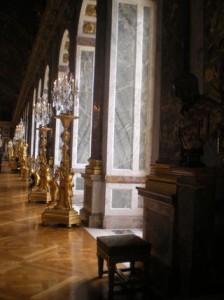 By this time we are famished and maybe a little light-headed from all the gold-leaf exposure. We decide to have a late lunch at Angelina's in Versailles. As we wait for our table, we can see what dessert choices await us. Colorful sweets beckon from a glass case. But we still decide to have lunch (quiche, salads and sandwiches) before dessert (eclairs and cheesecake). The eclairs and cheesecake look like nothing we've seen in the states. April and I think it is sad that bakeries in the states are passing the thick, gooey things they sell off as eclairs. Ours are light with melt in your mouth pastry and nicely flavored cream. Hers is passion fruit; mine vanilla. My mom can't wait to dig into her cheesecake, which looks more like a rounded, mini ice cream cake. But is encased in white chocolate and layered with a raspberry gelee, which, remarkably, isn't ridiculously sweet.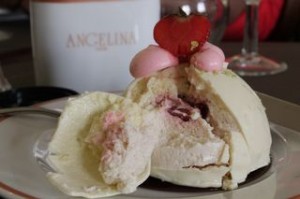 After lunch, we want to continue on to see an exhibit of fashion during the time of Marie-Antoinette, said to be quite a fashionista. But we've run out of time, so we head back to Versailles train station and board a train that we hope will take us back to our destination, since the trains are unmarked and the spider of lines for one train line is a tad confusing. We get lucky and make it back to our hotel for a much needed nap.
Once again we are eating. Steve says he's never eaten so much in his life and we all know that we must have gained a pound or two on this trip, but then we think about how much we've walked. April says she's walked her legs down as if there are nubs dangling from her hip bones. It does kind of feel that way, especially after today, so it is nice to sit and have a nice French meal at Bouillion Racine on Rue Racine in Saint-Germain. This is another spot we hit, and loved, on my friend Tanya's fantastic birthday extravaganza in December. The menu is varied and we all order something different–lamb, duck, suckling pig, shrimp and fish– and it is all delicious. But I think April may have selected the winning dish with the suckling pig. We can't resist ordering dessert and then realize how much time has passed. We ask a waitress what time the metro closes and she says, " A maintenant," meaning now. The metro here keeps similar hours to DC's metro and you have to watch your time to make the last train. We aren't sure how we'll get back, so we just savor dessert. Mom has a delicious mango gingerbread. April goes for creme brulee once again (Bistrot Vivienne's still rules) and I have a light, basil-flavored strawberry soup.
We have the restaurant call a taxi for us, only to realize taxi cabs aren't allowed to take five or more passengers, so we have to split up. Mom, April and Steve head off in one and my father and I wait for another. Our taxi slowly approaches and doesn't seem to want to stop for us. He explains that he his here for 5 people from the restaurant and we explain that we are those people, but the rest of our group has gone ahead, because we couldn't fit in one cab. After a bit of convincing, he takes us and then, sadly, proceeds to take us for a ride. Our ride cost us almost 15 euro in comparison to the 9 that Steve paid for their ride to the same destination. We are certain our driver took the long way, even making a wrong turn on the way. I hate when that happens, but it happens everywhere. It didn't stop me from reflecting on a great day and hitting the pillow hard with a full belly and worn out legs.