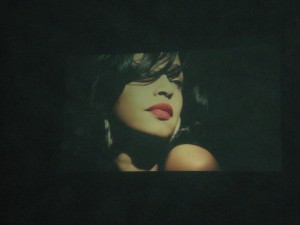 My Sade obsession began in high school. I had a picture of her in my locker along with Ralph Macchio and John Stamos. They weren't appropriate company for her. They were teen heartthrobs, a flash in the pan. Sade is forever. She is like my Jackie O or my Marilyn Monroe. She is cool, classic, hip and understated. Sade, like a Chanel bag, will never go out of style. So, you see, I couldn't miss her first tour in North America in about a decade. It would have been sacriligeous. I laid on my pink comforter in my bedroom and studied the lyrics on the "Diamond Life" album like I studied Algebra. I even quoted her in my yearbook. "Reach for the stars, she said. And the sun is gonna shine. Every winter was a war, she said. I want to get what's mine." That was from "Jezebel," one of my favorite Sade songs, which she sang last night. It pretty much made the concert and made my night. I screamed like I was in high school. She sat on the edge of the stage and sang from her heart, which I image has been wounded many times based on her lyrics, and often let the spotlight shine on her sax player. It was so simple. No booty bouncing. Just music coming from real musicians. Even though I was in a stadium with probably 20,000 other people, it felt intimate. My other favorite moment was when she sang "Is it a Crime?" Red drapes dropped from the ceiling and the stage turned red, while lovesick passion oozed from Sade's velvety throat. I could go on and recount each detail vividly, but I don't want to ruin it for anyone else that may see the concert. It is truly something to be experienced. See some of my pictures below.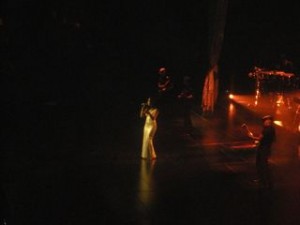 As it turns out, yesterday was all about reliving high school memories. Earlier in the day, our middle and high school classmate, Sarah Hamady, hopped out of her car in front of our hotel and brightened an otherwise damp, dreary day in Montreal. She looked like she could have been standing in front of my locker in argyle socks the way she once did when we were in 7th grade, just a little bit funkier. She was wearing a grey sweatshirt with a big pink heart in the middle and goldrimmed glasses, a little ponytail sprang from the left side of her blonde cropped do. In my head, she was a mix of her preppy and punk selves. After 7th grade Sarah and her pal Melanie were the punk scene of National Cathedral School for Girls. Sarah's hair went from brown to ash white and her clothes went from monogramed to black. But her personality was always bright and fun and it seemed that things hadn't changed much.
First, Sarah took us to the Plateau neighborhood, catching us up on her life since we last saw her more than 25 years ago. I think the two things that sum up the interesting twists and turns of Sarah's life since high school are that she earned a PhD in philosophy doing a dissertation on happiness, then went on to design clothes for George Clinton, the principal architecht of P-Funk, as Wikipedia defines him. And oddly, these two things seem to make perfect sense together in her life. She currently is an artist in Montreal, raising her 4-year-old son Duke, with her husband Jean-Claude, a Congolese musician and minister.
Sarah made sure to take her tour guide duties seriously, pointing out beautiful homes along the way, noting the outdoor staircases leading to first and second floor entrances, different from row houses in the U.S., with staircases in entryways. Our home tour turned into a garden tour as well. The people of Montreal tend their flower boxes and small front yards well. Tiger lilies and peonies sprang up full and happy alongside porches and fences. We stopped at an ecclectic art gallery in Plateau with provocative and sexually suggestive art made from toilet seats and diving flippers.
We decided to have lunch in another neighborhood and head to Avenue Laurier, which Sarah says has been the longtime home of Orthodox Jews in Montreal and new home to a growing artist community. In fact, the restaurant we chose seemed to be a perfect example of this cross-section of people. Rumi, named for the Persion and Muslim poet, is owned by two Jewish Orthodox brothers who converted to Sufism. Mystical sufi chants play in the background with a Mediteranean/Morrocan/Turkish menu of olives, pastilla, and teas. We lingered there catching up on our classmates and trying to remember our more insecure selves. Sarah left us for a while and returned with her ridiculously cute, curly-haired progeny, Duke. As we walked back to Sarah's car, Duke found a "sword" and imagined himself a pirate exploring the front yards and porches of the Jewish families of Avenue Laurier.