When you are lost, you find the most interesting things. Yesterday, while looking for the Peel metro stop, we stumbled upon a Canada Day celebration in Parc du Canada downtown. It was definitely a mellow, well-mannered gathering of young and old in their best and/or kookiest red and white finery. Children had Canadian flags afixed proudly to their heads, some had flags painted on their faces. We saw Canada Dr. Seuss hats, umbrella hats and all kinds of patriotic Canadian gear. What struck us the most at this gathering was how patiently these proud Canadians waited in a line circling the park for a piece of Happy Canada Day cake, which looked like store-bought Costco cake. Don't get me wrong; Costco cake can be really good. We just weren't sure we'd stand in line for it.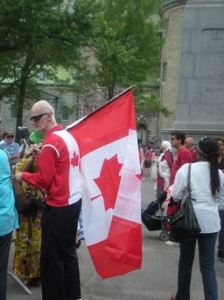 We did decide however to stand in line for a Schwartz smoked meat sandwich, which was our destination once we found the metro. As lines go, this one wasn't bad, less than a block long, which we are told is how far a Schwartz deli line can stretch. And lucky for us we didn't have to stand in it long to be seated because we were just a party of two. Schwartz's is like any other diner that you've been to with formica tables and aluminum chairs, paper placemats and napkin-wrapped utensils. Canadian and U.S. stars, from Tim Allen to Tina Turner, smile at us from the walls and extoll the deliciousness of smoked meat. It is tasty and they don't skimp on the meat. We decide to split a sandwich and fries and order extra bread and pickles, upon the advice of Roger who was sharing our table. Roger made the pilgrammage from the Toronto area with his sons for Canada Day. They were on their way to a water park to see fireworks. He also told us to order our meat medium with mustard. The sandwich comes to us split down the middle and leaning over from the weight of layers of sliced meat. The first bite is salty, but not too salty and mustard is a perfect compliment.
With this authentic Canadian experience under our belt, we stay a bit longer in the Plateau neighborhood to do a bit of shopping. Saint-Laurent is the street for boutiques and vintage shops. Unfortunately, because it is Canada Day, some stores are closed. But the popular spot Lola and Emily is open. It is a light and airy store and the clothes fit the decor. Inez and I tried on a few dresses in the sale bin priced at $25 each. They didn't work, but I walked away with a plaid fitted cotton shirt on sale. It seemed appropriate for cool Canadian evenings and probably even cooler days in England. A stop at a vintage spot on Avenue de Pins transported us to the best and the worst of the 1970s. The best was a cute A-line green-patterned dress with long puffed sleeves that neither of us could wear. The worst was a grey leather jumpsuit that looked like something donated by NASA.
Inez was craving desert, so we stopped for chocolate cake and clafoutis at a bakery on Saint Denis before heading to Vieux-Montreal. We are so glad we went. It was the highlight of the day. The buildings reminded us of any old city in Europe…Barcelona, Paris. It seemed like every Canadian in Canada was there, strolling the cobble stone streets past shops, art galleries and outdoor eateries. Most made their way down to Vieux-Port to enjoy live music and an impressive assembly of moon bounces for kids. We also spotted the unmistakable Cirque du Soleil tents and hoped we could catch a show in its home city. We finished our day in Vieux-Montreal with crepes at Jardin Nelson a large but lovely, indoor-outdoor restaurant. I had a savory rabbit and wild mushroom crepe for dinner and Inez had an apple crepe. As we dined we heard fireworks bounce and reverberate off the sides of old stone buildings. I left our table to sneak a peek at the bursts of light breaking the Canadian sky.