It's the morning after our tango class and show at Tango Porteño in Buenos Aires. Gia dubs Alan and I Mr. and Ms. Tango, sharing how well we danced together with Luis, who is at our hotel to escort us to the airport for our return trip to the U.S. Luis gives a naughty gaucho laugh upon hearing this, because as everyone knows, tango is a very passionate dance and his Argentinian mind leads immediately to naughty thoughts. The tango has definitely awakened something in Alan who is making it his mission to take more tango classes when he returns to the states and I have to say I'm pretty excited, too. I've always been a fan of dance, taking ballet and tap as a kid, African dance in college and traveling to Cuba to learn salsa and Afro-Cuban dance. And, anyone who knows me knows that I'll get on a dance floor in a minute, so this tango thing is right up my alley and apparently Alan's too, so we turn out to be excellent partners.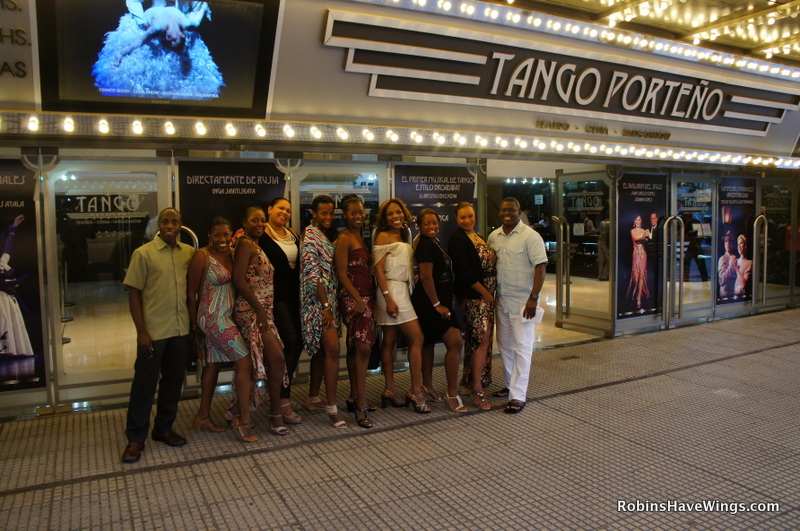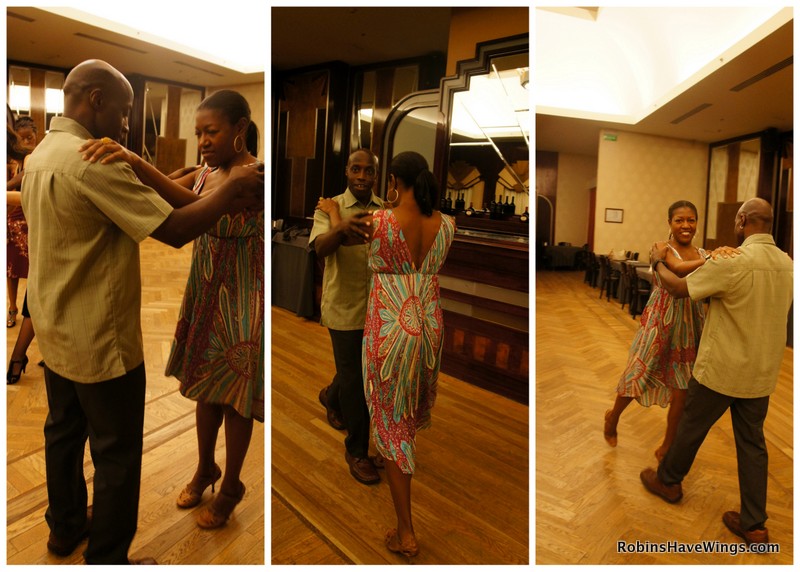 First, we all start by learning how to walk tango style by sliding our feet forward and then backward. We pair up to practice how this back and forth works in the dance. Finally, we move on to a more complicated box step which involves stepping backwards, to the right, then backwards again with the woman extending her right leg backward dramatically, and then to the left where the woman does a sweeping leg swirl to the right and then the left before the couple moves back and to the left again. When we see our instructors do it, it looks effortless. They glide like they've got butter on their shoes. Alan and I look at each other incredulously, not sure we can do it. But we embrace the challenge and after a few fits and starts, we get it and we smile approvingly at each other when we do. We even get a few words of approval from our slender instructor, Juan. We aren't exactly gliding, but we get it and we can follow the music and we are having a blast. Our travel friends are having a blast, too. Some take turns dancing with the instructors and with each other, giggling wildly with each misstep or well-placed move. We are so glad that we were able to have this experience after it was first thwarted by the flash flooding a few days ago.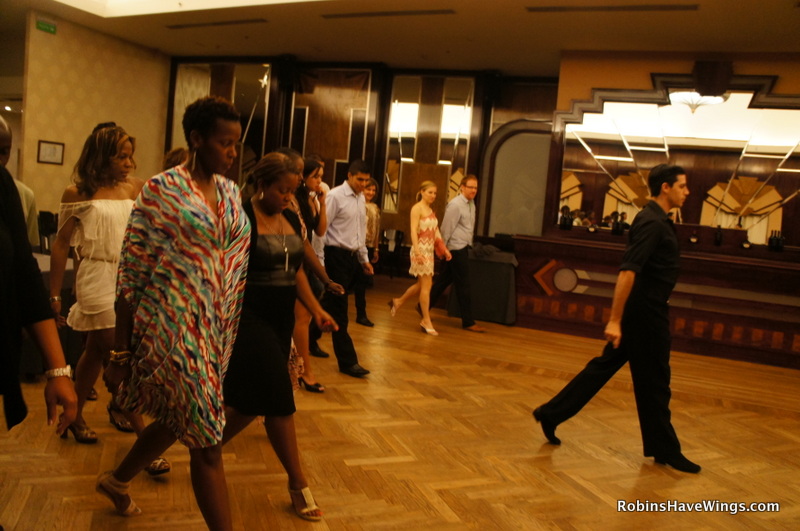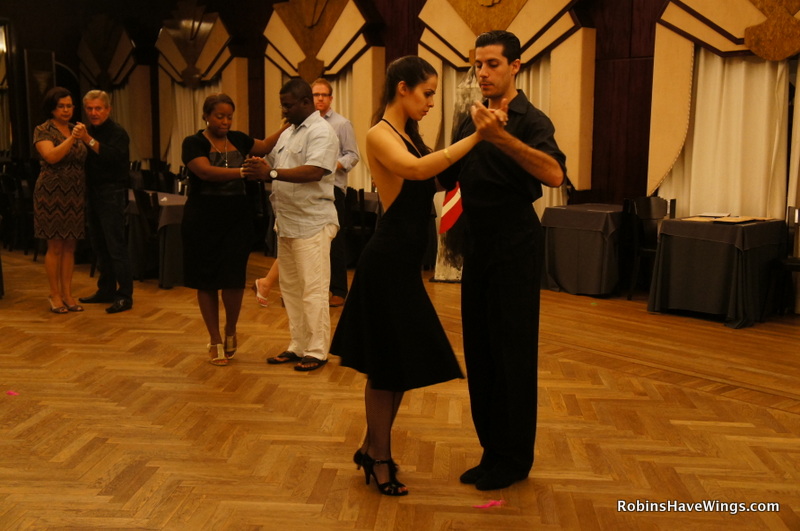 Just one day ago we were still in Mendoza tasting wine and something new, olive oil. At the Pasarai olive oil factory in Maipú, a small vineyard town outside Mendoza. It's at this factory and olive vineyard owned by a family of Yugoslavian heritage where we learn exactly how extra virgin olive oil is made. Our guide describes the process of stacking up to 17 plates of olive oil paste (hand-washed olives crushed with pits and all), then pressing the plates together once to extract its oil. Other processes take the paste after its been pressed and find other ways to extract more oil, but the resulting product is not extra virgin olive oil. We also get to see the oil hand bottled and labeled. But the best part is the tasting. Our guide pours several flavors of Pasrai's olive oil over bread, plain bread, bread with olive paste and bread with sun-dried tomatoes. The fan favorite appears to be the rosemary-flavored olive oil drizzled over the bread with sun-dried tomatoes, leading to a purchasing frenzy at the counter. We also learned a bit about olive oil as a beauty product packed with antioxidants and we are immediately sold on Pasrai's pure olive oil body oil after rubbing it onto chapped hands.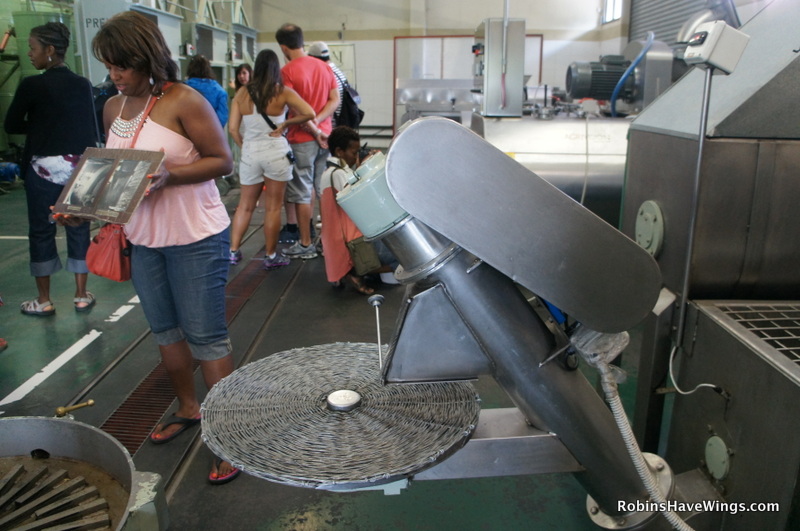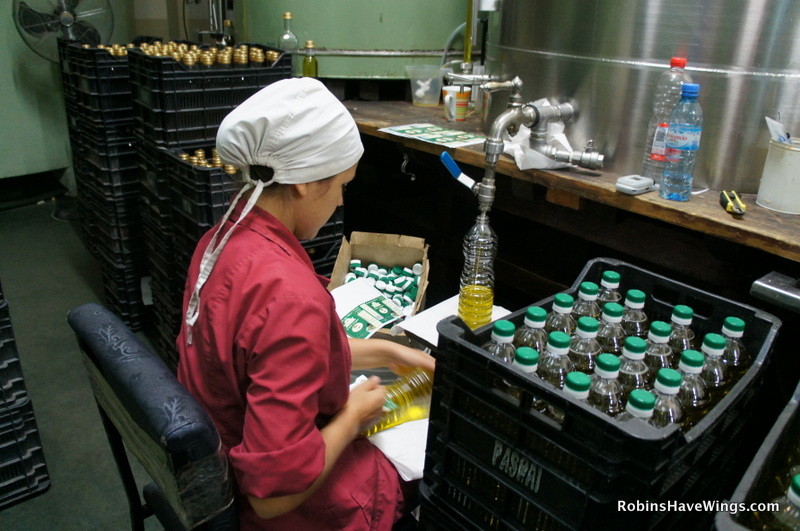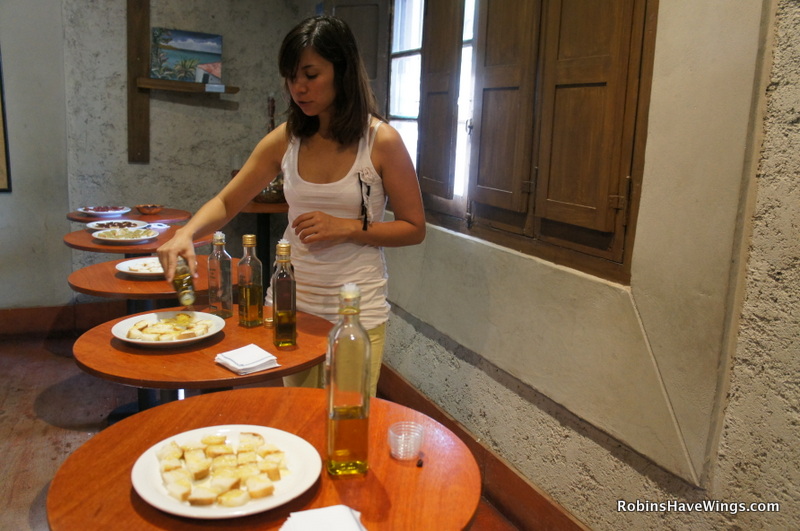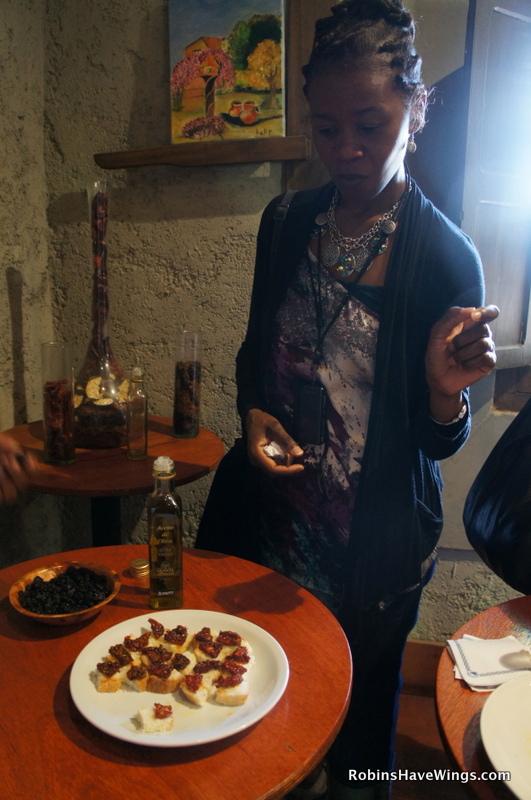 Pasarai's small courtyard of flowers inspires a frenzy of photography for Carmen, Presleith and Kenitra and it's here we spy a group of young girls in pink with white sashes across them. We wonder if they are pageant girls. Back on the bus, Leticia tells us that the girls are competing to become Maipú's harvest queen. Local vineyards select young women to represent them at Mendoza's annual harvest celebration, a tradition started years ago for fun to honor the prettiest vineyard pickers. Today, the winner becomes an ambassador for tourism in Mendoza. If we could pick an American ambassador to Argentinian wine, it would be Kayla, our guide at the Familia Zuccardi winery in Maipú. It's always cool to meet fellow Americans while traveling and we've bumped into quite a few in Mendoza. There was a family from Boston at the airport, a mother and daughter from Oregon at Plaza Indepencia and a couple from New York staying with us at Finca Andalgisa. We are all just passing through, tasting wine and taking in the sights. But it was especially cool to meet Kayla, an intern at Familia Zuccardi. She came to Argentina by way of Chicago specifically to work here. She heard of the winery's reputation and its wine-making innovations and knew she had to find a way to get here. We all admire her gutsiness and her sense of adventure. She's pursuing her dream of becoming a sommelier head on. She hopes to open a small, unpretentious wine lounge in Chicago someday and after being on a tour of Zuccardi with her, I'd be happy to be one of her first customers.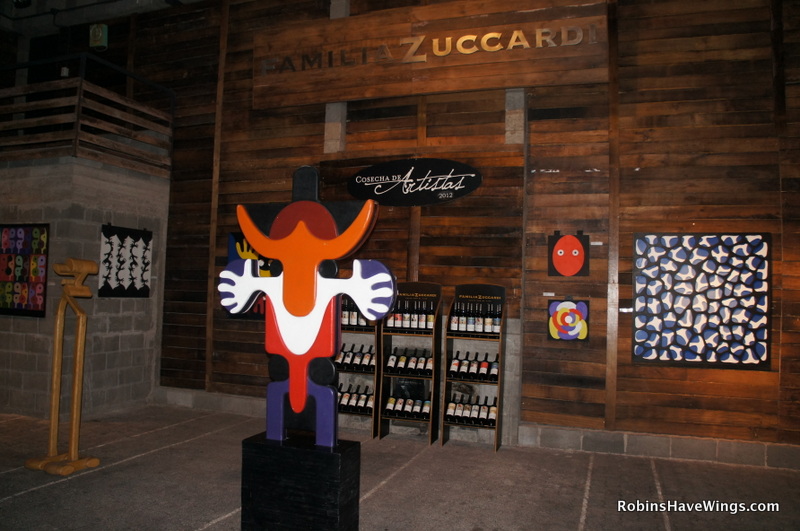 First off, the main Zuccardi wine tasting room is just plain funky. It catches our eye as soon as we enter the winery. Bold rounded figures and colors are displayed in paintings on the wall and as sculptures around the room. I'd later learn that this is an installation from an annual event that the winery hosts called the Harvest of Artists or "Cosecha de Artistas," where artists are invited to participate in their harvests and be inspired to create art based on the experience. This artist apparently saw yellow and red bird-like figures and round-eyed people with fingers spread wide. We love it and a photo-taking frenzy ensues. Kayla is able to capture our attention and talk about wine, explaining the unique history of this place started by an Argentinian of Italian ancestry who came to the region to improve its irrigation system. To prove that his new system of irrigation worked, he created a winery and fell in love with wine and the process of making wine. The family-run Zuccardi winery is especially known for its experimental blends. Beyond the artsy wine-tasting rooms and shop, there's a massive wine industrial complex operating in hyper drive out back. Small fork-lifts drive by, trucks back in and out to pick up precious wine cargo and huge machines churn, doing what we don't know.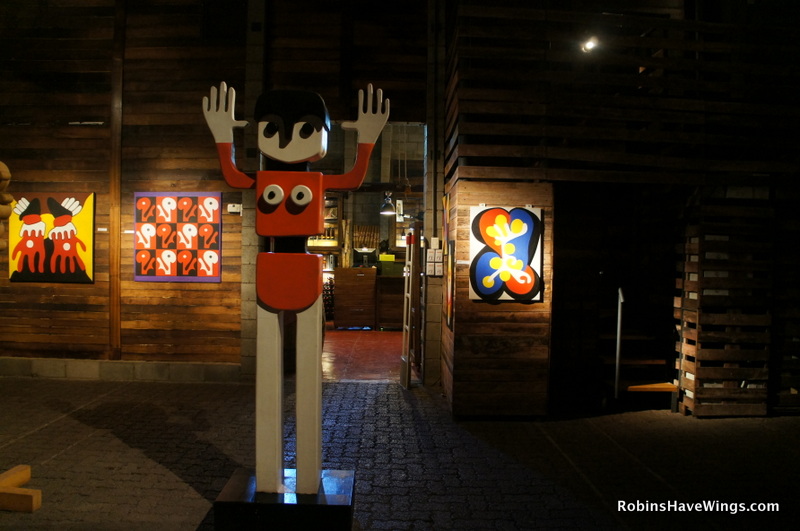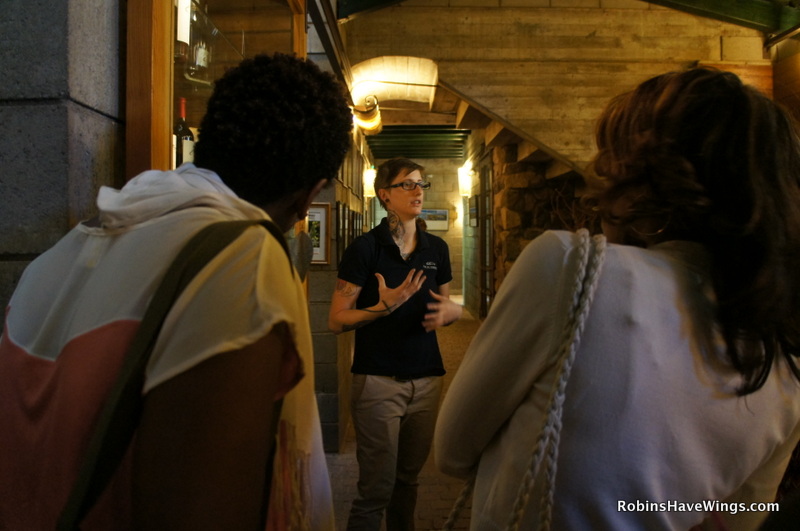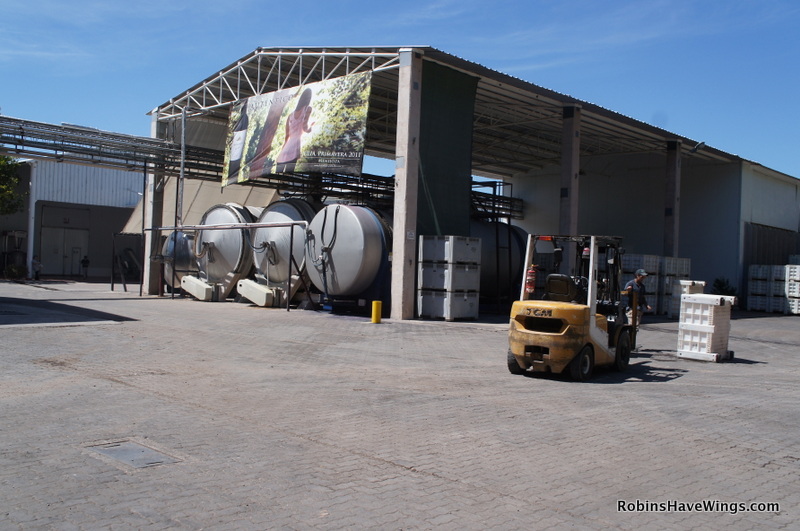 It's a stark contrast to the wine tour at Bodega Saletein the other day, where the fermentation rooms were like works of art themselves, pristine and unmoved. Here, Kayla takes us into small warehouses where hoses snake from its steel vats of Pinot Grigos and Chardonnays. She let us taste the Chardonnay grapes, not from vines, but from plastic crates, where they sat awaiting the next part of their journey to become wine. In the Zuccardi's french oak barrel room, Kayla expertly explains the process of toasting the interior of a barrel to impact taste and we see a barrel that had been freshly emptied. There is definitely wine-making being done here. When Kayla asked me how I liked the tour of Saletein, I told her that the setting in full view of the Andes couldn't be beat, but here, it was like the covers were being ripped off the wine-making process and that was pretty cool, too. In fact as we left one fermentation space to head to another, we saw those Chardonnay grapes being dumped by forklift into a huge de-stemming machine where they moved up a conveyor belt to be plucked. Super cool for those old school Discovery Channel buffs who love shows like "How It's Made."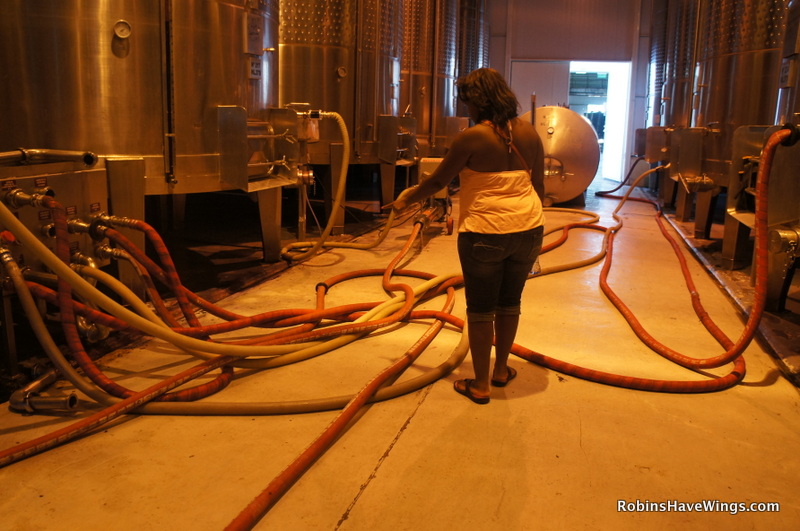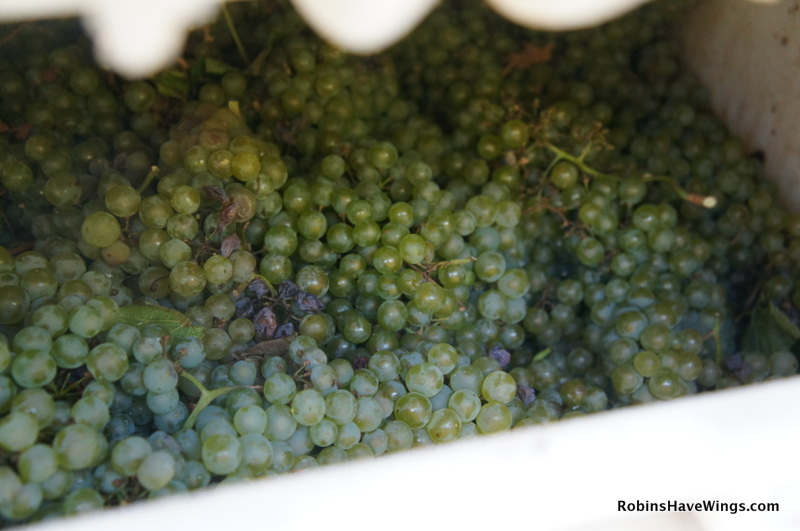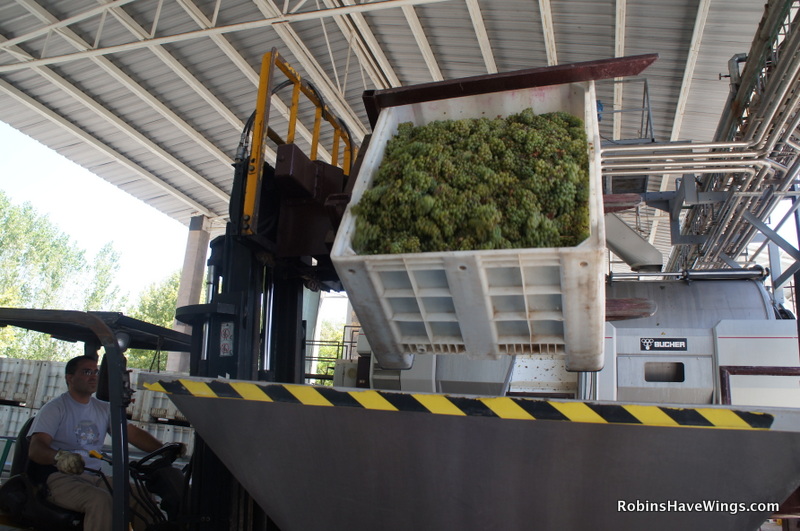 Back inside for our wine tasting, the group seems to gravitate to Zuccardi's sweeter wines especially their Santa Julia Tardio and the Zuccardi Series A Torrontes, a blend of Criolla and Muscat grapes popular in South America. The tasting ends with the Malamado, Zuccardi's version of a port wine, but since it's not made in Portugal, it's called a fortified wine. This one has got kick. It's smooth with a slow burn. It reminds me of Cognac and Gia thinks this would be good with a good cigar. Sensing this may be our last chance to shop for gifts before returning to Buenos Aires the next day, some go on a spending spree in Zuccardi's gift shop, including Floyd who after collecting perfume, t-shirts, caps and wine, can't resist $5 two-packs of sparkling wine, going back several times for this bargain item. Don't let anyone tell you that men don't shop.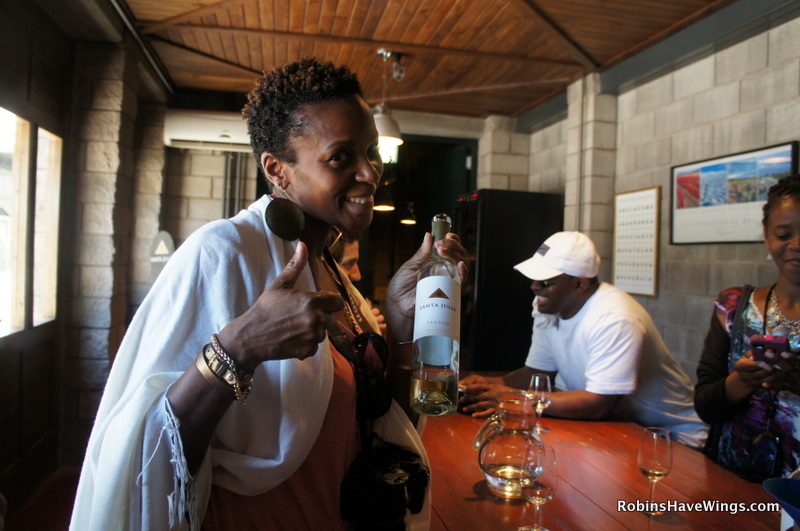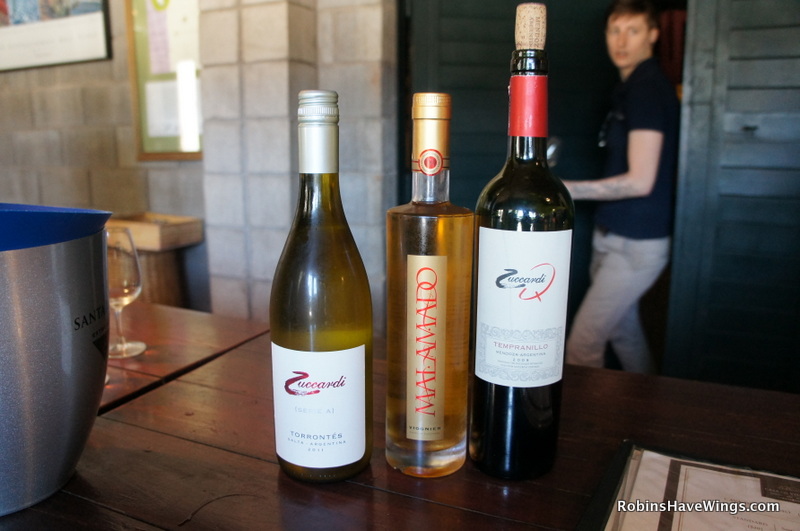 Knowing that this is our last chance to have a great meal in Mendoza, several of us head to Nadia O.F. for dinner later. It's considered the best restaurant in the area. When Robyn and I mentioned that we were going to Nadia's to a couple from Israel staying at our hotel, they raved, saying it was one of the best meals they've ever had. Leticia mentioned it as one of the best, too, noting its 6 courses. We are excited to have a real foodie experience. When we arrive, we have the place to ourselves. It looks befitting of a foodie experience with our dining space bathed in a warm red glow.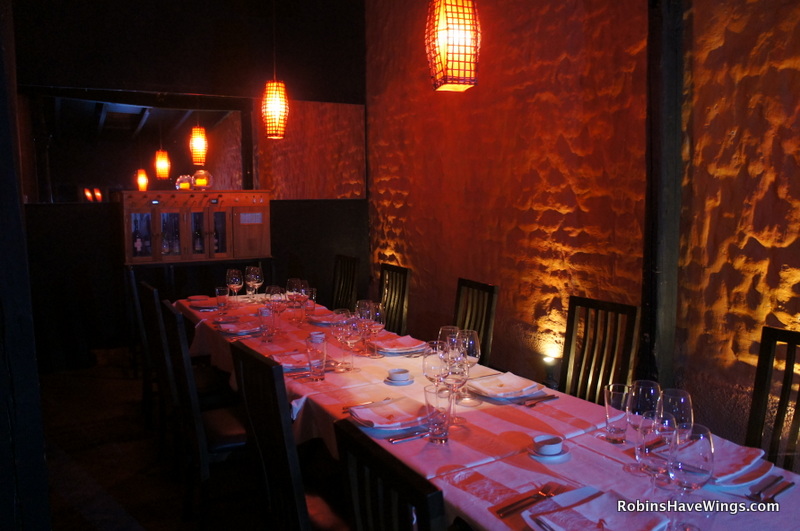 We have only have the option to choose our starter and entree, but everything else is decided by the chef, including the 2 appetizers, a watermelon and fig salad with herbs, blue cheese and syrup dressing and the sweet potato with green aioli and eggplant ashes. Both of which were wildly creative and deliciously complex. But the star of the meal was my "Gazpacho" jelly with cold almond soup. It arrives in a Jello consistency with flowers as a garnish and the almond soup drizzled on top. It's almost too pretty to eat and it definitely doesn't look like gazpacho, but one bite brings all the cool tomato, onion and cilanto flavors to mind. It's completely baffling and delicious. Sadly, my rib-eye, known as bife de lomo in Argentina, can't even hold a candle. But desert makes up for it,  a refreshing and creamy orange mouse followed by pears soaked in Argentina's Torrontes wine and seasoned with black pepper. If I'd chosen the ossobuco like the other Robyn, the meal might have been pretty close to perfect.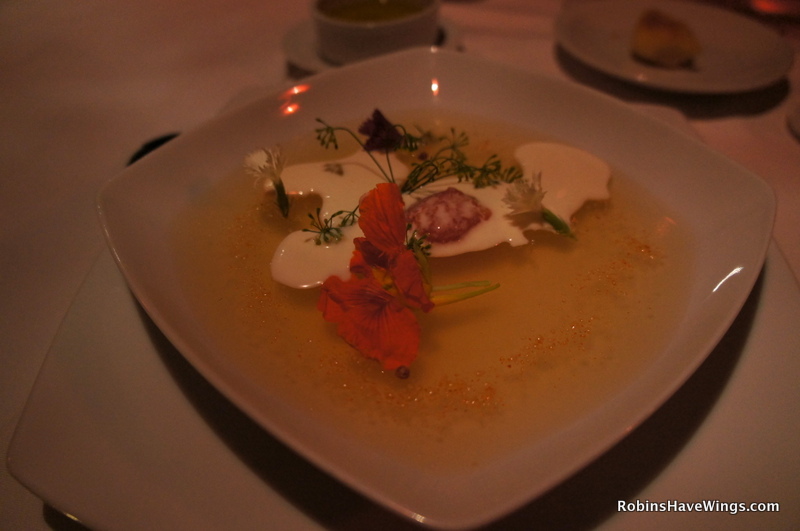 Back in Buenos Aires, folks continue the mad last-minute shopping  dash with just a few hours to spare before our tango show on our last night in Argentina. It occurs to me that I haven't seen Alan buy one single thing during this entire trip. Maybe the photos and the experience are gift enough for him. The tango certainly is. As we sit down to dinner at Tango Porteño, he makes a point of going to Gai to thank her for arranging the tango class and expressing how much he enjoyed it. In the darkened art deco theater, we see how tango is really done with dances that harken back to its heyday in 1940s Argentina with a live orchestra. At times, the dances are productions with the full cast of dancers telling a story of the times on the busy grand Avenida 9 de Julio or at the sultry Dragon Rojo bar. At other times, a pair of dancers display the tango's inherent eroticism with open-shirted men lifting lingerie-clad women in the air or holding them tightly in passionate embraces. And then there was the traditional tango that we all know with fast-flicking legs that look like they could do damage to a partner's calves and thighs. We are glad we didn't try those moves in class. We leave Tango Porteño to see lights ablaze on today's Avenida 9 de Julio. It looks like Buenos Aires' version of New York's Time Square.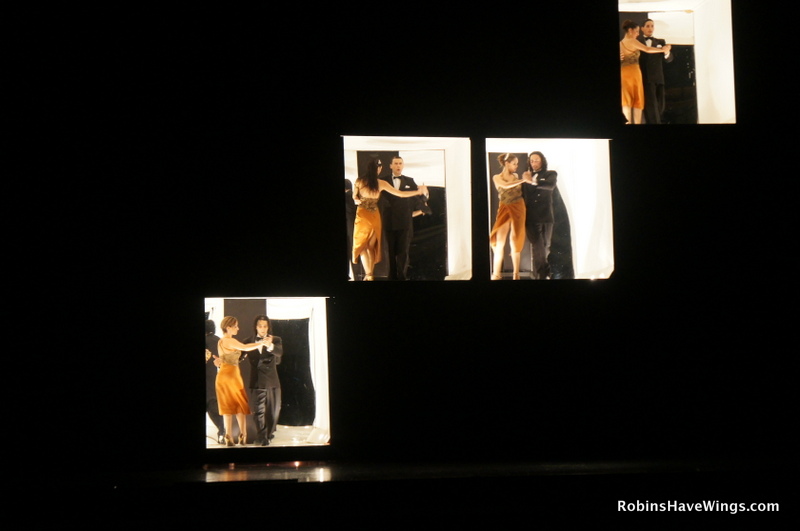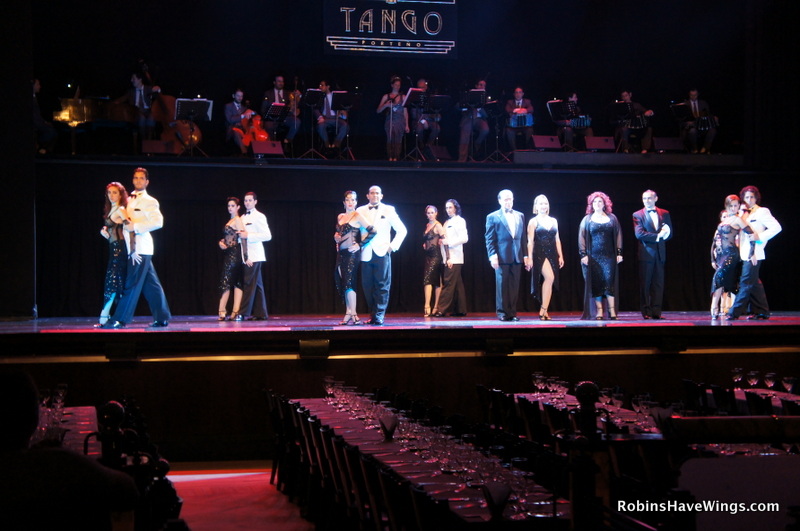 Gai takes this opportunity to thank all of us for joining her STG Tour. She says she really enjoyed traveling us and the feeling is mutual. She hopes that we'll join her on her other group trips. I'm sure she'll see most of us again. Alan is a veteran and has already been on 5 trips. This is Presleith's first, and she is definitely planning to travel to China in October with STG Tours. The bright lights of Avenida 9 de Julio twinkle behind us and they are enough of a farewell to Argentina for most of our group, but Kenitra and I decide to end the night with a night cap. The hotel night manager at our trendy hotel, Esplendor, in Palermo Hollywood, suggests a spot simply called 878. We hop in a cab to give it a shot. We come to a place that we are sure most tourists don't know about. The wooden double doors even look like they hold a secret. Inside is a dimly-lit bar and lounge playing moody eclectic American music like an early Madonna song and what sounds like indie Argentinian music. Our bartender is Mario. He doesn't speak much English, but I ask him about the "Lola," a drink advertised on its menu over the bar. I make out that it's like a caipirinha but with a rum called pamero instead of cachacha. It's got mango, lime and ginger in it, too. Kenitra opts for the Pisco Sour, which Mario says is best, if you don't like sweet drinks. We like the vibe and the drinks are good. We toast Argentina farewell.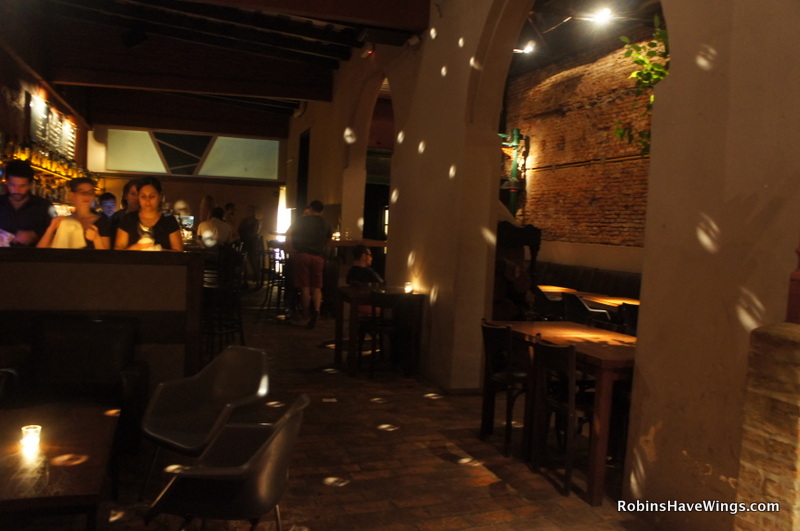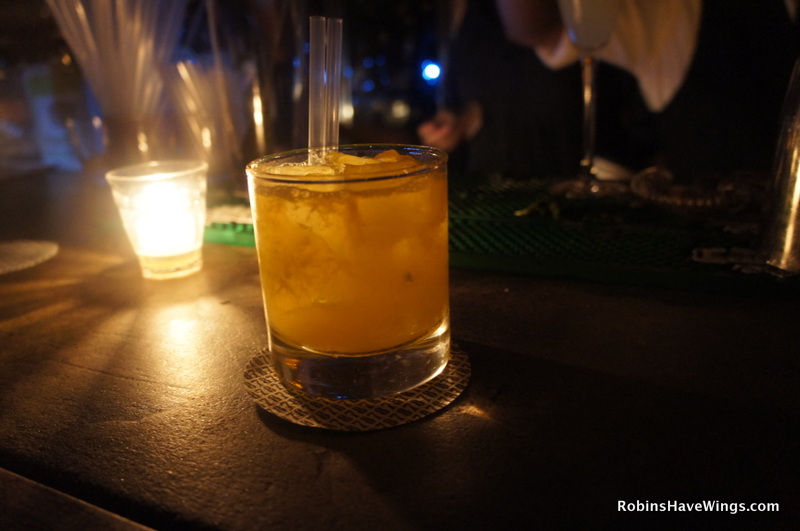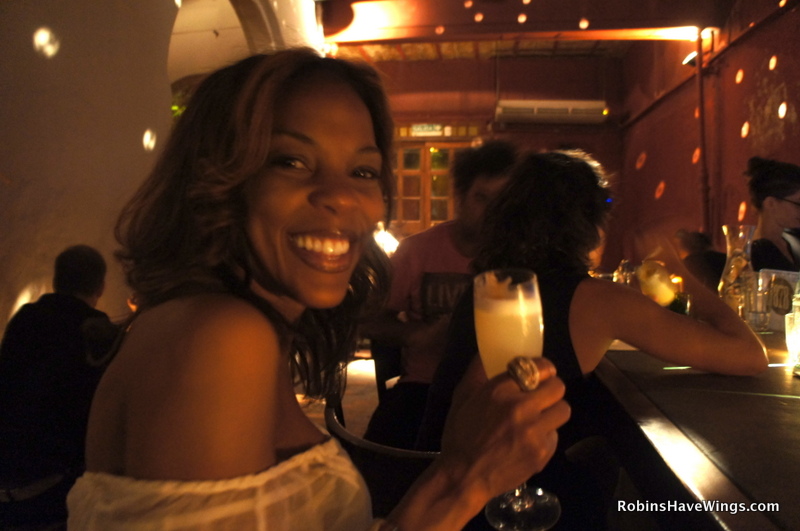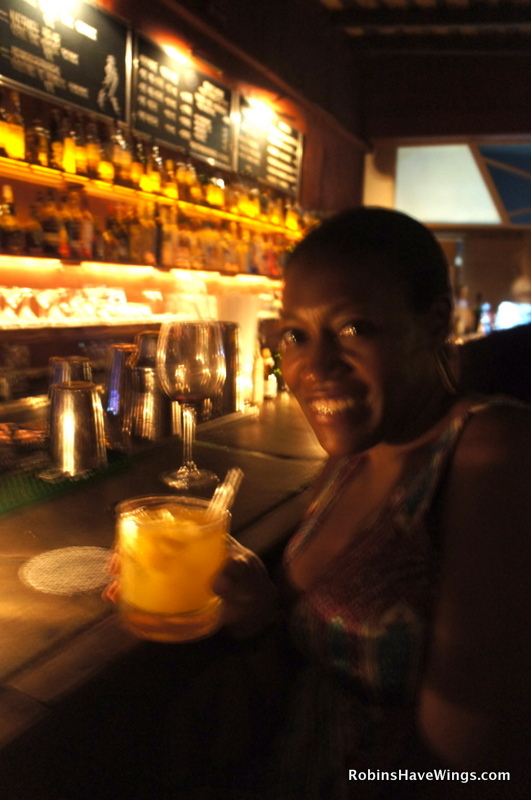 Coming Soon: I asked my new Argentina travel buddies to send me their favorite photos from the trip, so I'll be sharing their highlights and favorite travel memories here, too.
*Disclosure: STGTours provided me with housing during this Argentina tour.