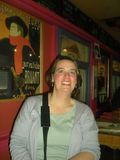 Helen was sitting in Nero's cafe with sheets of paper surrounding her like dining companions. It was great to see a familiar face after about 12 hours of travel and satisfying to know that I'd made it to Oxford. Helen looked like this is where she belonged, in a cafe grading papers, thoughtful and happy. I am looking forward to getting a peek at her professorial life.
I am bone tired. I didn't sleep well on the flight due to a wailing baby and an older row mate who made frequent trips to the bathroom. I could barely keep my eyes open on the hour-and-a-half bus ride to Oxford, so I missed any scenery along the way. Helen vowed to keep me awake so that I could adjust to the five-hour time difference. We start by heading to the building where she works and dropping off my stuff. I meet a few of her research colleagues Kim, Lily, Leigh and Akiko and we grab lunch at Oxford's covered market. Fruit stands, fish stalls and a butcher's shop co-mingle with leather, paper and an assundry of other stores. Georgina's, a funky cafe with pink walls, playbill and movie posters decorating its walls, sits in the middle and we decide to dine there. Helen and I catch up over salad and wraps and extoll the virtues of living lives without bounderies. She is contemplating taking on a third year as a research associate at Oxford because having tenure gives her that freedom, while I contemplate life after layoffs which gives me the freedom to travel and explore new opportunities. We count ourselves as lucky.
After Helen wraps up a few loose ends, we head to Christ Church College, which is engulfed with hoards of roving prepubescent teens, presumably fans of Harry Potter. There's a tour that points out the hall on campus which inspired the Hogwarts dining scenes in the Harry Potter movies. But there is much more to see, including the goregeous stained glass windows and intricate ribbed ceilings of the Christ Church Cathedral, the smallest cathedral in England. We were reminded of our middle school religion class where we had to study the Washington National Cathedral's bays. The courtyards are immaculate and men in derby hats are available to offer information and just add an air of authenticity to the place. Christ Church College is just one of 36 colleges dating as far back as the 11th century. What's interesting is that they are surrounded by a modern bustling burg filled with shops, buses and taxis. I expected a sleepier place with men in graduate robes standing in a square having philosopical debates.
After touring Christ Church, we go to The Bear, a local pub where the tradition was for Oxford men to clip off their ties and leave them at the bar in exchange for a half pint of beer. We order half pints of cider, no ties clipped, and sit in the garden out back. The cider tastes stronger than any I've tasted in the states. I am looking forward to becoming a beer and cider conneisseur while here.
I am starting to fade, so we head back to Helen's quaint flat that looks Victorian from the outside, but like a page from a 1970's issue of Home annd Garden on the inside. She is renting the place from a woman who blends 70s chic with Asian design; a very ecclectic mix. Helen makes chinese dumplings, stir-fried green beans and a bamboo shoot and mushroom dish. Her friend Kim joins us and I learn more about the ins and outs of being a researcher at Oxford. There's tea, wine, cookies and fruit. A nice end to a very long day.