Awhitia Mihaere is a true force of nature. We don't find this out right away. It reveals itself slowly, like the plot in a good mystery, and with each story she tells or life experience she shares. We get a clue when we meet her outside the Auckland Art Gallery or Toi o Tāmaki in Maori. (The Maori name of the gallery is important to note, as you'll see later.) We were running late to meet her and we apologize. She tells us that it was no problem because it gave her more time to meditate and she greets us with a warm embrace.
I have even more of a hint of Awhitia's powers than Tanya. When I told my friend Lisa that I was planning to go to New Zealand, she told me that I had to meet Awhitia. Lisa was attending a women's leadership conference in Bali when she saw Awhitia give an incredible speech in her native Maori language. She knew she had to meet her. Lisa's friendship with Awhitia becomes my good fortune and one of the best days in New Zealand so far.
Toi o Tāmaki turns out to best place to meet Awhitia because each piece of art within seems to release an intense reflection, memory or personal story for her. For instance, I tell her that I am struck by the presence of a Maori translation with every art piece. She tells us that she joined a march in Auckland with thousands of other Maori to push Parliament to have Maori recognized as the official language of New Zealand, Aotearoa in Maori, meaning the land of the long white cloud.  In 1990, Auckland did just that and now Maori translations must appear in its public spaces, on signs and buildings.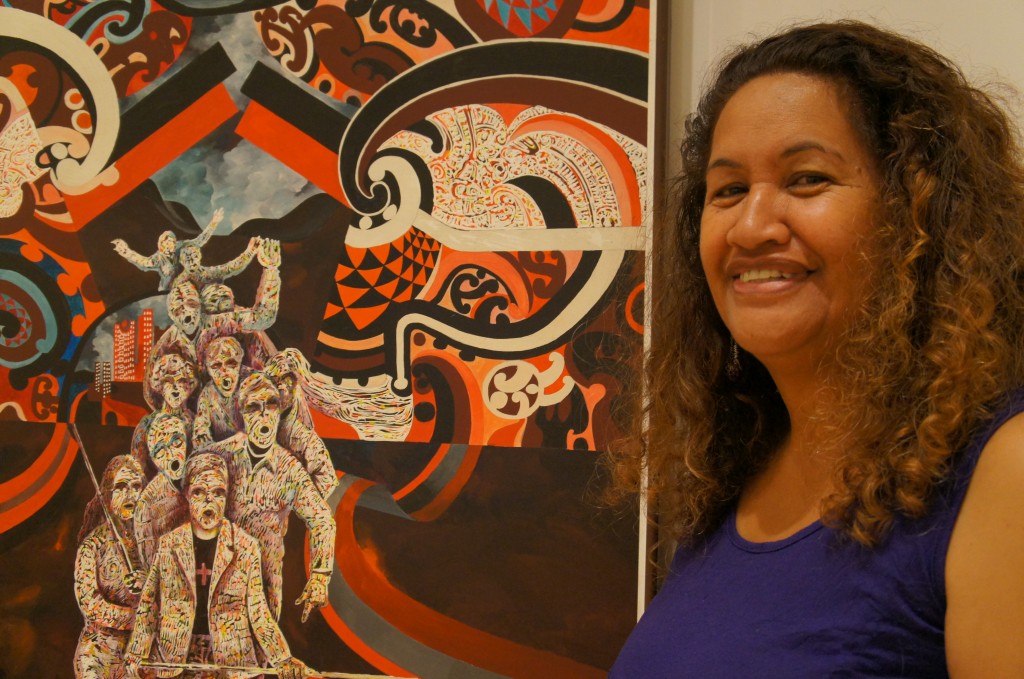 A painting called "This Land is Ours," by Buck Nin, inspires more protest talk. It depicts a 1975 march from the northern town of Te Haupa to Wellington led by Dame Whina Cooper to protest the loss of Maori land at the hands of the government with the rallying cry, "Not one more acre of Maori land." As Awhitia tells the story behind the painting she beams with pride, remembering a Maori heroine in Cooper and her own role, joining the march as a teen. She seem so moved that I had to ask to take a picture of her next to the painting, which made her ecstatic. She pumped her fists in the air after I snapped the shot.
Awhitia's activism actually seems to be her way of life, tightly woven into everything she does. She started a school in her home that has grown into a Maori institution that teaches students the Maori language, cultural arts and healing. She's also a traditional birthing practitioner, helping modern Maori women give birth the way their ancestors did through ancient practices that her ancestors taught her. Besides massaging Maori women's bellies with traditional oils during labor she encourages them to practice old traditions like having their placenta read to learn their child's life path and then burying it in a place of their choosing so that the child always has a place to call home. Tanya and I think this one of the most beautiful concepts we've ever heard, and it's at about this point that we start to realize that we are in the presence of a force of nature.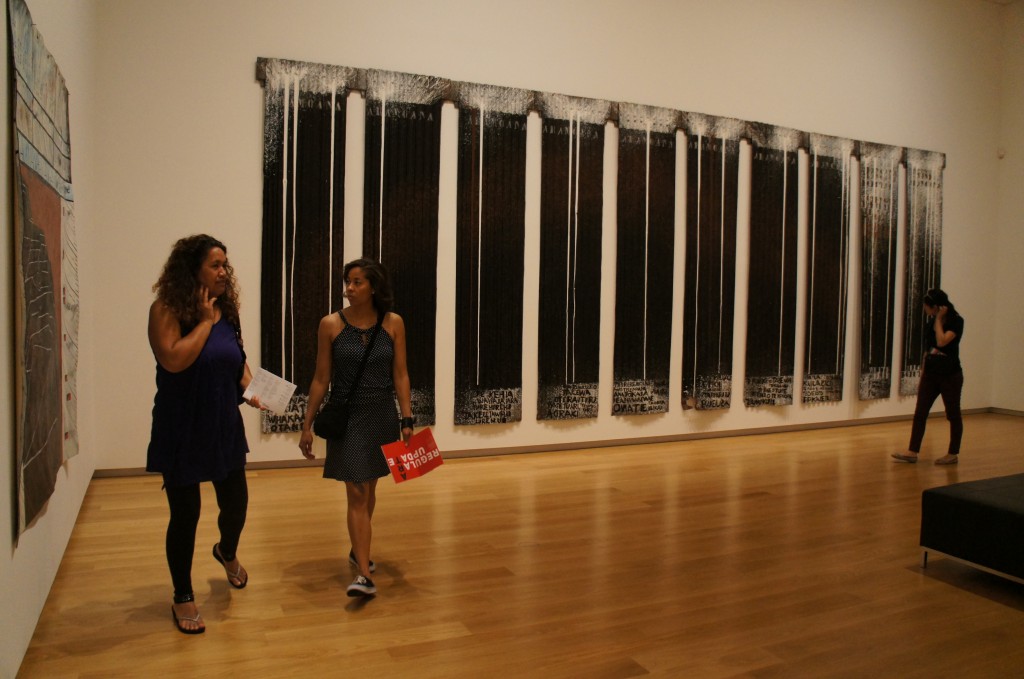 As we continue through the gallery, Awhitia shares more about the bright, bold pieces that we see and her connections to them. For one thing,  she's friends with the indigenous curator of the museum and she knows many of the artists.  She points out paintings by some of the first Maori graduates of Auckland's prestigious Elam School of Art and others that showcase Maori patterns. When we see an installation featuring provocatively titled books and colorful, primitively molded sculptures, the books remind her of her work as an indigenous cultural adviser in a prison, where she advised the prison on Maori traditions that should be up held by law. She brought romiromi  traditional massage healing practices into the prisons along with an ancient traditional Hawaiian practice of peace and forgiveness, ho'oponopono, practiced by her husband and his people.  Tanya and I can't believe that we've uncovered another facet of this woman's life and we tell her so. She admits that she's had to scale back her prison work because of the negative energy, but also because her mother told her that she was doing too much.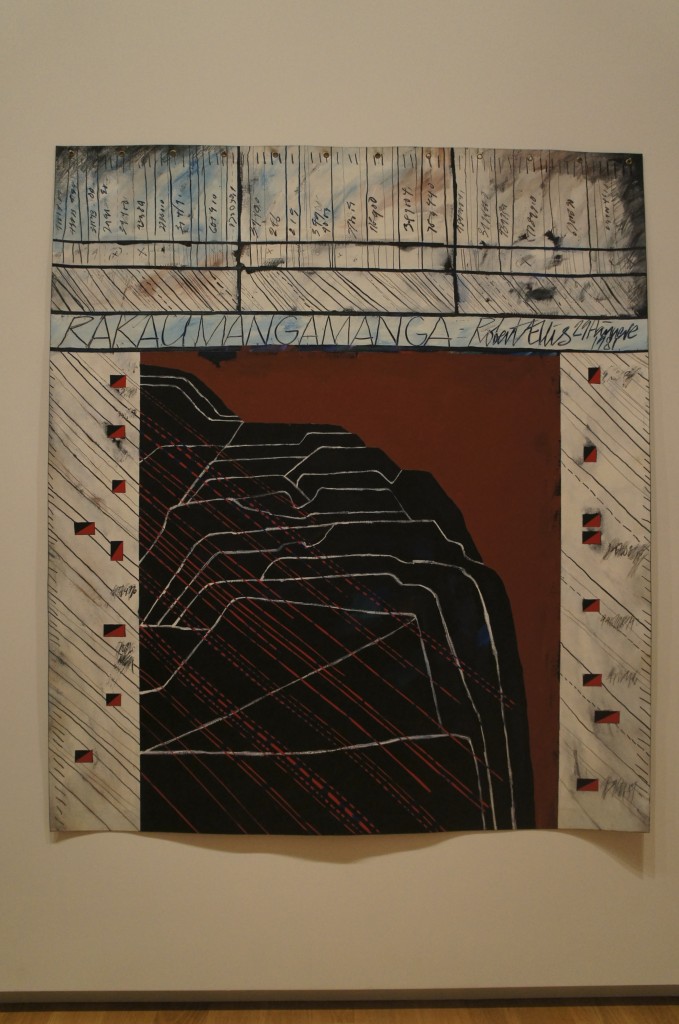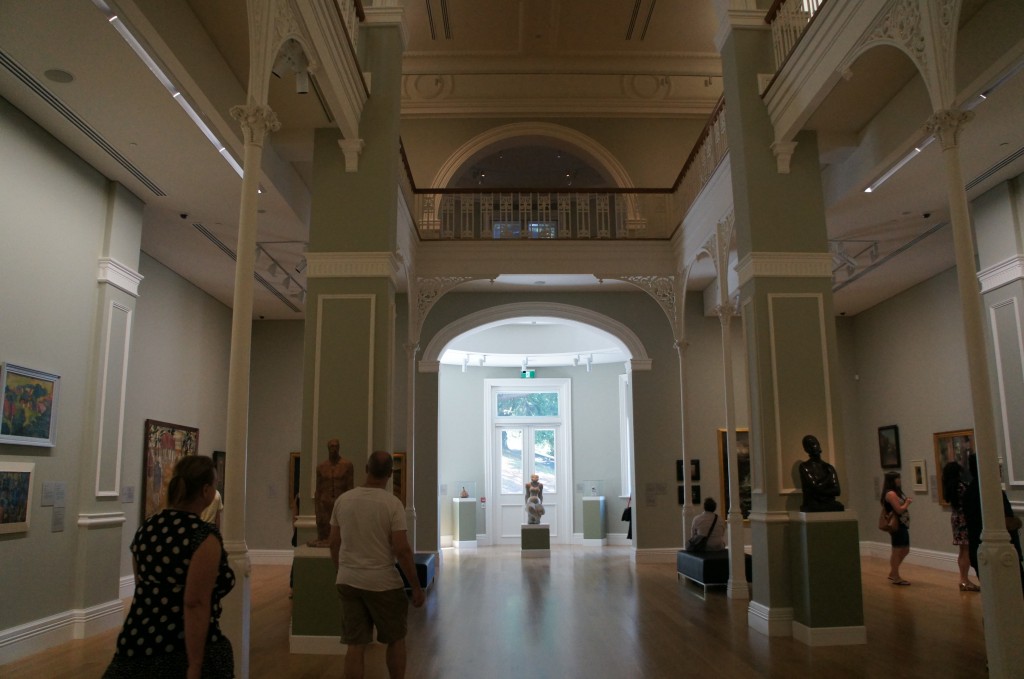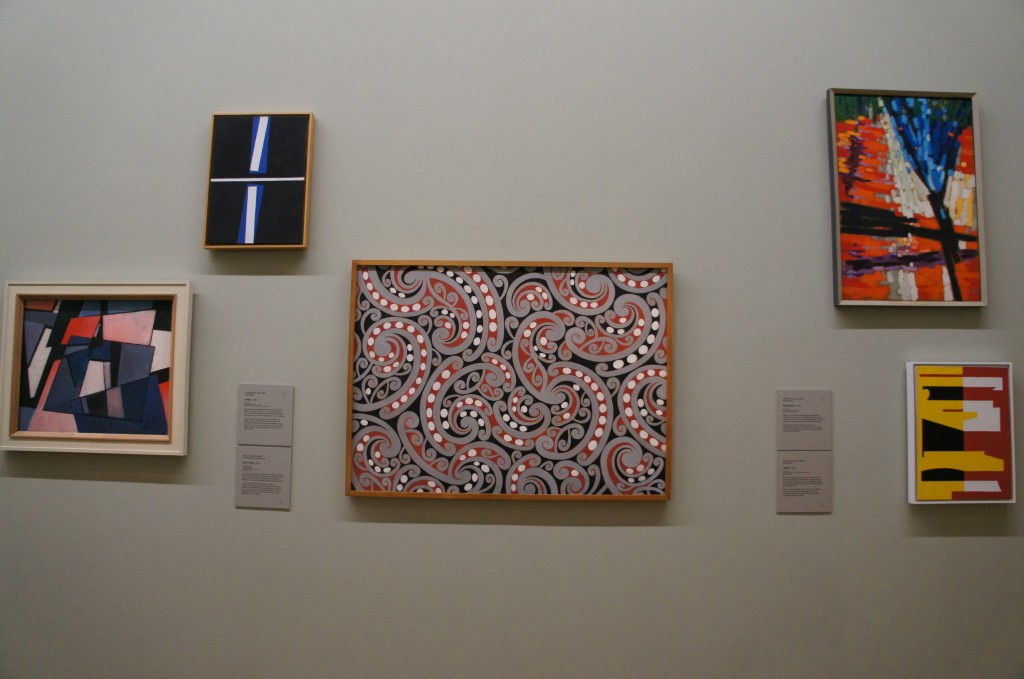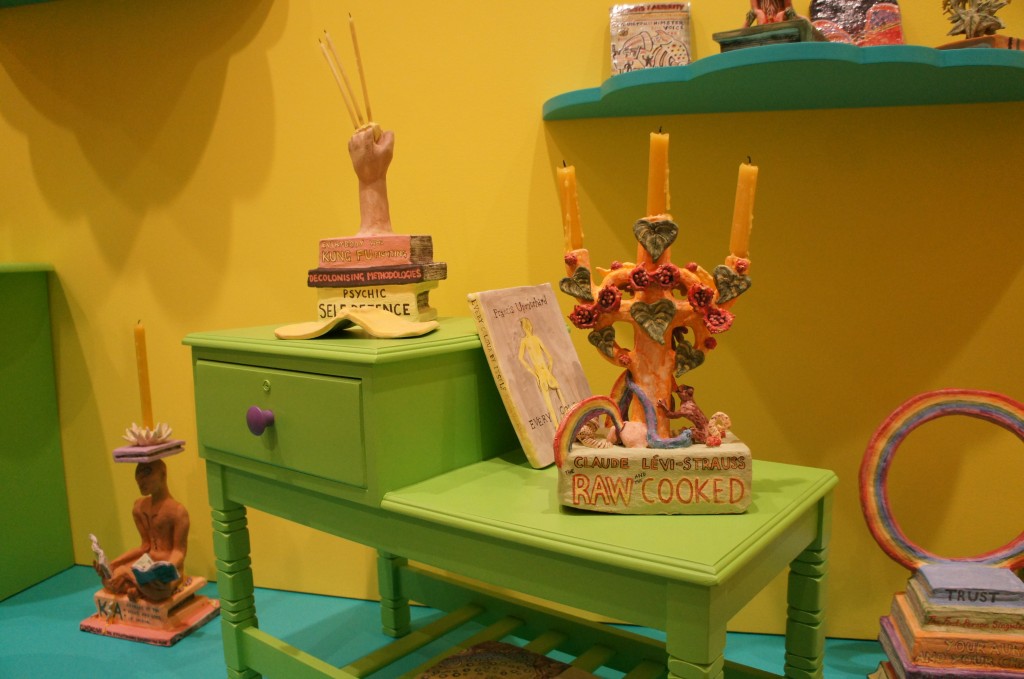 Awhitia's stories inspire us to share our own stories of race and culture in the US. We admire her ability to trace her ancestry to its beginnings, something many African-Americans try desperately to do. She said the movie "Lincoln" infuriated her because while Lincoln legally freed the slaves, she says they weren't free because they were taken from their land, moved from one continent to another. For her, and in Maori culture, owning your own land and having a place to call yours is the essence of freedom.
This inspires Awhitia to share her ancestors with us. We search the gallery for a small room featuring gilded framed paintings of stately looking Maori men and women. She points to a grey-haired and bearded man with a serene face filled with tattoos from hairline to chin. "This is my ancestor," she says proudly. Ihaka Whanga is her great grandfather 3 times removed on her mother's side. Then she points to her ancestor on her father's side Tawahaio Matutaera, who bears a more fierce countenance wearing shark teeth earrings and carrying a weapon made of whale bone that can lop a rival's head off. Both men were chiefs of different tribes. Ihaka Whanga of the Ngāti Kahungunu and Tawahaio Matutaera  of the Tainui, but both men wear the face tattoos known as Ta Moko from hairline to chin, indicating their status as chiefs and carrying their genealogy lines with one side of the face tracing the maternal line and the other the paternal line.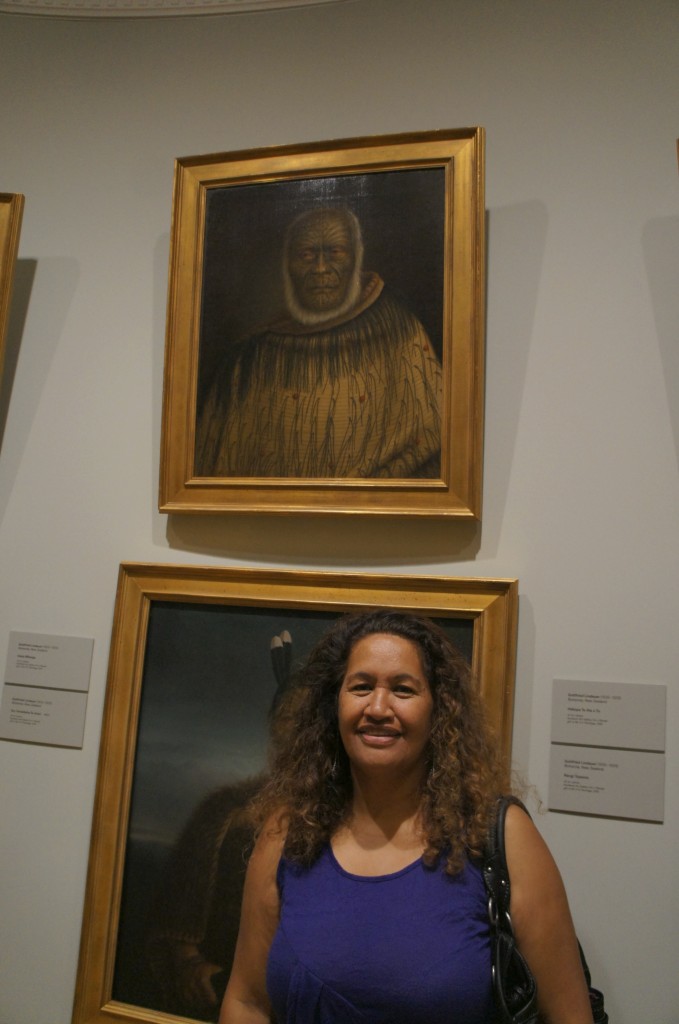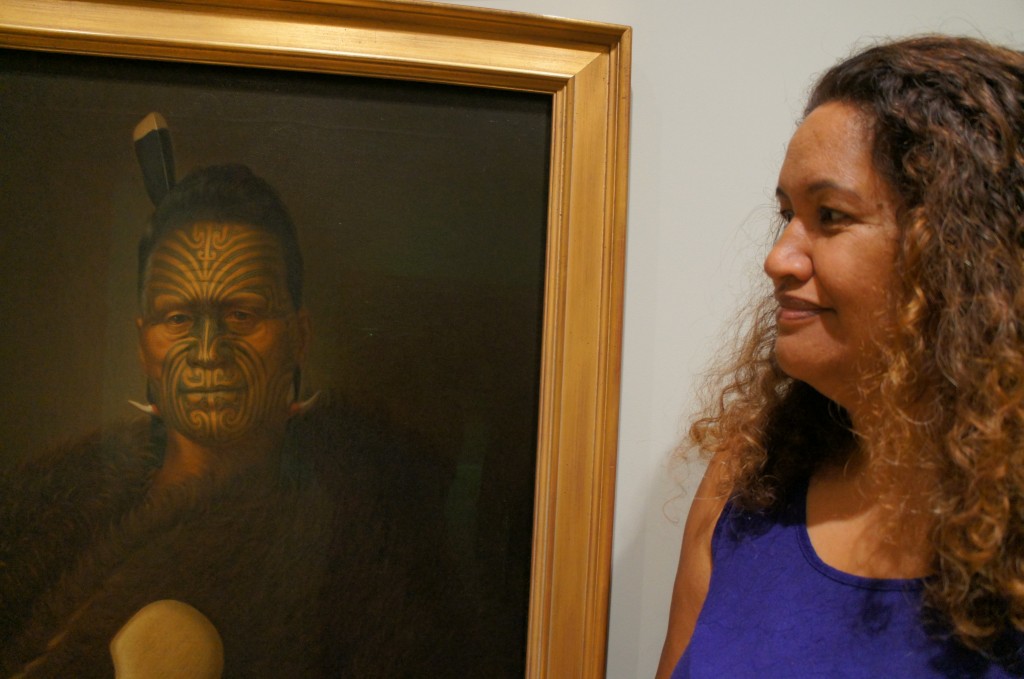 We think it is incredible that these leaders have been immortalized in oil and given a place in the gallery. Awhitia says that she is grateful that she always has a place to visit her ancestors and she thanks them for letting us spend time with them before we leave the gallery. We continue to bond over lunch at a down town sushi spot where Awhitia shares photos of her children, grandchildren and her Hawaiian hubby who is also a lomilomi practitioner, working with her in the art of massage in the birthing process. It was great to learn more about her family and we all feel like we've been girlfriends since forever.
After lunch we go for a stroll in Albert Park, bordered by the art gallery and Auckland University. It's a lovely vibrant green oasis on a hill in the middle of the city with perfectly placed bursts of hot pink and purple flowers. We are drawn to the pretty iron fountain at its center and we sit on a bench nearby to let the sun warm our shoulders. And then we do what best girlfriends do. We take selfies. It was a perfect way to spend an afternoon and a great way to gain a genuine sense of a place through a very genuine person.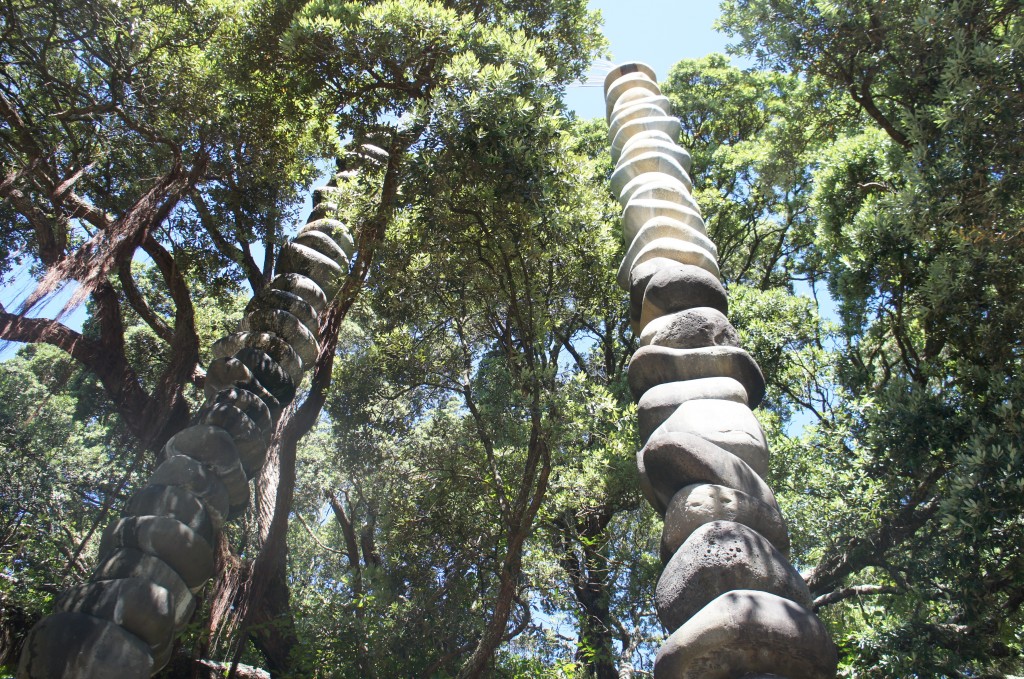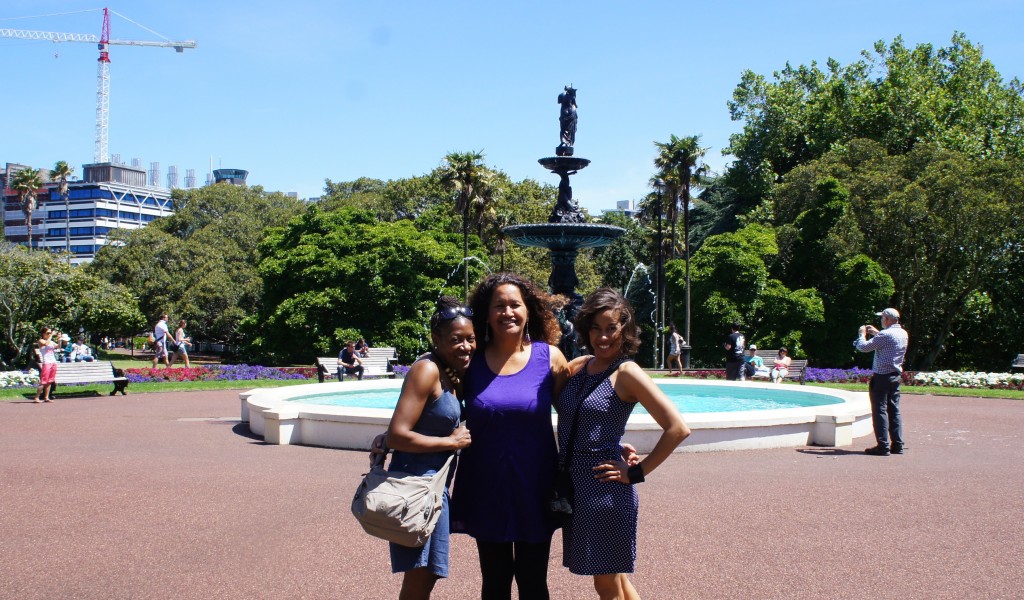 More than its monuments and natural landmarks, it's the people that make a place and this turns out to be the theme for our third day in New Zealand. Tanya and I decided that we wanted to check out Auckland's party scene our last night in the city. We set out down Ponsonby Road on a Thursday night to find almost every restaurant and bar closed. We'd pretty much give up around 10 pm when we decide to head back home, but we are stopped by the sound of karaoke crooners at a bar called Poof decorated with a comic strip theme. We'd walked past earlier in the evening and it was totally dead. Tanya said, "It's karaoke, you know I have to go in." And, I know she does. It's the only thing happening on Ponsonby, so I'm game, too.
Tanya doesn't really need to look at the songbook to know that she's going to sing "Proud Mary." But we look anyway to see if we can find a song that we can sing together. I never get the phrasing on Proud Mary right. That's when Odin appears. He basically asks what we are doing there. He's polite about it, but it's clear that he's shocked to find two black girls in a bar in Auckland, especially, two black girls in a gay bar in Auckland. Things start clicking. There's a big Roy Lichtenstein-style painting on the wall saying, "We are the rainbow people." Tanya remembers that the word "Poof" in Britain is often used to reference gay men. Then it hits me that there are way more men here than women. Odin continues his inquiry, he keeps asking, "Where are you really from?" After convincing him that we are from Washington, DC and that we are in Auckland on vacation, he invites us to hang out with his other friends, who are a few of the other straight people in the place.
Odin, Scott and Craig have taken their married friend Brett for a night out and the only place they can find is this spot. Scott tells us that Jan. 2 is some sort of national holiday and that's why everything is closed. We pretty much have the same conversation with Scott as we did with Odin explaining how two black girls walked into a gay bar on Ponsonby Road in Auckland and with all the pleasantries dispensed folks start singing. Odin has decided that he and I should sing a song together and suggests, "The Power of Love." I'm thinking Huey Lewis and the News, so it sounds good to me. But before we sing, Tanya, who has perfected her Tina Turner impression, decided to turn the bar out with Proud Mary complete with hair tossing and shimmying. There isn't a crowd more appreciative than this group of gay men.
Then I find myself called to sing with Odin, who up until this point has been telling me how beautiful he thinks I am and I keep thanking him, flattered while noticing that he may be a tad drunk. It is very apparent later in the evening when he is walking around the bar with one flip flop on. At the point we start to sing, he has two flip-flops on, at least, I think, and I realize that I haven't a clue what song we are singing. Never heard it before and I can't catch the melody because Odin cannot sing. He is the epitome of bad karaoke singers in flip-flops. So, as he sings to me I try to jump in when I think I hear the hook, but our duet is tanking horribly and it's one of those really long songs with like 10 verses. It's as bad as it sounds. When it ends, Odin says, "I totally carried you." He's a funny dude. So, I think I'll be his friend, in fact, Tanya and I decide we like these guys. Scott and Brett are in a band so they pretty much kill all the old 80s rock songs and Scott steps in to help a couple of girls failing horribly at singing "Roxanne." You can clearly tell who has karaoke standards and know their way around a karaoke song book and those who don't, but it's all good and its all love in the only bar open in Ponsonby.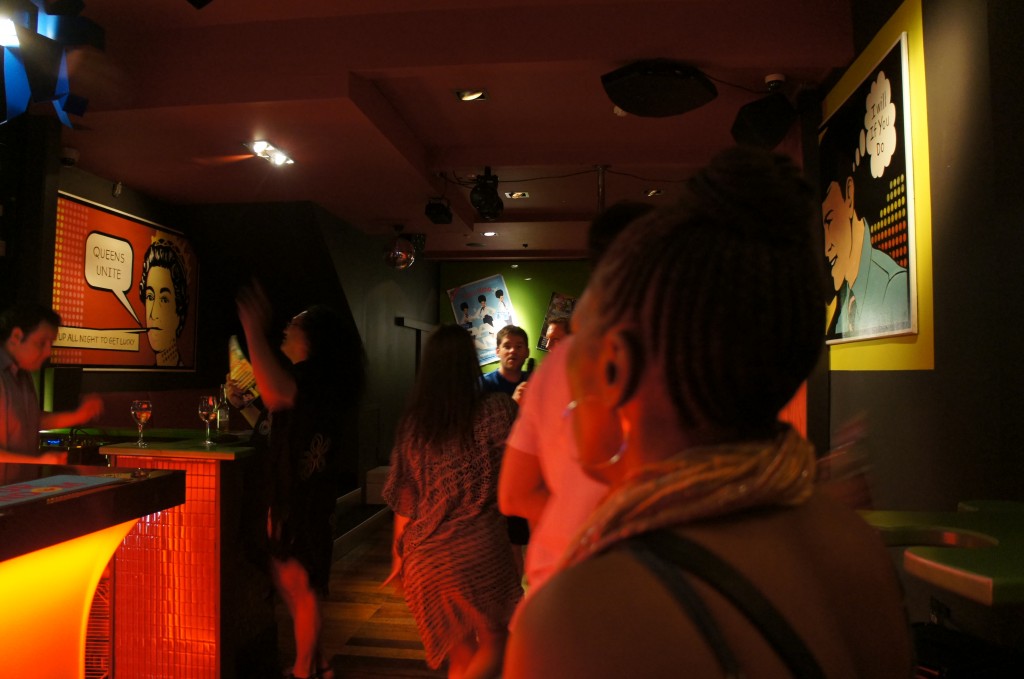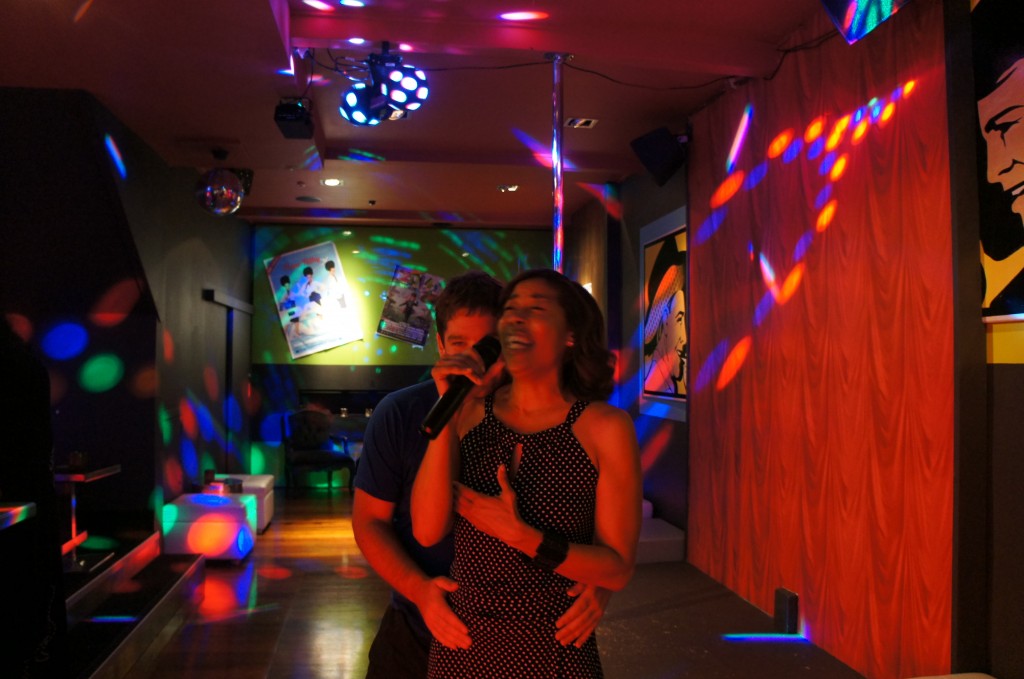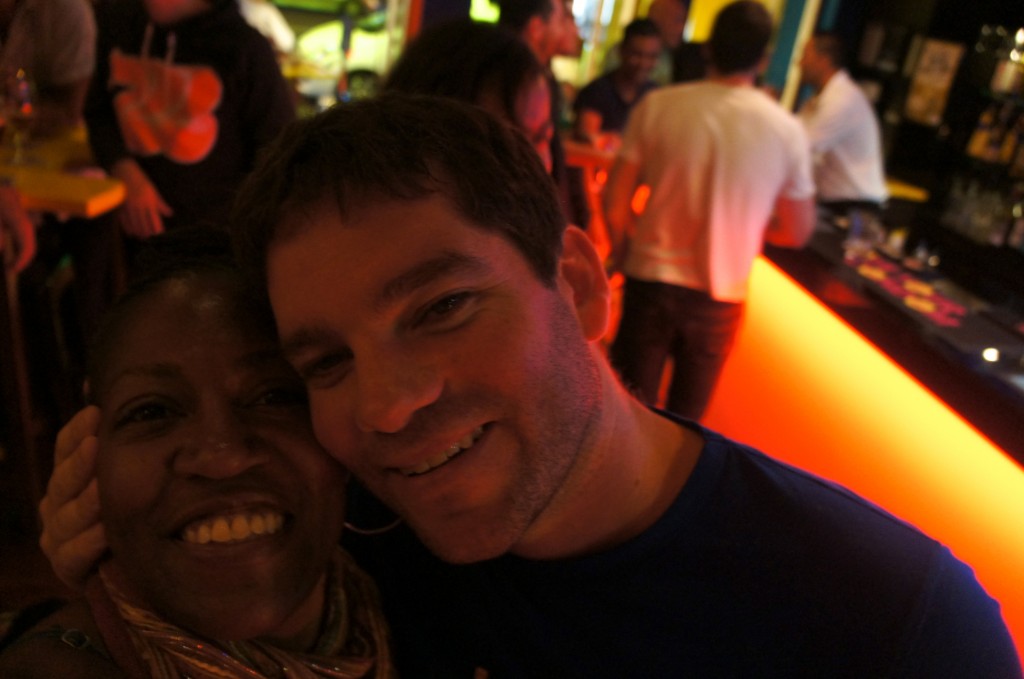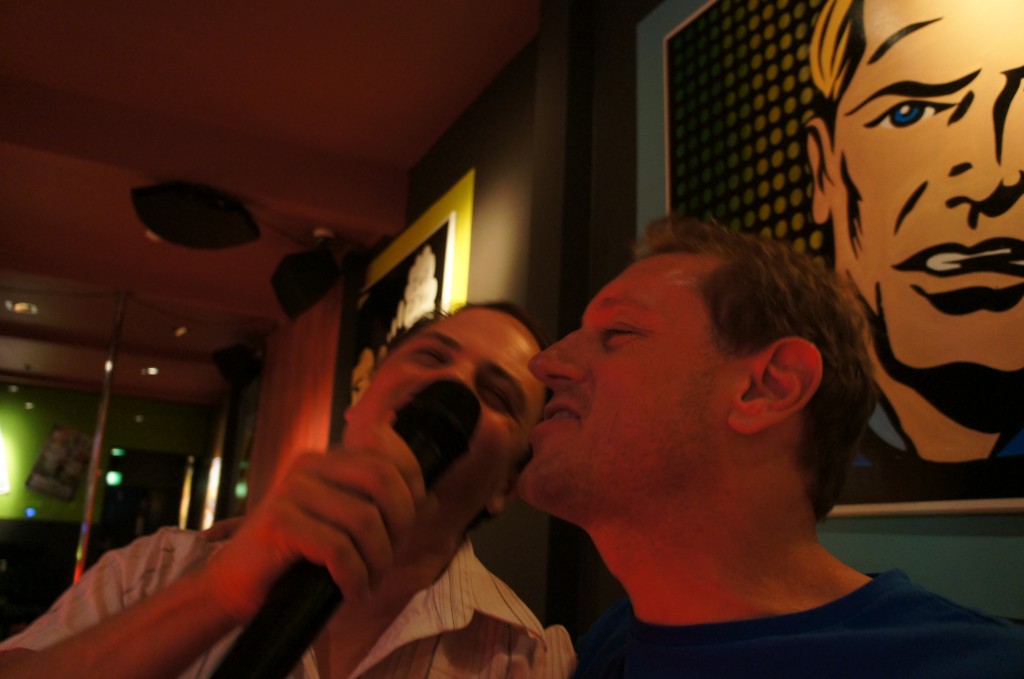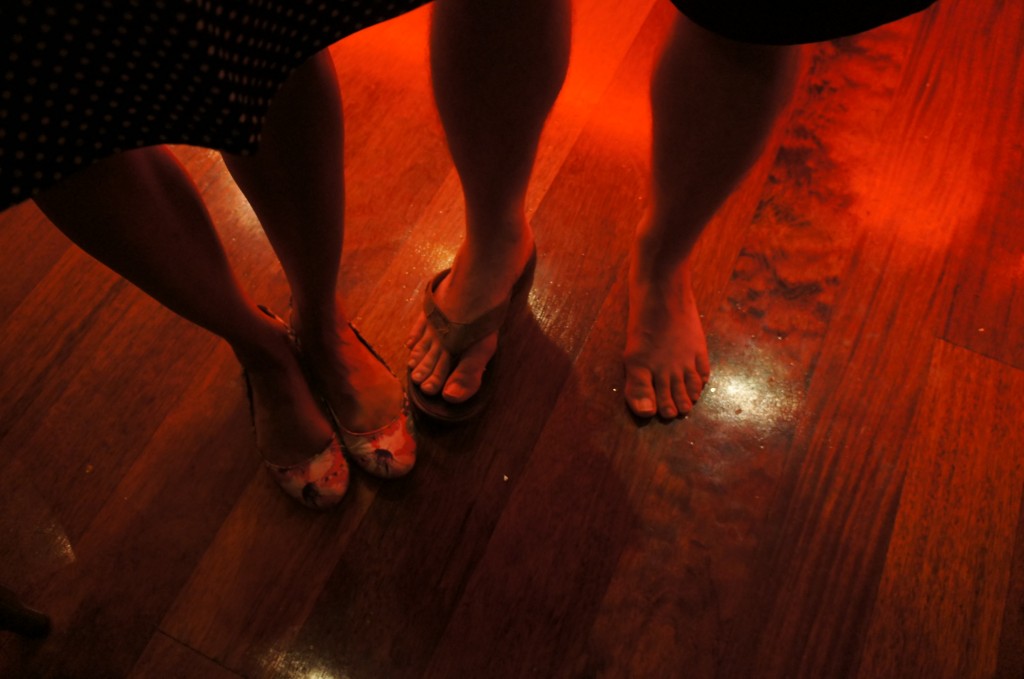 Scott really wants to impress us with more of his rock stylings and invites us back to his place for a jam session with the guys. I still have to pack before we leave for Rotorua and it's 1 am, but Tanya is raring to go. "It's our last night in Auckland," she says. I know she's right. This is part of the adventure. So, I gotta go. We do a very Kiwi thing on the walk to Scott's and stop for meat pies at the local gas station. Well, they do and I just have a taste. Brett gets a Thai Chicken meat pie that wasn't that bad. Craig, who once lived in San Fran and now lives in London, gets the traditional cheese and meat pie, which was pretty disgusting. The interior looked to be the consistency of mud.
After consuming meat pies, Scott breaks out a 2001 issue of the British Marie Claire featuring Odin as the bachelor of the month, his wide blue eyes staring out from its page. He answers questions like what's his favorite movie: "There's Something About Mary" and his favorite city, "London." It's awesome. The guys immediately start teasing Scott for having the magazine so accessible in his room with the page dog-eared. More wholesome hijinks ensure and we settle into Scott's den converted into a music studio and listen to him and Brett play their favorite songs, mostly from Brit and Aussie bands, because there aren't many popular Kiwi bands. Then he goes Canadian with some Bryan Adams. They aren't bad. Tanya is enjoying herself thoroughly and doesn't look like she wants to leave. But all good things must come to an end. We met some fabulous people in Auckland on our last day and we wish we'd had more time to spend getting to know them. But we've got to go. We have more adventures ahead in Rotorua.