We realize right away that we like our guide J.J. a lot. Mainly because she is the picture of efficiency. We are about an hour into our 5 hour drive to the Cambodia border on the way to Siem Reap and we've stopped at large filling station with restrooms. She checks the bathrooms before giving them a thumbs up, informing us that there is a western style toilet. She hands each of us tissues to use as toilet paper and offers a squirt of antibacterial hand sanitizer as we exit. She seems to have thought of everything.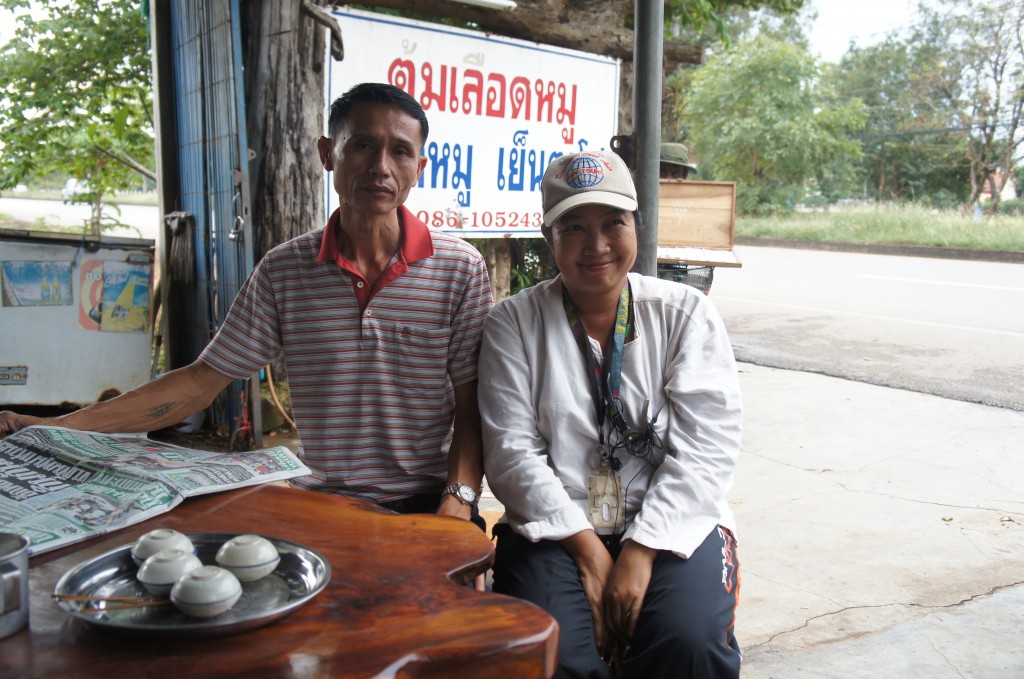 We are lucky enough to have transport from Bangkok to the Cambodia border via Lyle's driver Wichai, but since Wichai doesn't speak much English, I decided to employ a guide to point out interesting sights along the way. Ann Tours, a Vietnam-based tour company offering tours across SE Asia, sent us J.J. who wears her long black tresses pulled back in a loose ponytail topped with a baseball cap. She's got an agenda featuring 4 temple stops, but we get a late start because of Bangkok's notorious traffic, so we'll only have time for 2 in order to rendezvous with another guide who will drive us to Siem Reap.
Wichai is probably the most unflappable defensive driver I've ever seen. He zooms right up to the bumper of cars ahead of us then expertly darts laterally into the next lane without so much as a blink of an eye. His tactics are totally necessary on Highway 304 where there seem to be no rules of the road and I feel like I'm in good hands. But when Nancee and Karen take their turn in the middle of the backseat, they see a little more than they'd like of cars, trucks and bikes speeding by Indy 500 style. I think my trip to Sri Lanka earlier this year was a great introduction to hurtling Asian traffic patterns.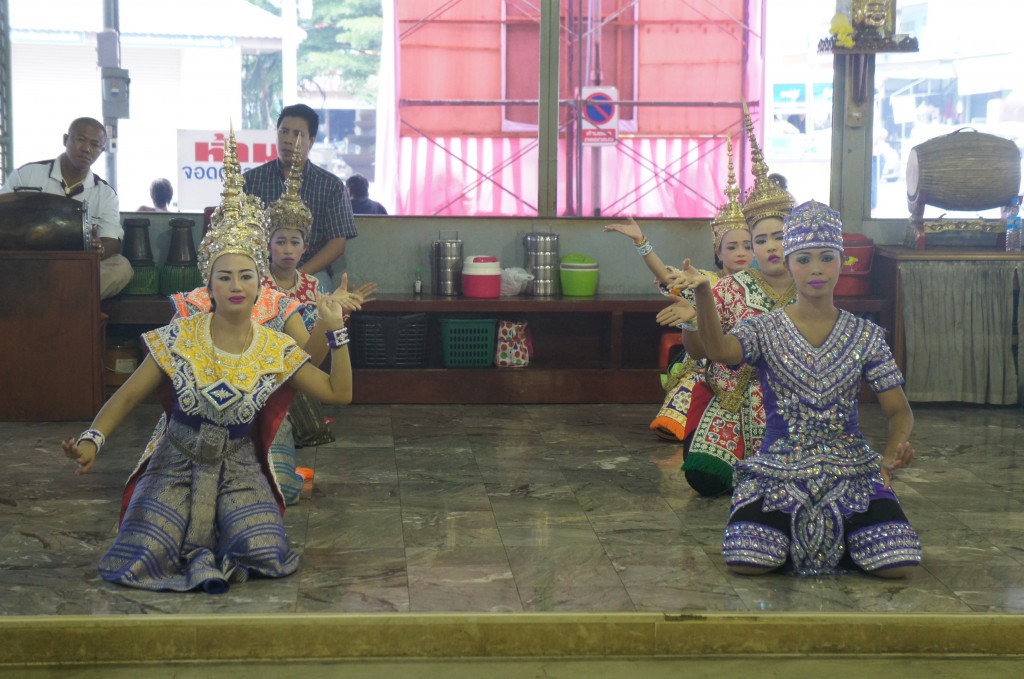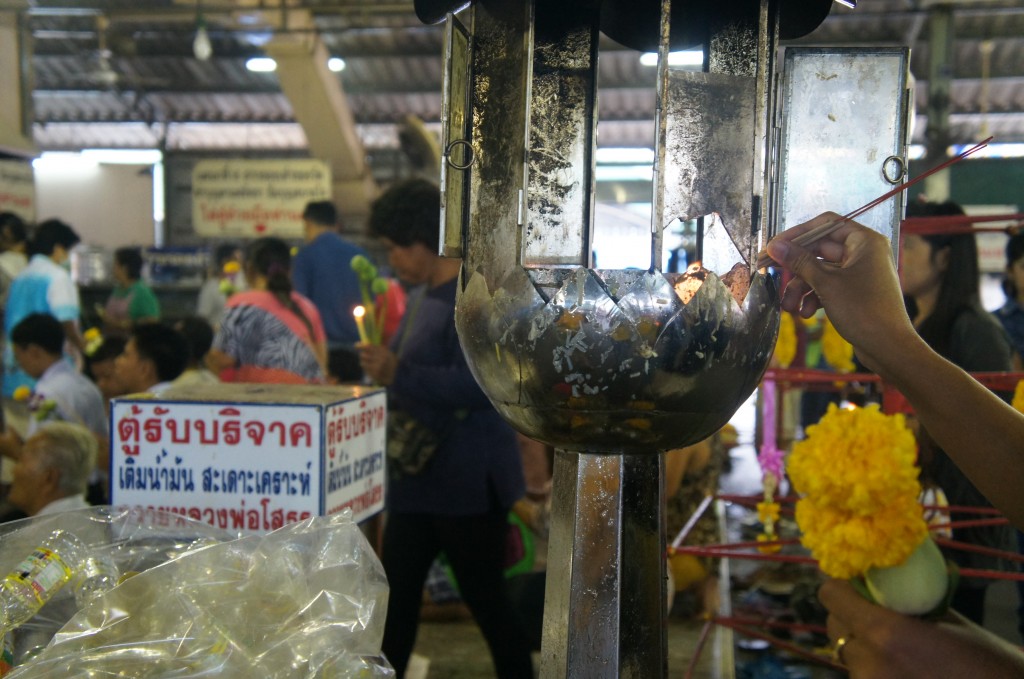 Our first stop is Wat Sothorn in Chachoengchao, Thailand. J.J. tells us that this is one of the most important temples in this province and the richest. There's no doubt that money is flowing freely into the coffers of this temple and donations are big business here. The gilded trim of Wat Sothorn glints brightly even on this grey day, but the pavilion next door is where parishioners leave money for dancers to perform a traditional dance as a blessing for Buddha, deposit dozens of eggs or a roast pig as an offering or simply light a stick of incense. J.J. informs us that Thailand is 95 percent Buddhist and confirms that the practice incorporates some Hinduism and from what we can tell here a lot of belief in luck and good fortune. Under the pleasing smile of several Buddhas in one room, worshipers shake a red can full of sticks until one fateful numbered stick falls out. They then take this stick to a woman with the corresponding fortune. Karen, Nancee and I try it and J.J. translates our fortunes. Mine isn't so good, she tells me. She says that I need to concentrate and focus more. Not bad advice. Karen is told that a member of her family will be in better health, which is good news for her since her mother has been experiencing some health issues. But Nancee gets the best news with word that she'll have good luck in the future.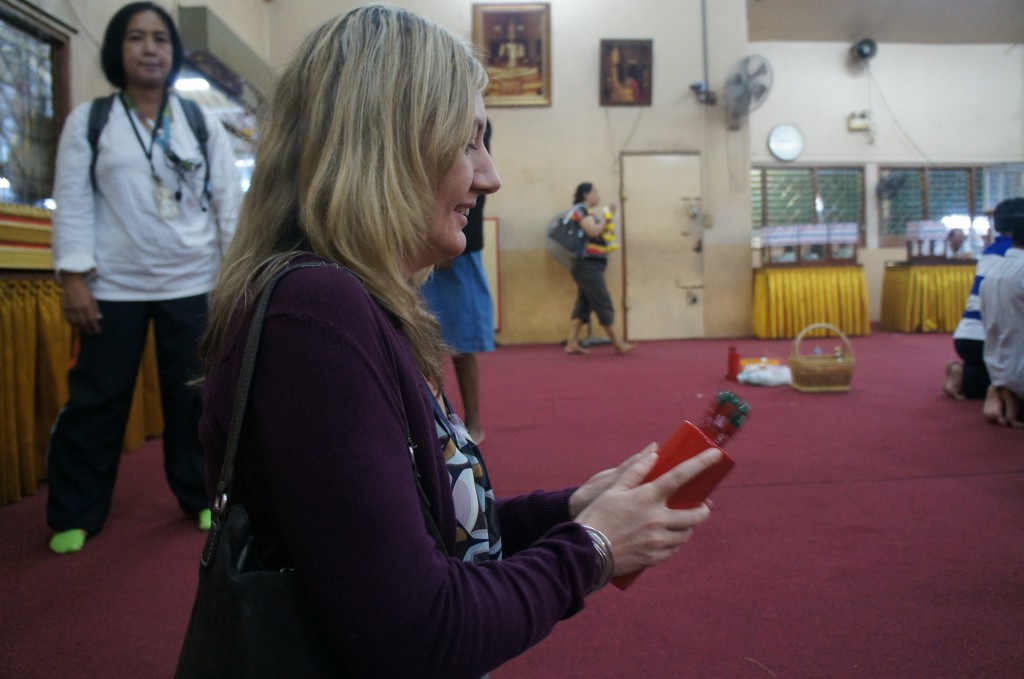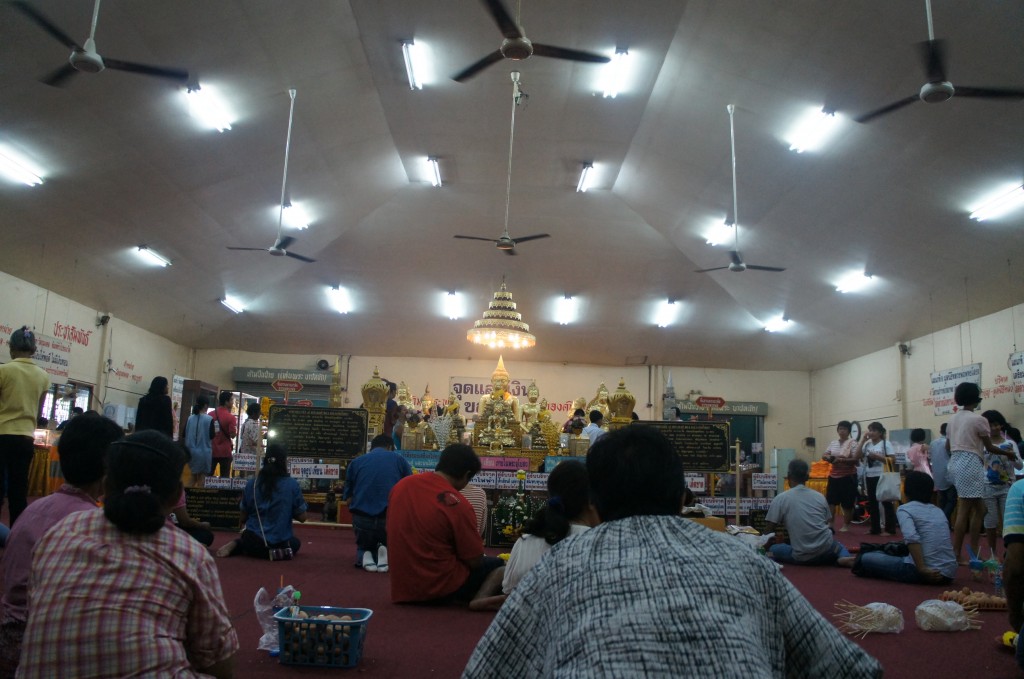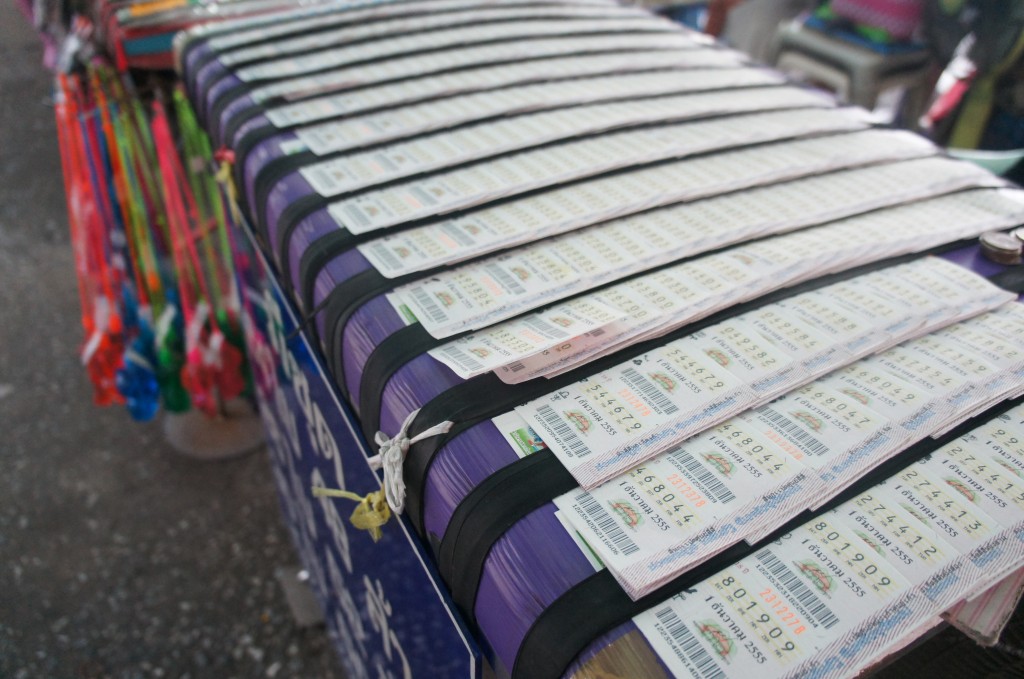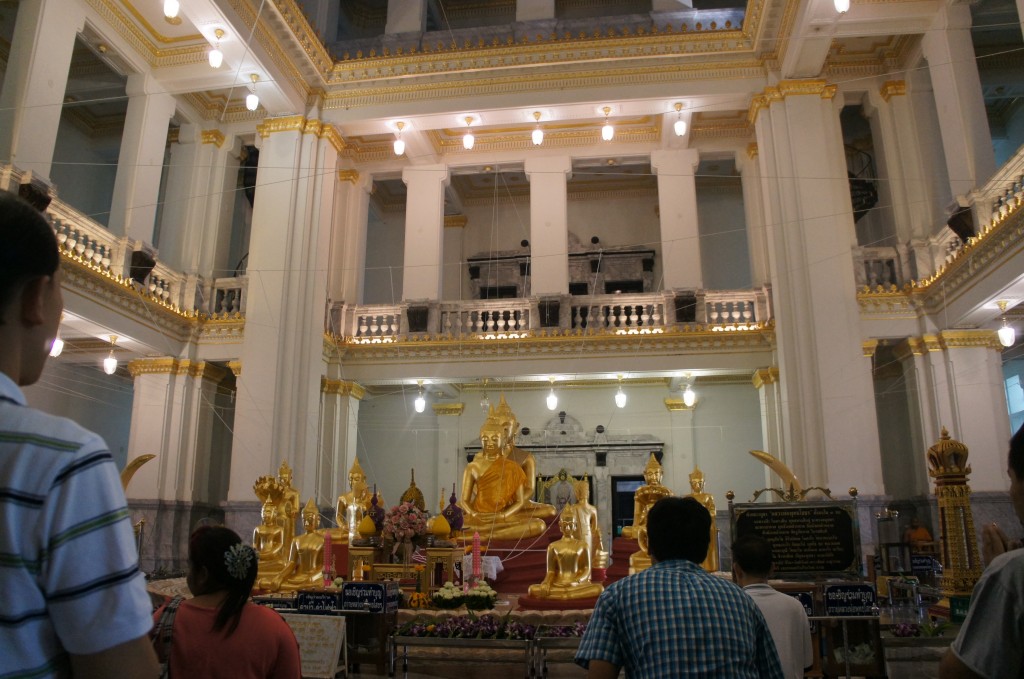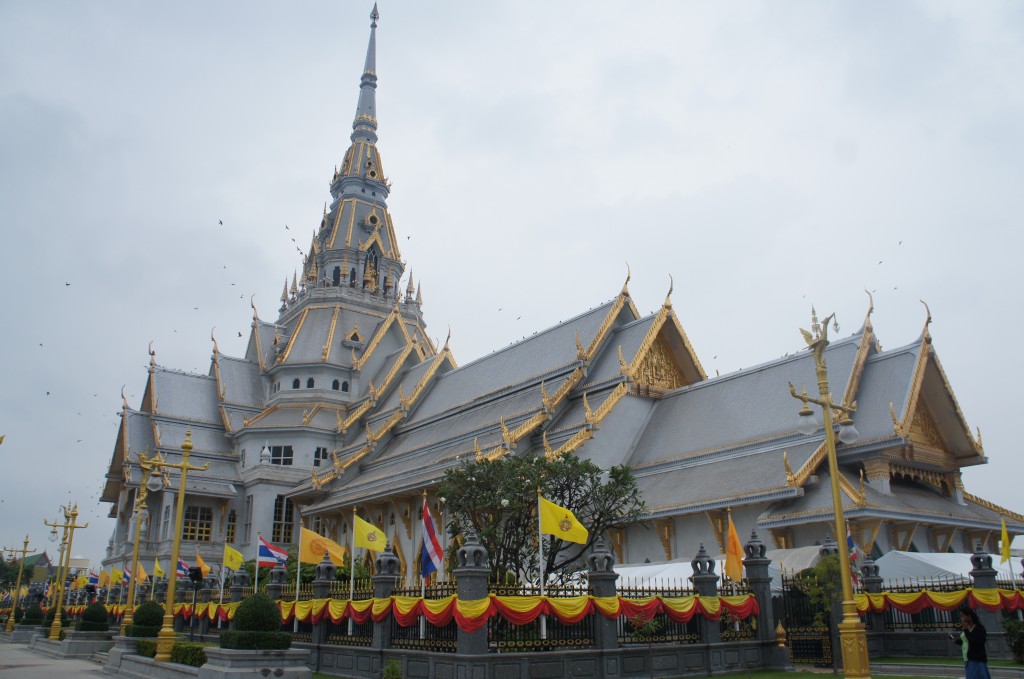 Beyond this room, there is an open air pavilion full of amulets or charms for purchase to be left for Buddha next to tables full of lottery tickets also for purchase. Old lottery tickets have been turned to hats and other decorative items. Inside the temple, we can see that donations of devotion have gone toward a gorgeous marble floor filled with dancing fish to represent the sea and a celestial painted ceiling representing the sky with a cluster of gold leafed deities sitting cross-legged below. J.J. explains that the knotted or curly tresses of each comes from Greek representations of Buddha that have been carried into Thai images of the man turned god. We also learn that his long earlobes represent long life.
J.J. is full of these kinds of tidbits, but the stuff that we love learning most from her is about Thai culture. While rubbing our hands with more antibacterial sanitizer, she gives us more intel on the sex trade in Thailand, explaining that many of the women involved are from poor villages who come to Bangkok to earn money for their families back home. It's a short-lived career because only the younger women are coveted and older sex workers can only get old Chinese men as clients. She makes a disapproving face with this last detail. I guess it isn't much different than prostitution in the states, where poor, uneducated women feel they have few other choices.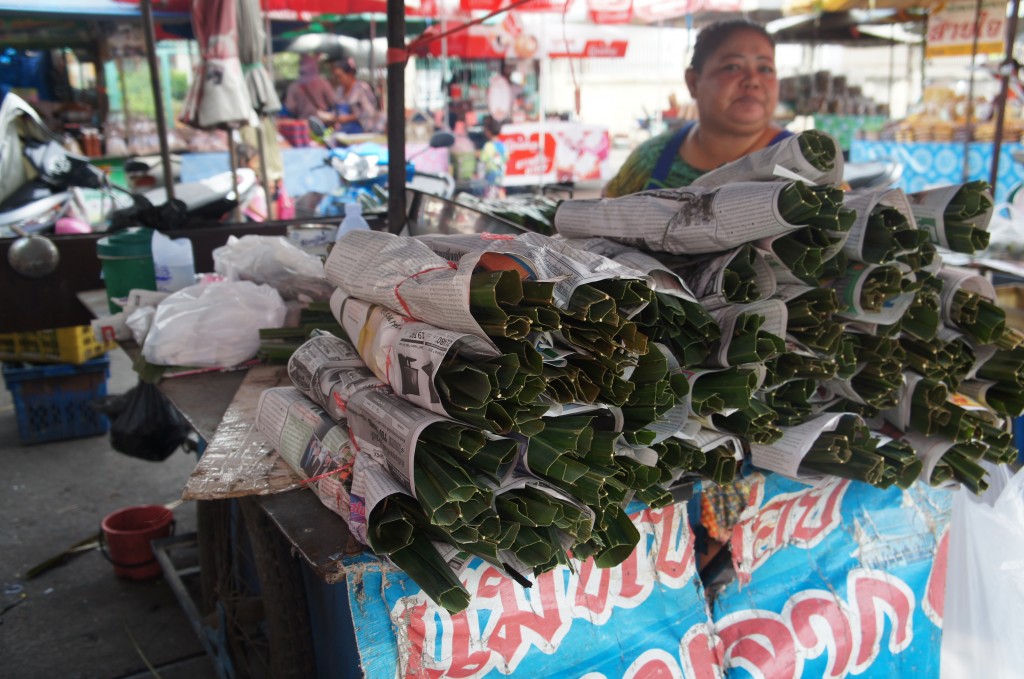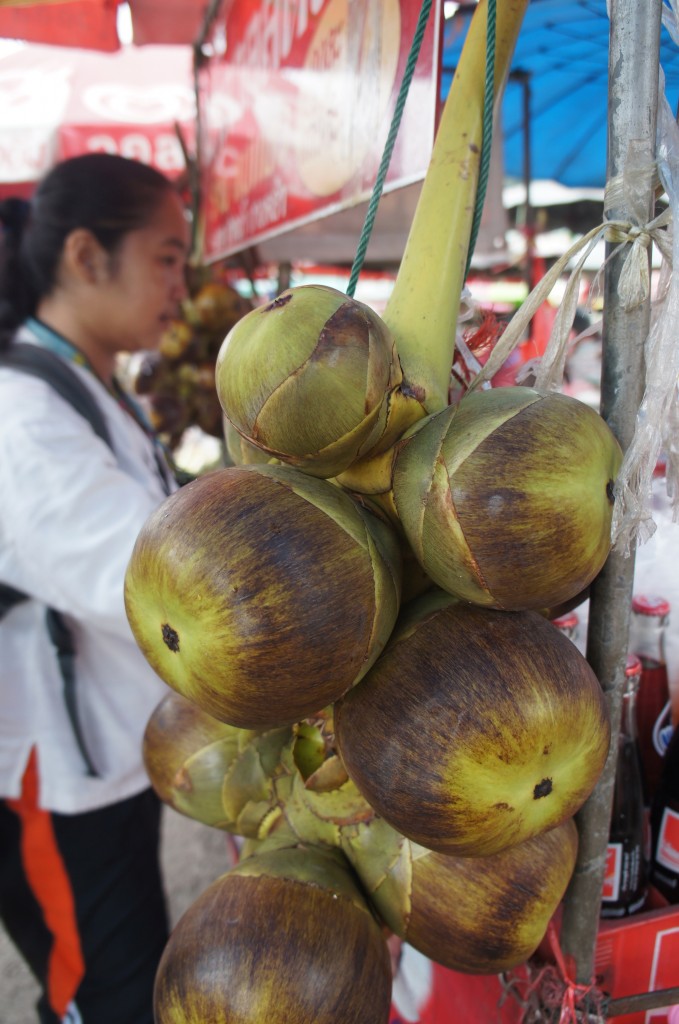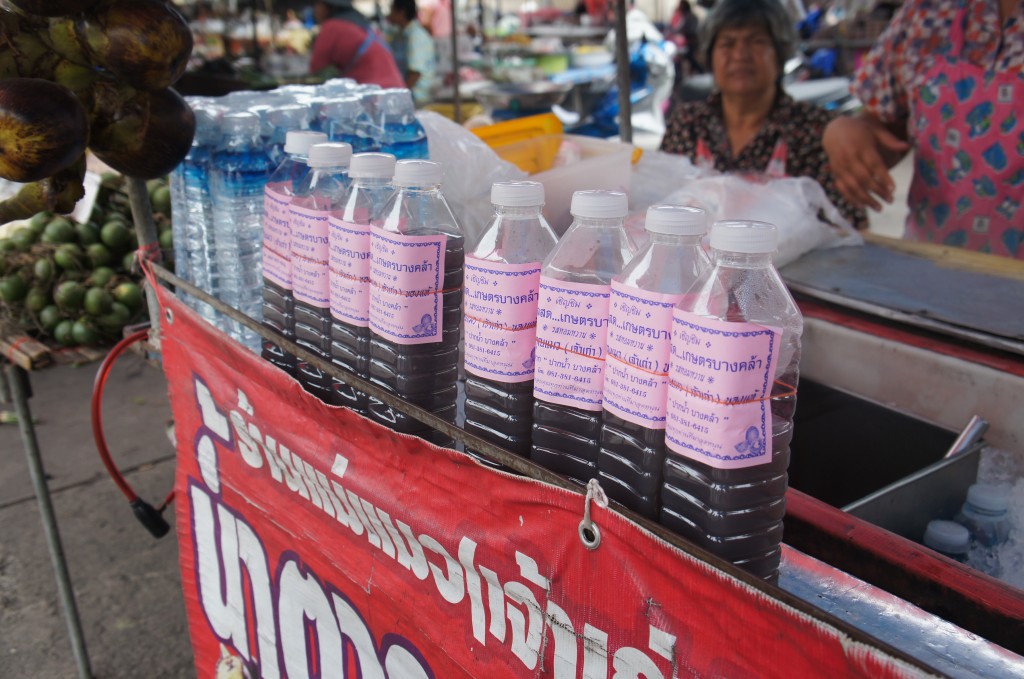 J.J. is also our guide to street food, taking us to a few food stalls standing across the street from the temple. The first thing we try is a gooey coconut treat roasted in the center of a palm leaf. The sweet warm goo is a combination of palm fruit and coconut. It's a lot of work to peel back the leaf get to the treat, but well worth it. Nancee is intrigued by a purple-colored beverage that J.J. tells us is the juice of the palmyra fruit. It has a sweet and savory taste that we can't compare to any fruit we know and we'd later discover that it tastes best cold. After several hours in a car, the juice takes on a smokey pork flavor and we dubb it "ham juice," from that point forward.
Our next temple stop serves as a juxtaposition between a well-funded temple and one that seems to be forgotten by time. Where Wat Sothorn had bronze and topiary bunnies surrounding it, Wat Pho Bang Khla has a menagerie of real animals roaming its grounds, including a flock of furry flying fox bats hanging from its trees. The bats are the curious attraction here and J.J. says they fly out at night in search of fruit to eat, but never the fruit of the people in the region where they live. Instead of donations of money and food, this temple ekes out its existence by selling fish food. Unlucky animals purchased for good luck like roosters and turtles have found refuge here along with stray dogs, one of which is too adorable for words. The monks seem to fit the place. One wears a hearing aid and another smokes without apparent care. J.J. notes that Buddhist monks have 280 ancient rules that they must follow, but with the advent of the modern age, things like smoking or talking on mobile phones didn't get added to the list. We've seen our share of monks with phones glued to their ears during this trip.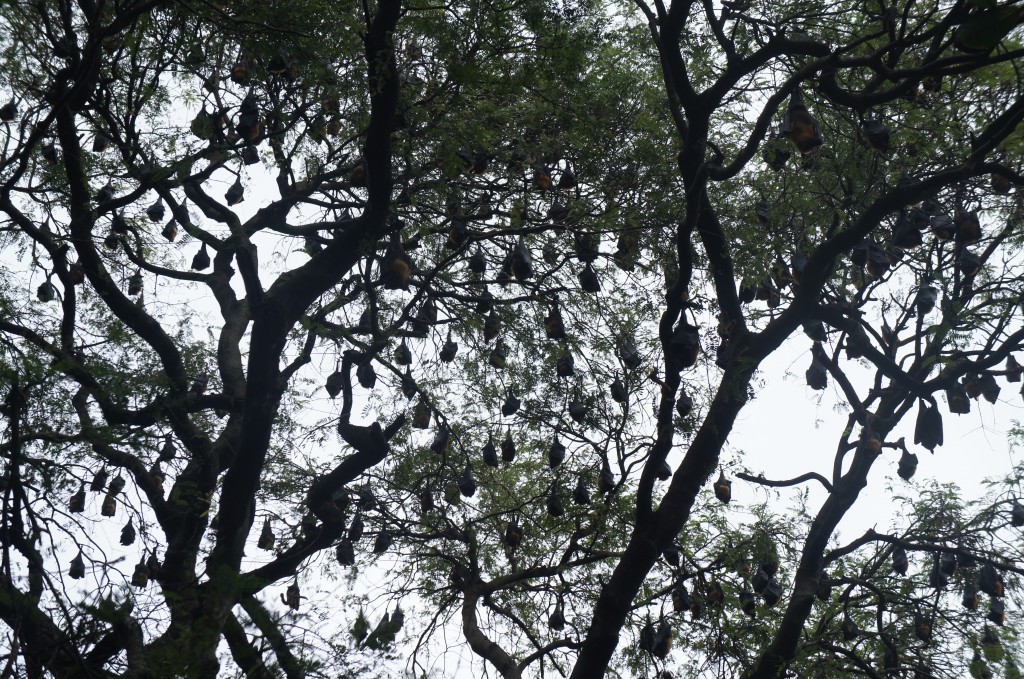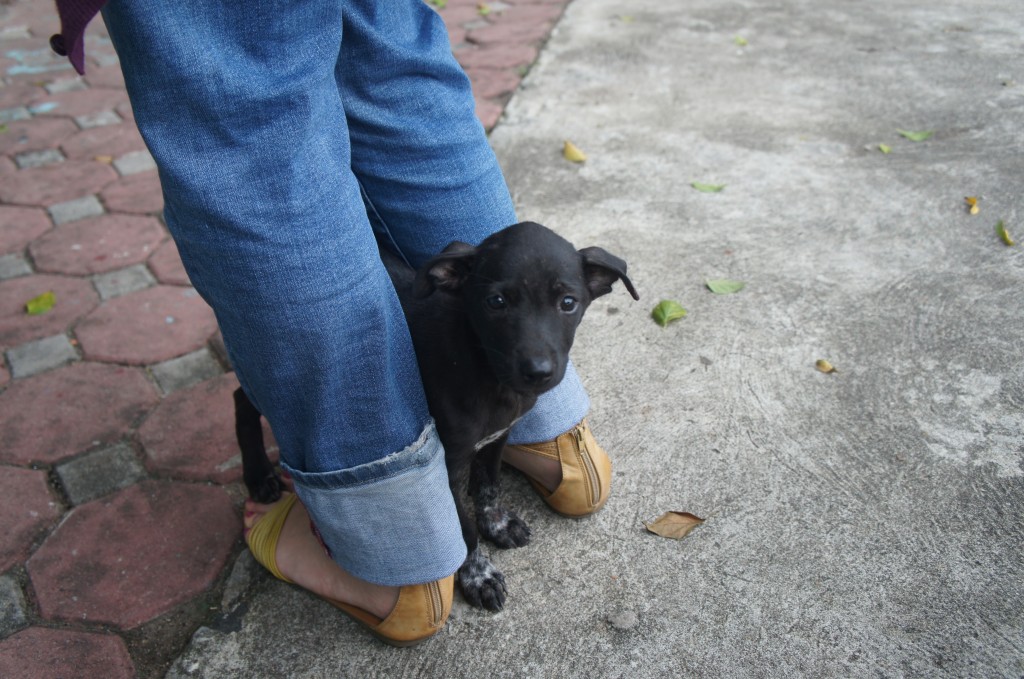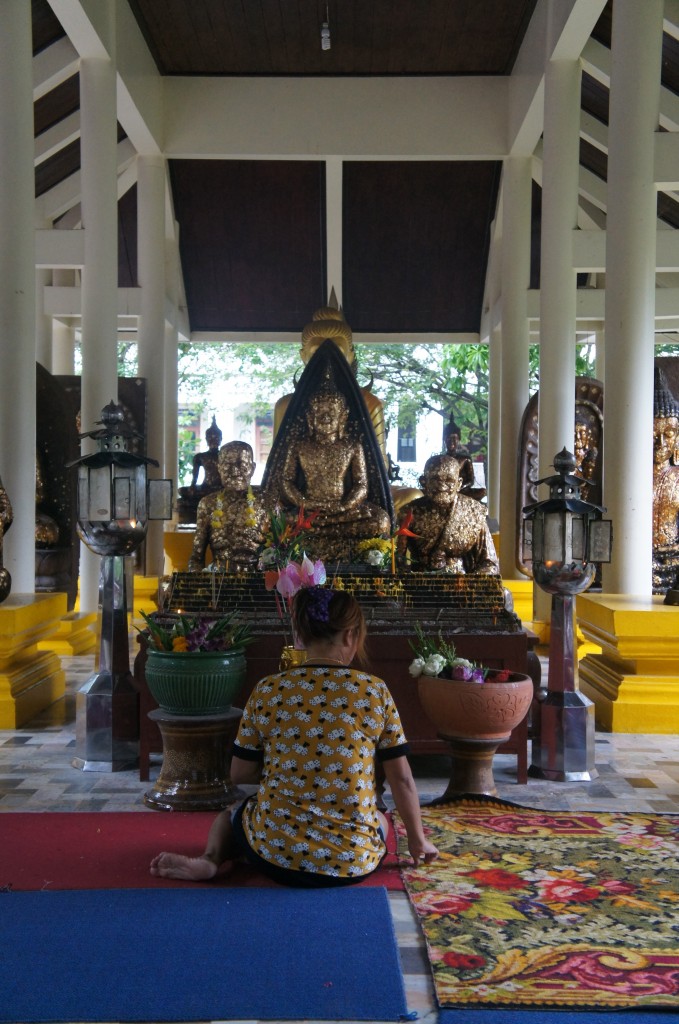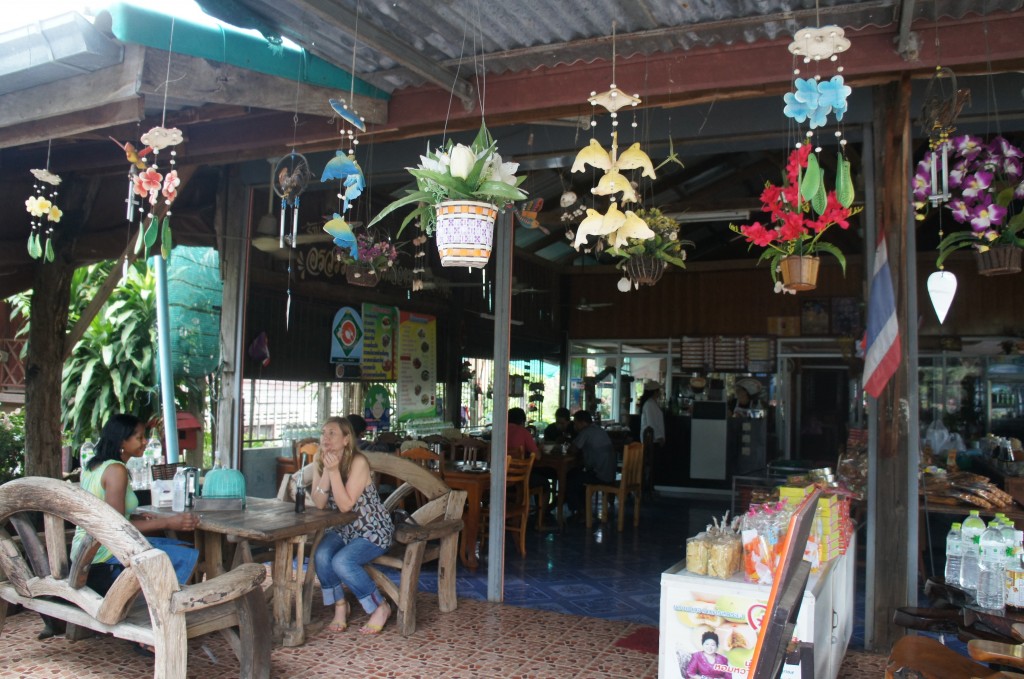 For lunch, J.J. inspects a roadside eatery before giving it her trademark stamp of approval. It's super cute and quaint with seating made from tree stumps, so we approve, too. It's our last chance to eat before we reach the border and we enjoy simple stir fried and fried rice dishes before moving on. The roadside stop would later feel like our last stop in civilization before reaching the Thailand-Cambodia border. We enter at Aranya Prathet on the Thai side of the border in a drizzle, which makes the huge, crowded marketplace seem dismal and a tad depressing.
We reluctantly part ways with J.J. and Wichai and head off into a maze of vending stalls with our new guide, Mr. Visoth, who is a young man with a very formal name. We try to keep up with him wanting to stop and look at the gritty commercial chaos around us, but we are afraid to get left behind fearing that we'd get swallowed  up in it, never to be found again. But somehow this scene pales in comparison to the muddiness of Poi Pet, the Cambodia side of the border. Faceless people push huge carts of what we aren't sure. The people are faceless because they wear wide brimmed or straw hats pulled low on their heads just above their eyes and surgical masks over their mouths and chins. It feels like the Wild West of the East or the template for Mad Max's Thunderdome, a place where people must constantly hustle to survive. Lonely Planet calls Poi Pet the pit of Cambodia and the description seems to fit. It's a no mans land of sorts with oddly-placed casinos where the Thai can go to gamble without entering Cambodia.
The rain seems to make Poi Pet steamier and its customs office is a sauna filled with folks of all nationalities. In line, a young Swedish man asks if I have my Visa. I explained that we got ours online and he says that he thinks he may have paid too much for his. He and his friends are on a 3 month tour of Asia and seem to be winging it. After what seems like an hour wait, we make it through customs and board a rickety bus with Cambodian locals to a large bus terminal where we meet yet another guide to take us another 2 hours by air-conditioned bus to Siem Reap. Dee greets us with a warm smile and tells us to take a nap on the bus because there won't be much to see. We've been up since 6 or 7 am, so we take his advice and nod off as we pass the Cambodian countryside punctuated by stilted homes with thatched roofs, rice farming families in conical straw hats behind ox-pulled carts.
We awake outside our oasis in Siem Reap, the Auberge Mont Royal d'Ankor Hotel and agree to meet Dee at 8 am for our tour of the ancient temples of Angkor Wat the next morning. We love our hotel's polished wooden stairs and the huge room with three full sized beds that awaits us. It feels comfortable and homey and we steal a few moments to kick off our shoes and rest before we explore Siem Reap.