Author's Note: I've been lax in posting from Thailand because there has been so much to see and do! So here are two posts from one day of adventures!
The third member of our traveling party arrived on Monday morning, albeit a tad later than expected. We expected Karen in on Sunday, but she miscalculated her arrival, failing to factor in a 7 hour layover in Frankfurt. But, now, all the players in this great Thailand-Cambodia adventure are in place: Karen, the Brooklynite who's lived in London traveled to Peru, Tanzania, Madagascar and other far flung places and Nancee, my DC writing buddy, who's studied in Spain and tripped about in the Caribbean. I know these ladies through a mutual friend who couldn't make the trip. (We're thinking about you, Kim). I mentioned that I was planning to go to Thailand and they all said they wanted to go, too. So, here we are.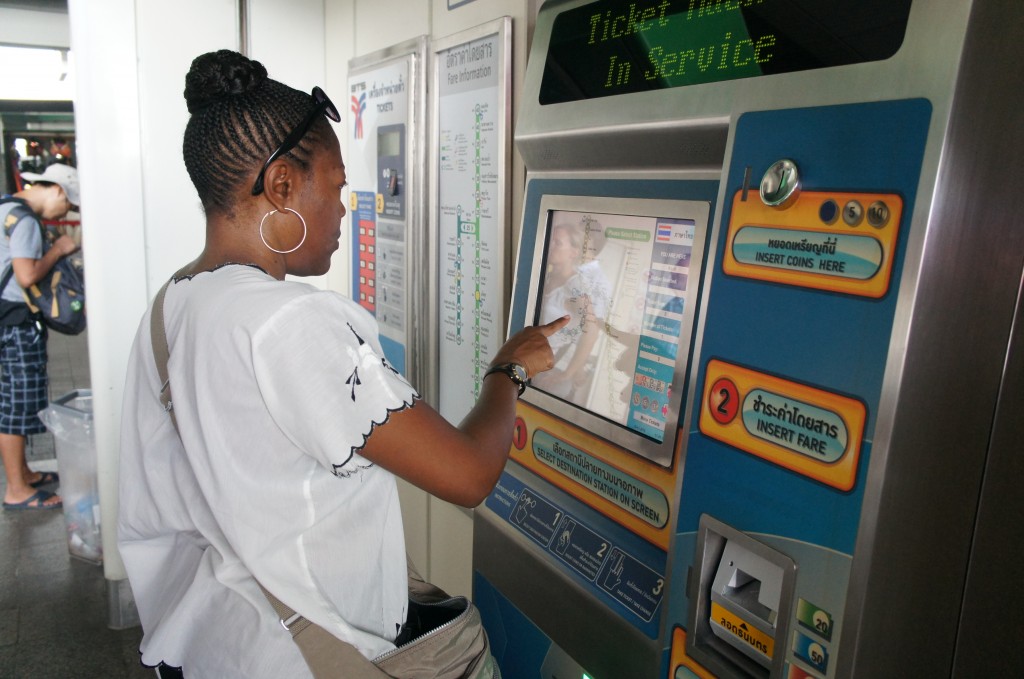 On our first day together we decide to visit a couple of Bangkok's major sites–The Jim Thompson House and Wat Pho. But not before taking on Bangkok's Sky Train. At the Asok station near Lyle's apartment, we weave through a steady and disorienting stream of Thais going about their Monday afternoon business, attempting to figure out one of their main modes of public transportation. And we actually take to it quite well. The ticket machines are brightly-colored and feature the system map along with each destination and the cost to get there from your current location. It's pretty much idiot proof. Select the fare to your destination (in this case 40 baht or a bit over $1 to reach National Stadium), put in your money and the machine spits out a pretty blue ticket. The only thing is the machines don't take bills, so you have to go to a booth to get change from a teller. At first we thought we could buy tickets from the uniformed teller in the station and were confused when we only got change back after asking for a ticket. The trains are absolutely immaculate, but they quickly become jammed with passengers depending on the stop. At our Siam transfer point we had to make a mad dash to get on a car that wasn't overly packed with passengers. If this were NYC or even DC, there would be some unpleasant jostling for space or someone's arm getting caught in he door. But not here; everyone manages to get on in a very polite and orderly fashion. The passengers are a mix of Thai society from well-dressed ladies with the latest designer handbags to the university students who must wear a uniform of white blouse and belted black skirt, a pairing that is actually quite cute. Lyle's nanny Ngea was wearing the same outfit earlier today. She explained that younger students much wear longer skirts and older students have their choice between longer and shorter skirts. Ngea is studying eco-tourism and has been preparing for a big economics exam. I wonder what degrees the students on the train are pursuing.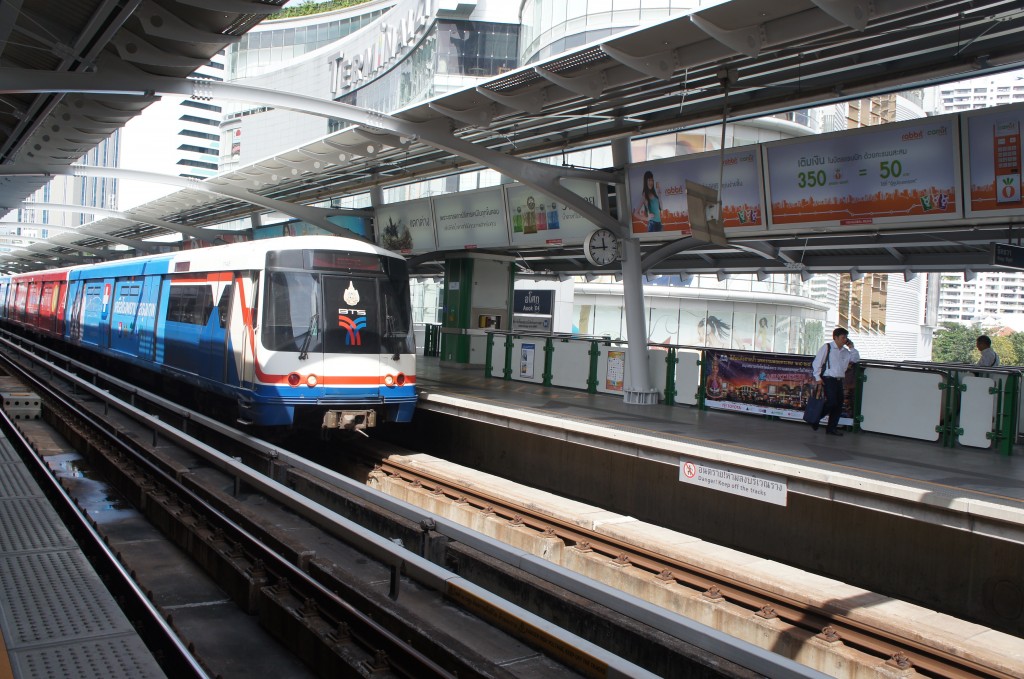 Before we know it we are at our stop and follow the flow of Thais from the Sky Train onto the busy street below. The Jim Thompson House feels like an oasis in the chaos that is Bangkok. It feels particularly serene after our adventure on the Sky Train. In the courtyard of the The Jim Thompson House (admission 100 baht, $3.25), there is a Thai man spooling a thin tread of silk from and steaming bath of silk worm cocoons. The man appears to be a representation of Jim Thompson's passion for silk. Thompson, an American, was an officer in the Army's Office of Strategic Services, a precursor to the CIA, when he lived in Bangkok in the 1940s. He fell for the place as many Americans do. Lyle's husband, Peter, told me that Thailand has the most American expats after China. Thompson eventually left the Army to become an entrepreneur in Thailand's silk trade and his home became the center of Thailand's expat scene, a lovely complex of 6 traditional Thai homes in one.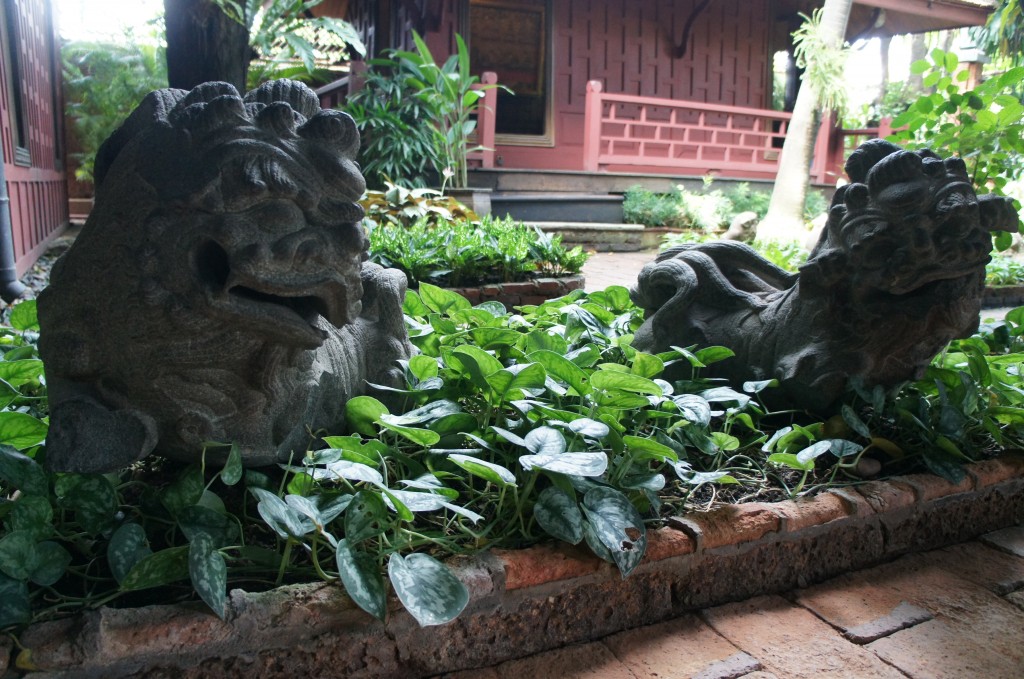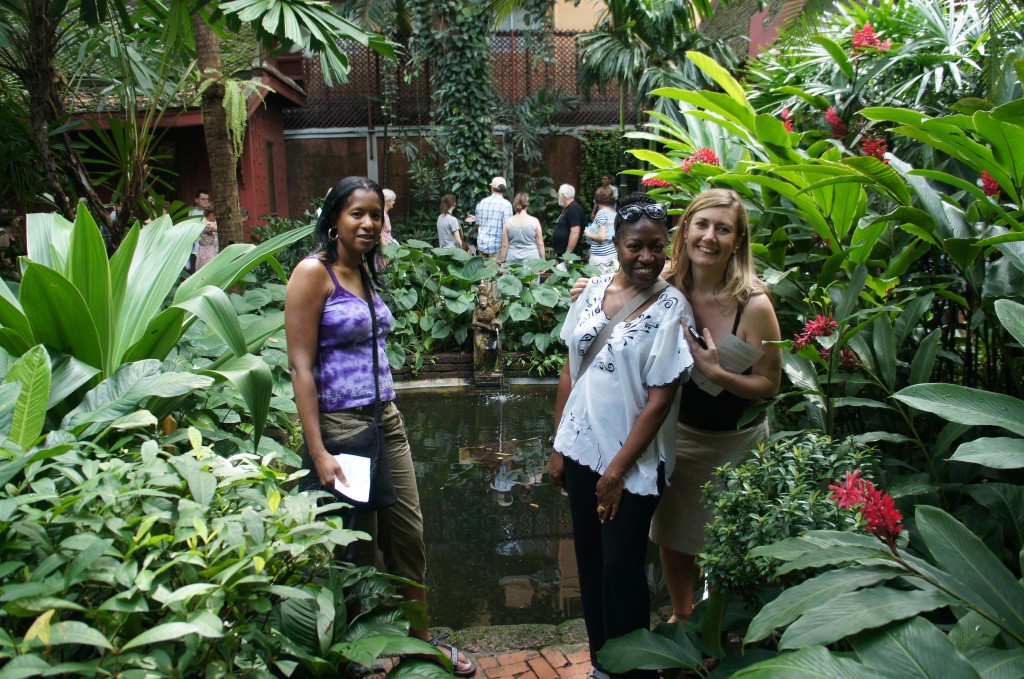 We explore Thompson's urban tropical jungle, featuring water-pouring gods and other mythical creatures lurking in leafy green foliage, as we wait for our guided tour of the place. We already can tell that Thompson must have had an incredible green thumb and an impeccable sense taste for Thai art and design. Our guide explains that he added some western touches from the Italian marble in the western-style foyer of his home to the addition of a ceiling, where most Thai homes had none. Nancee, Karen and I love the furnishings throughout the house from the mahjong, turned dining table in the dining room to the lamps made from ancient drums. We spot plenty of pieces we'd want in our homes. Our guide tells us that Thompson disappeared mysteriously from a vacation with friends in Malaysia in 1967. To this day, no one knows what happened to him. Some people believe that a wild tiger ate him while he was on a trek alone. Karen asked the guide who got Thompson's estate. She says that it was his nephew. So, we devise our own theory: The nephew offed his uncle for this amazing house. But the more likely scenario is that he was hit by a truck and the driver hid his remains.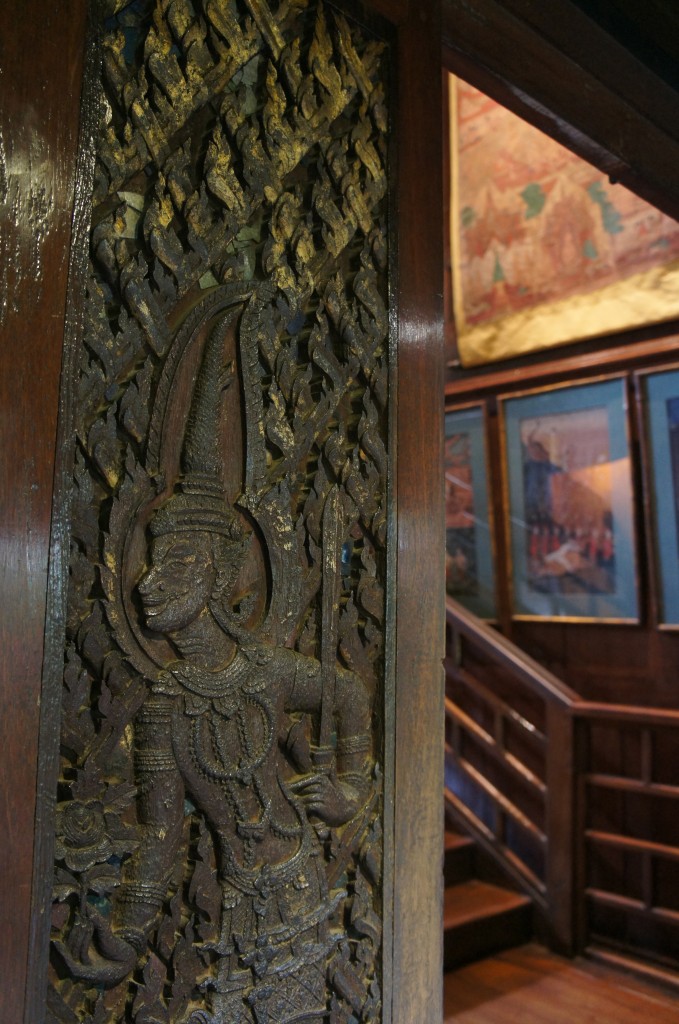 At the end of our tour we have lunch at the Thompson Bar and Restaurant on the premises, which is still a local hang out. The restaurant is chic and minimalist, bordered by a Koi pond. I have a tasty Pad See Ew and my second fruit smoothie since arriving in Thailand, a lychee lemongrass mixture. Fruit smoothies or shakes seem to be big here, coming in a variety of tropical fruit flavors like watermelon, coconut, mango and pineapple. These aren't like our smoothies or shakes mixed with yogurt, milk or ice cream, these are blended bits of real fruit and deliciously refreshing on a hot Bangkok day.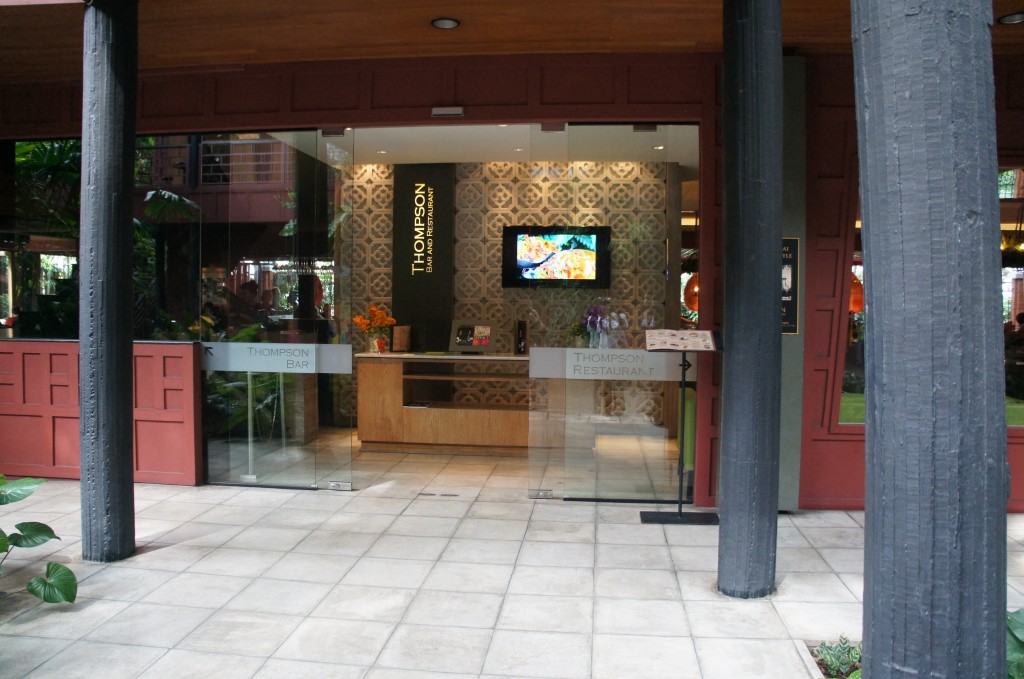 Read on for part 2 of this day's adventure: Water Taxis and Wat Pho.