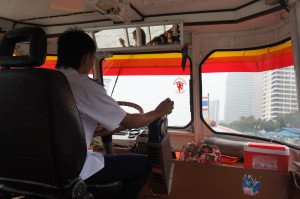 We leave our hidden oasis at the Jim Thompson House for another Thai landmark, Wat Pho, a temple dedicated to traditional Thai massage and a clear sign that the Thai take their massage seriously. But we must, literally, navigate another mode of transportation to get there–water taxi, which is way grittier than the Sky Train. The platform rolls under our feet as we climb aboard at Saphin Taksin. A woman shakes a tin can in the direction of new passengers to pay up in exchange for a small red and white paper ticket. It's 15 baht, about 50 cents to ride. We spy long-tail boats for the first time on our trip, narrow skiffs with a small motor attached cruising Bangkok's Chao Phrya River. We know we've arrived, about 5 stops later when an ancient conical tower appears amidst the skyscrapers lining the river. We think it is Wat Pho, but it is another temple, Wat Arun. The one we seek is just beyond a row of street vendor stalls, smelling of dried fish. But Wat Pho's glittery gold roofs are beckoning. Once inside we are stopped by huge stone guards armed with swords. Nancee and Karen have to pose with them mimicking their menacing stances. But gangs of tourists have gotten beyond the guards pointing their cameras at whimsical multicolored spires stretching into the sky. Apparently one Indian tourist has lost their camera because there's a man yelling through a bull horn for them to come pick up their camera from a tent in the middle of this crowded scene. We know the tourist is Indian because the man has looked at the pictures and is describing the people in them all over the bull horn. It's a little distracting in what is supposed to be a sacred site.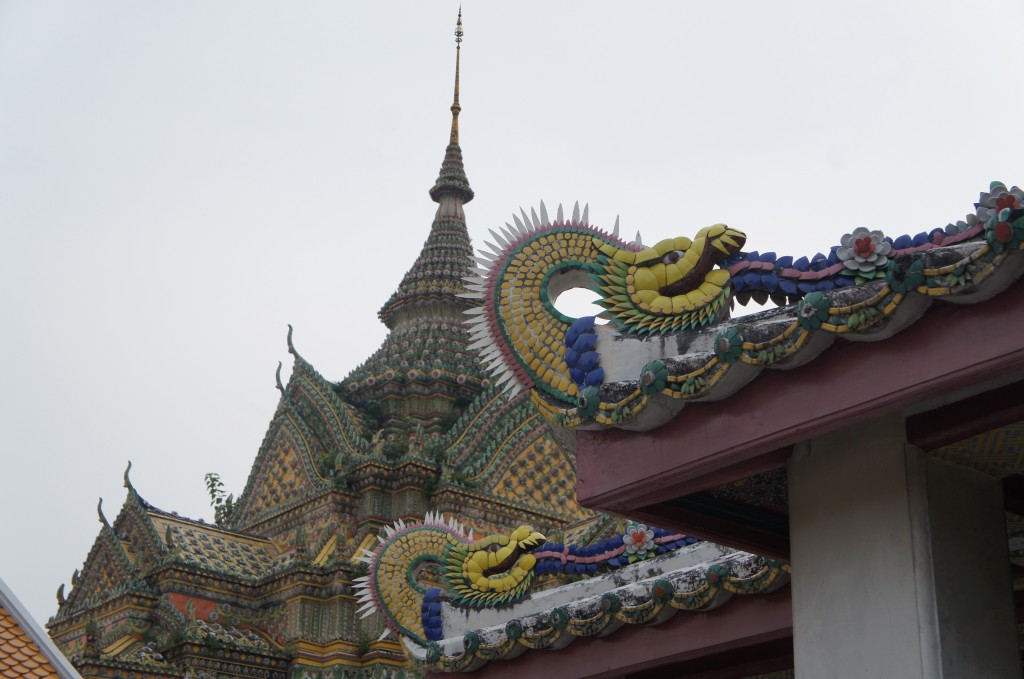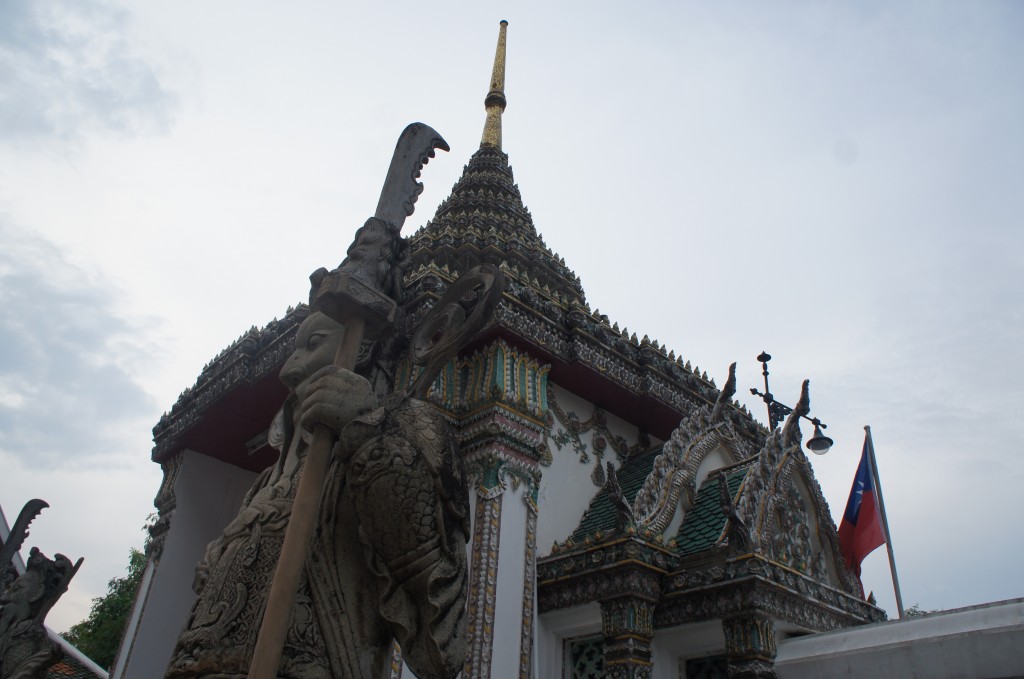 The main attraction drawing the crowds is a giant, neck-craning reclining Buddha, measuring 150-feetlong and 49 feet tall. The gold resplendent figure barely fits into its small temple and streams of people cluster at the entrance to get a photo its serenely happy face. It's almost impossible to capture the Buddha in its entirety on one photo but everyone tries, while inserting themselves into a few frames themselves. His feet are a whopping 9 feet tall and 16 feet long, decorated with Mother of Pearl. He is to say the very least impressive and worthy of the adoration.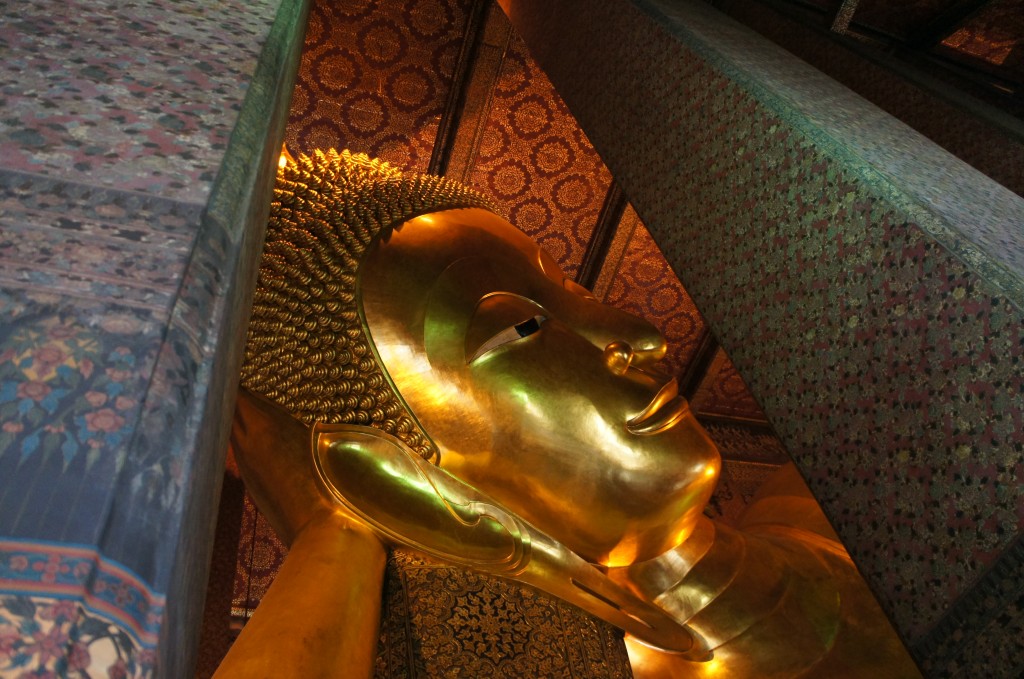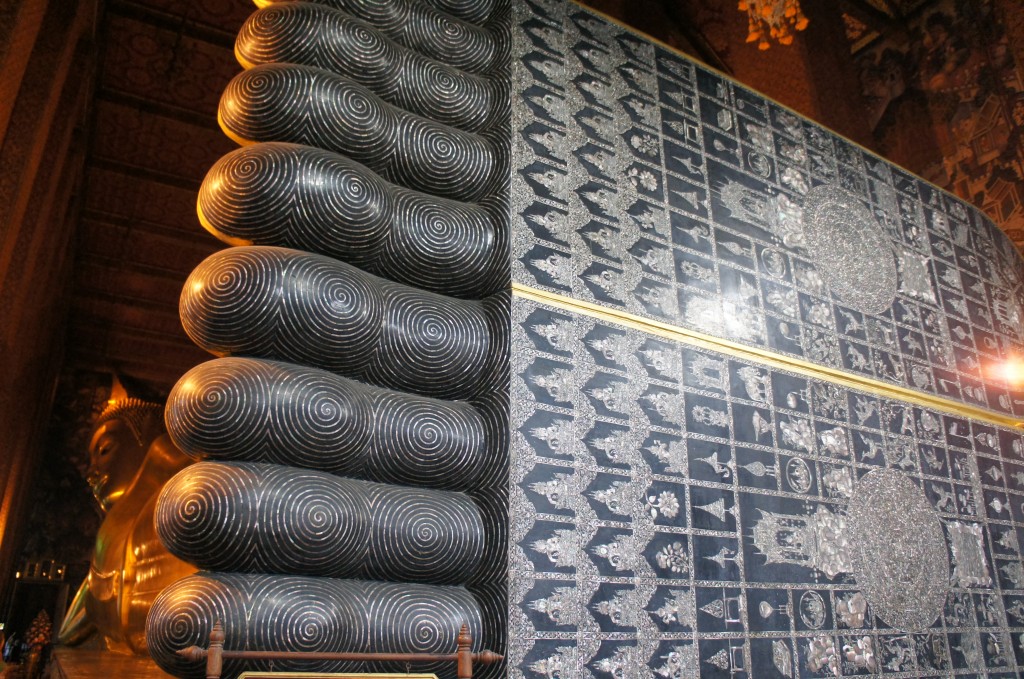 The size of this Buddha matches his surrounding at Wat Pho, which are expansive and just as fancy. The temple complex is huge and we split up to try to take in as much as we can. Spires print up from the ground and nested doorways invite us to explore courtyards lined with rows and rows of seated Buddhas. Chanting emanates from a temple at the center of the complex featuring a Buddha that seems to emanate light, it is so golden. This one is seated atop an ornate pedestal and monks in saffron robes kneel before it chanting without a breath. The chants envelop us and I believe this is what true devotion feels like.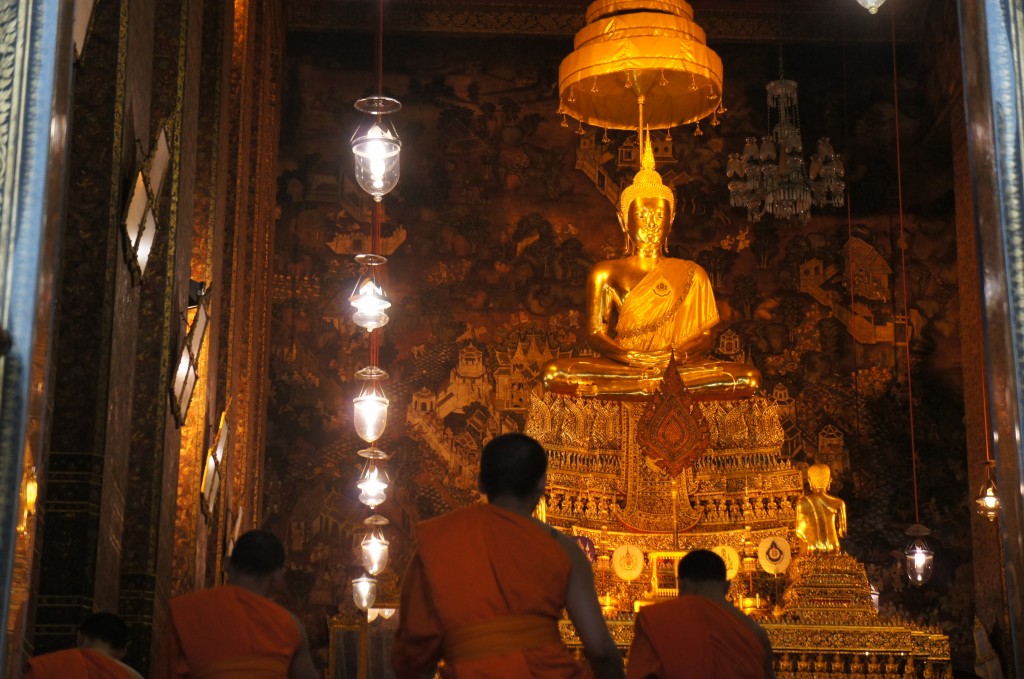 The sun is starting to set and we are about to leave when I remember that this temple is also dedicated to Thai medicine and massage and the home of the country's first government approved school for massage. And, what better way to end of day of sightseeing than with a massage? Karen opts for a foot massage and Nancee and I go for the 30-minute full body Thai massage, costing 260 baht or around 8 bucks. An amazing value for a fully-clothed massage that starts from your calves, goes to your head and seems to force every muscle in between into loose submission. My masseuse, Ann, is small but she's strong and uses her full weight to press tension out muscles and stretch limbs in ways you never thought possible. I ask Ann how long she has been doing this. She says 10 years. Her hands say it all. Karen seems content with her foot massage and Nancee says her massage was a bit too forceful for her tastes, but we are all pretty relaxed afterwards.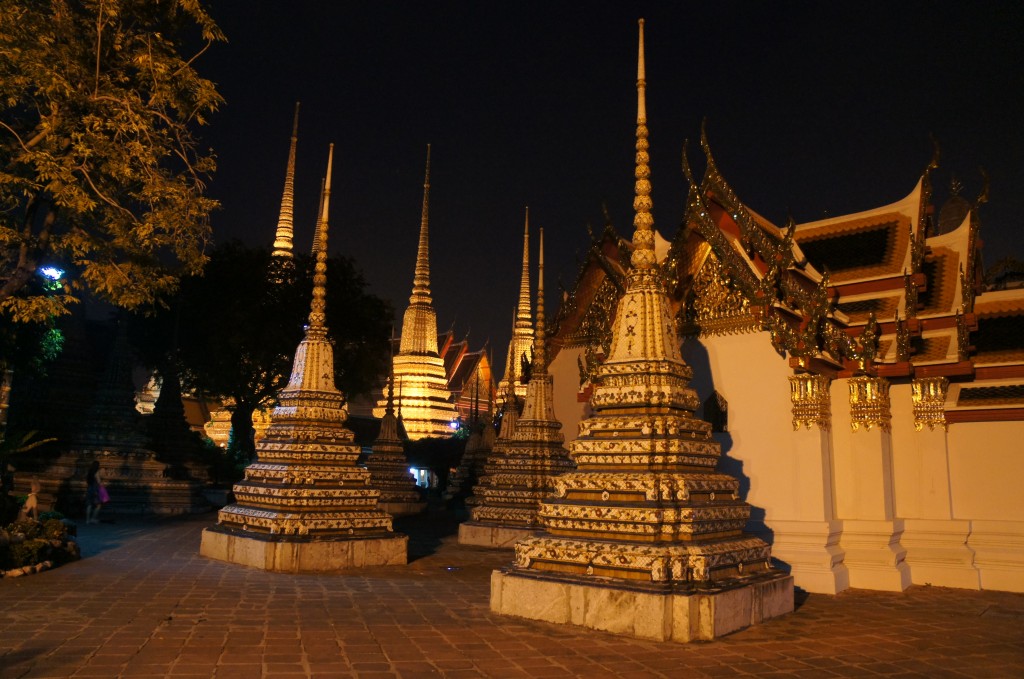 By this time it is nightfall and we make our way back onto the water taxi to head back to Lyle's. Unfortunately we head in the wrong direction for about 30 minutes before the lady with the tin can asks where we are going and says we should get off and catch a taxi heading in the other direction. But it turns out to be good fortune because we've seen Thailand at night, a brilliantly lit bridge and skyline reflected in the river along with a special treat, barges festooned with colorful lights and themes featuring giant images of Thailand's king and queen. One boat is blowing bubbles from its top and another boasts boldly, "Green Energy." We learn later from Lyle that this display is probably a precursor to the upcoming Loy Kratong Festival to pay homage to the goddess of the rivers and water ways. Sometimes it's good to take a wrong turn. You never know what you might miss.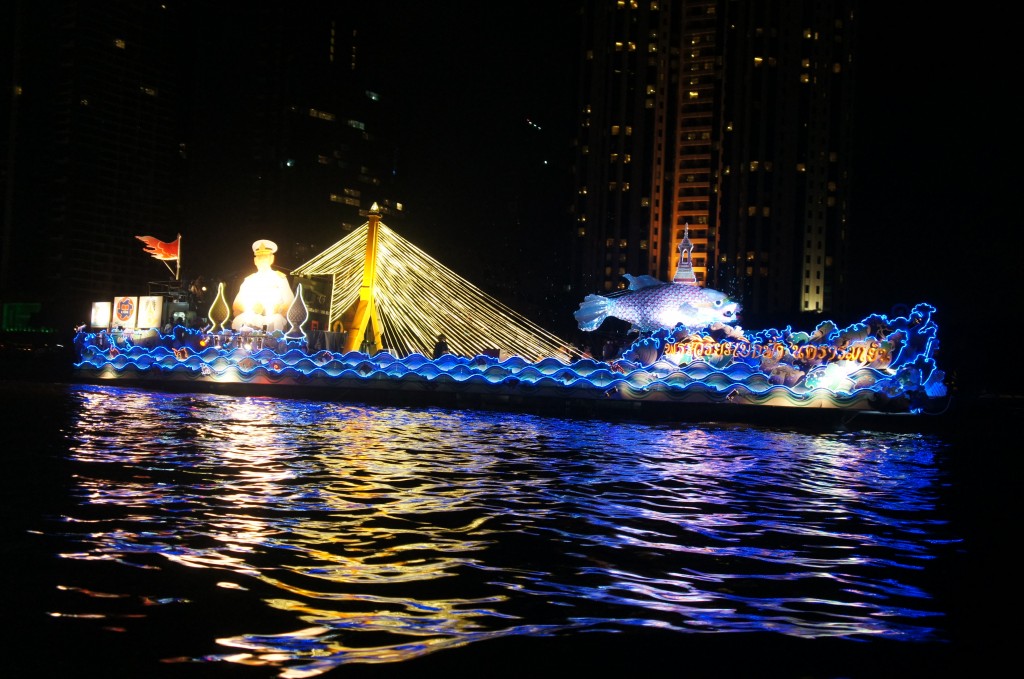 We are famished when we return and Lyle suggests one her her favorite spots in the neighborhood, Puangkaew. Lyle says a friend of her's travels across town from Chinatown to eat at this place and we can see why. I have the spiciest papaya salad I have ever tasted and a delicious Chee Choo Gong or prawns in red curry sauce. The prawns seem to be fried whole and drenched in a coconut curry cause with kick. I cool the spice with a Singha beer, Thailand's official brew. We can barely keep our eyes open over dinner as we fight off the effects of jetlag and a really good Thai meal.